You're probably one of those people who believe that working and earning from home is only for those with special skills. Here comes ibüümerang offering an amazing, unique network marketing business opportunity where all you need to do is "give free travel-related discounts to other people" and you'll earn money. So, would you readily grab the chance? I reveal the detail in this ibüümerang MLM review.  
Here's a word of caution. Like other MLMs out there, you need to do your homework first before investing your time, money, and energy in ibüümerang. This unbiased review will help you better understand the company and if their MLM program is legit or just another scam. 
Name: ibüümerang 
Founder: Holton Buggs  
Industry: Travel Services and Discounts
Business Type: Multi-Level Marketing 
Price:  $0 – $750 one-time fee & $49.95 – $99.95/month 
Rating:  35/100
Verdict:  Not recommended for newbies looking for a way to earn a living online.
What is ibüümerang?
Launched in March 2019 in Houston, Texas, USA, ibüümerang is very fresh in the Multi-Level-Marketing (MLM) scene. Originally called Count4Freedom in its pre-launch phase, the company taps into the 9-trillion-dollar travel industry as it offers huge discounts on travel-related commodities through its online travel booking platform. 
ibüümerang also provides their network of Travel Savings Ambassadors (TSAs) multiple ways to make money online. As the company website claims, there is money to be made by distributors joining the program whenever they sell discounted travel packages to friends, family or anyone through the free ibüümerang website. Basically, the company operates on the principle that good things come back to you when you give something away. You throw something at this company hoping to get something in return – like a boomerang!
Build Your First Blog Before Your Coffee is Brewed!
Learn How to Start Your Own Fun Blog using My 4 Step Formula
Meet Holton Buggs and his management team
ibüümerang is a pet project of Chairman, Founder and CEO Holton Buggs, an MLM icon with over 29 years of experience. Recovering from a series of pyramid and MLM failures, such as CyberWize and YTB International, Holton Buggs got his massive success from Organo Gold, a coffee MLM.
Organo Gold partnered with Digital SkyNet in 2018, but they were linked to a scammy cryptocurrency MLM called IQ Chain. Buggs' reputation took a hit and shelled out a hefty fee in a lawsuit. In March 2019, Buggs started ibüümerang, earning $20 million in sales just within the first 6 months. Despite his many setbacks and failures, he has managed to find a way to succeed. 
Buggs is able to assemble a leadership team with great people who all have impressive credentials.
CEO & President at XStream Travel – David Manning 
VP of Business Development – Terrance Gray "T.Gray" 
VP of Marketing – Mark Kithcart
Chief Giving Officer of the Buum Foundation – Peter Hirsch
Director of Travel Services – Lori Speers
Who is ibüümerang for? 
those who have skills and experience in sales 
those are adept in the MLM world
those who want to earn at home on a part-time basis, not for a living
those who love traveling and for travel bloggers
How does it work?
ibüümerang is a service-based MLM offering up to 70% discount on travel services and all sorts of travel/vacation packages such as hotel bookings, flights, tour packages, car rentals, timeshare, group cruises, etc. All bookings are done through a third-party provider – iGo Engine. This travel booking platform is powered by the XStream Travel owned by David Manning. 
If you compare ibüümerang with any regular booking platforms such as Expedia, TripAdvisor and Trivago, you will find that it offers much higher discounts. All deals, regardless of discount option will be redirected to iGo. The engine, which is the primary offering, is used by customers to get access to discounted travel packages. 
Some of the travel agencies ibüümerang and Xstream Travel currently cooperate with include:
Carnival Cruise Lines
Funjet Vacations
GOGO Vacations
Trafalgar Tours
Royal Caribbean
and many others
To join the MLM arm of the company, just sign up for the program as a TSA (Travel Savings Ambassador), which is much like an independent business owner or distributor. You'll be given access to the iGo travel discount engine so you can start selling the MLM's discounted travel packages by referring people to book through the Xstream Travel platform. 
How can you make money?
There are 3 main ways to get paid in ibüümerang:
Refer customers that book travel
Current team members that book travel
MLM referral commissions
To earn money with ibüümerang's MLM business opportunity, it takes getting other people to use iGo to book travel services at discounted prices by handing them out "buumerangs".
A boomerang is a code created and sent out by TSAs for free to allow customers to log in to the iGo portal and help them get discount travel. Without the boomerangs, customers cannot access the discount engine. As a TSA, you get a commission whenever customers use them to book a hotel, flight, car, etc. through the platform. 
Here is how it works: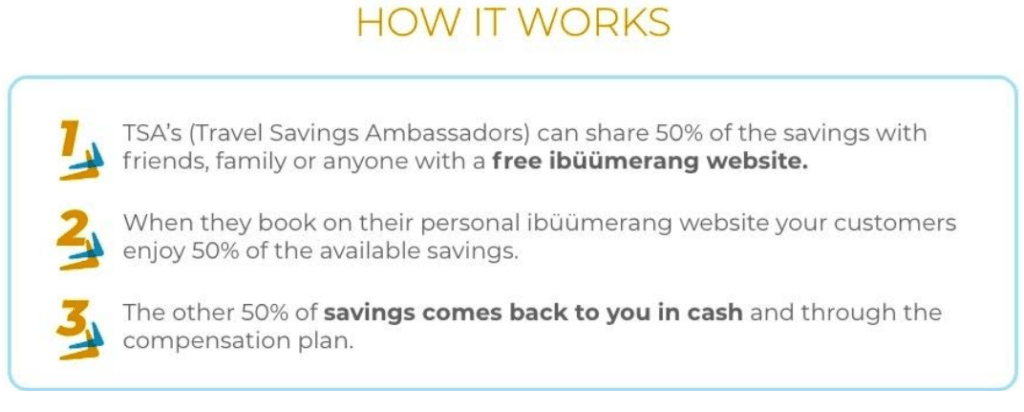 The number of boomerangs you receive depends on the package you choose when you sign up, and the commission you pocket is a percentage of the total amount of money at the discount they got. When you run out of boomerangs at some point, you can get more in 3 ways:
Upgrade to a higher membership level
Buy more individual boomerangs
Recruit other TSA onboard
How much does it cost to join?
The basic membership fee to become an affiliate member for ibüümerang is $49.95 per month. It comes with a "standby" enrolment kit consisting of 5 boomerangs and the iDecide Tool. This online marketing software differentiates ibüümerang from most MLM programs because it allows you do a few things, namely:
Send out information about the ibüümerang MLM business and the discounted products to more people
Track who is and who is not interested, including those who are watching the video
Add contacts who can automatically send emails to people as potential MLM program members or customers
There are 3 different optional global product packages to upgrade with. The good thing is you can receive more commission for each package you buy.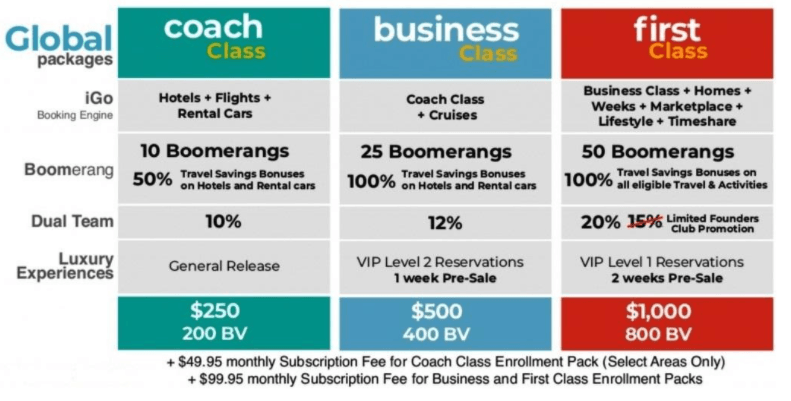 Compensation Plan
ibüümerang's compensation plan, like all MLMs, is confusing if not more complicated. It mainly presents the 6 ways by which TSA's commissions are paid:
Referred Travel Bonus –You'll get 25% of the commission as "referral bonus" for directly referring someone to Xstream Travel and if the customer buys something from the platform.
Travel Savings Bonus (TSB) – Sending a Boomerang and directing someone to the iGo travel portal earns you money.
Fast Start Bonus or Direct Sales Bonus – The commissions to earn for recruiting new distributors, which are $20, $40 or $80 for a coach, business or first-class recruit, respectively.
Dual Team Bonus or Residual Commission – A 10-20% bonus can be earned when both downline team members and customers purchase anything through the ibüümerang program on their second month.
Unilevel Commissions – This can be earned as monthly commission based on the earnings of your personally enrolled recruits.
Leadership Development Bonus – Once your personal recruits reach a higher ranking you get another bonus.
What is your earnings potential?
There are 14 different ranks to climb in ibüümerang. Each rank is determined by your personal volume and group volume. The greater the PV and GV, the higher you climb the ranks.
The ranks are as follows:
TSA Rank
Director
Executive
Senior Executive
Sapphire
Ruby
Emerald
Diamond
Blue Diamond
Black Diamond
Presidential Diamond
Crown Diamond
Double Crown Diamond
Triple Crown Diamond
Training tools/support
All affiliates have access to training tools and resources, commissions, and other materials to help expand their business. There are also ibüümerang support sites to help through tutorials and marketing materials. 
ibüümerang Pros
Unsaturated – As a new company, it's not yet oversaturated with recruiters.
Experienced owner – Holton Buggs certainly knows his way and has a lot of contacts and MLM connections.
New concept – ibüümerang capitalizes on the popularity of travel and uses travel bookings as an option to make money while traveling.
Lowest travel price – Offering at least 50% discounted price on holiday or travel with business is a huge selling point.
ibüümerang Cons
Expensive luxury- Travel is not something affordable to most people.
Expensive to join – Membership is a lot expensive, and it offers pricey packages that you need to purchase monthly.
Shady owner history – The company's CEO has a bad MLM reputation, having been linked to previous MLM scams, promoting some Ponzi schemes, and being guilty of stealing trade secrets and distributions from another MLM company.
Has Pyramid scheme characteristics – ibüümerang encourages members to recruit people to be promoted and to earn big.
Pay-to-Play – The amount of money to earn is directly proportional to the membership level you are at.
Negative ibüümerang reviews – Online forums such as Reddit are filled with unfavorable reviews from people who have tried the company.
No income disclosure – There's no way to find out if the company affiliates are earning money or losing it.
No BBB and ABTA Accreditation – ibüümerang is no merited credentials with Better Business Bureau (BBB) and the Association of British Travel Agents (ABTA).
Is it a pyramid scheme?
ibüümerang cannot be technically considered a pyramid scheme. A company can be said to be involved in the pyramid scheme when it pays its members for recruiting more people rather than selling a product or service. For this reason, pyramid schemes are illegal in most countries because it's impossible for everyone to make money inside this type of business model.
Although the CEO of ibüümerang has been involved in pyramid schemes in the past, it does not necessarily make the company an outright pyramid scheme. It may have some elements of one, but the company offers a legit service or product. It's possible for members to make money just from selling these discounted travel tickets, but the real money comes from recruiting more people into the MLM company, making ibüümerang similar to a "pyramid scheme in disguise".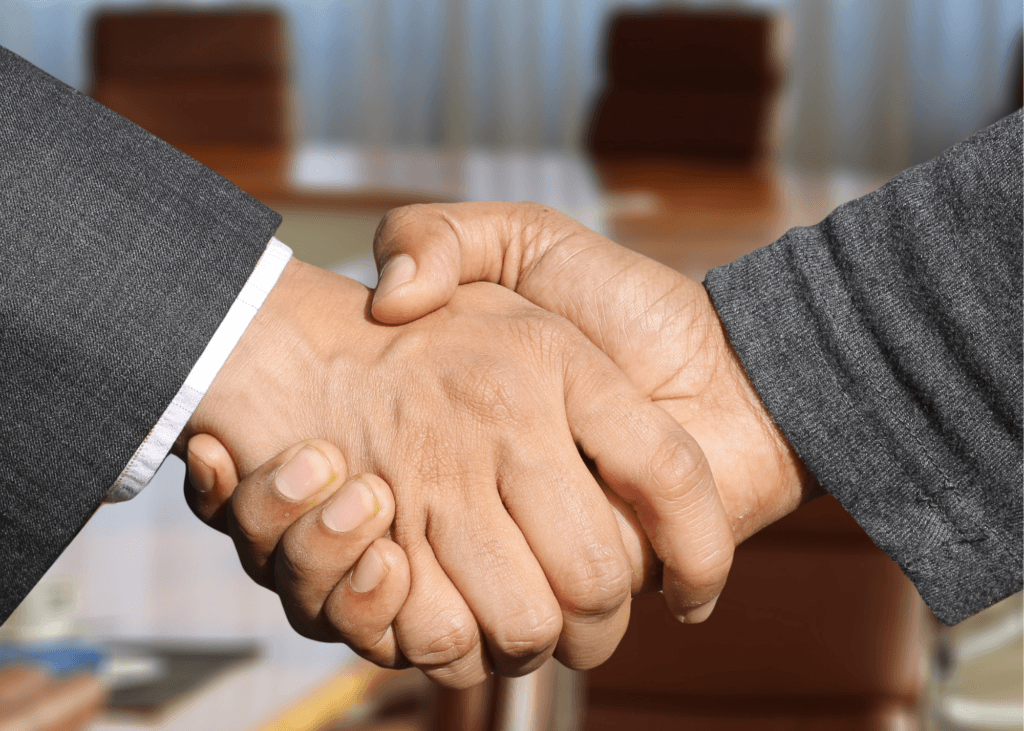 Is it a scam?
No, ibüümerang is not a scam. 
An online business opportunity can be classified as a scam if the creators/founders take your money and disappear into thin air, never to be heard from again. It is still too early to measure whether or not ibüümerang has lived up to their promises.
Final Opinion
While ibüümerang does provide legit products and is neither a pyramid scheme nor a scam, it doesn't mean the opportunity is right for everyone. Riding on the popularity of the travel niche in the MLM world puts ibüümerang face-to-face with a lot of competition. It's difficult at their infancy stage to say how they'll fare against the competition.
ibüümerang nails the basics with its booking engine and commissions that are centred around it, but the high joining costs could prove to be an impediment for potential affiliates to sign in.
If ibüümerang sounds like something you'd want to dip your hands into and you've got the funds to afford it, it would be wise to at least check it out first to see how things go. You may opt to get the cheapest package first to determine whether or not ibüümerang is a good fit. The basic membership fee is enough to make some commissions by telling your family, friends and colleagues about it when they're planning their next holiday. 
But, what are the chances of them joining the MLM program? 
With ibüümerang, you can only make consistent and good money if you are able to either convince thousands of people every month to avail of your discount or to recruit many people into the MLM program.
On the other hand, if you can't afford it or it just doesn't appeal to you, there are plenty of other opportunities out there to look into.
Alternative to ibüümerang MLM
Selling stuff through direct selling is not easy if you don't have a wide range of people to network with. But if products are also not relevant or have other issues such as closed borders, then there could be some huge risks to your earning potential. There are better ways to be income successful. So, here's a comparison between what ibuumerang offers and what you get from a world-class leader in affiliate marketing, Wealthy Affiliate.
Build Your First Blog Before Your Coffee is Brewed!
Learn How to Start Your Own Fun Blog using My 4 Step Formula