Looking for high-quality keywords to boost your websites rankings or PPC and SEO marketing campaigns? Well, simply complete a search below to BEGIN your research.
The 5 most important metrics to find a "quality" keyword:
---
(1) AVG (Monthly Searches)
The average number of searches that the keyword receives per month – This is the traffic numbers that you should look out for. ANY traffic is a good amount of traffic if you are going for natural rankings. But when ranking under keywords, your campaigns should grow too in quantity.
(2) TRAFFIC (Visits to your website)
If you achieve 1st-page rankings in the search engines you may receive this amount of visits to your website. Aiming for a score of 50 plus is recommended.
(3) QSR (Quoted Search Results)
The number of competing websites ranked in Google for the exact keyword. This is the ULTIMATE competition metric. This pulls in information from the search engines. Straight away it tells you the exact number of pages in competition using that EXACT keyword search term. If you aim under 300, you have a good chance of getting ranked (100 is ideal for new websites as the search engines are still getting to trust your content). There are literally millions of keywords around and a tool like Jaaxy will simply give you the data required.
(4) KQI (Keyword Quality Index)
Green is great, Yellow is, Red is poor -This gives you an instant indication, using the colors Green, Yellow and Red, of keyword quality. Great to use when preparing any marketing campaigns you might be running, especially PPC, SEO or other.
(5) SEO Power – A score based on traffic and competition
The higher the score, the more likely you will rank for this keyword on the first page. It also determines whether a keyword is a good competitor for getting SEO rankings. Getting rankings means getting traffic means getting revenue, and we all want that right?… So Jaaxy is a money making tool, that's for sure!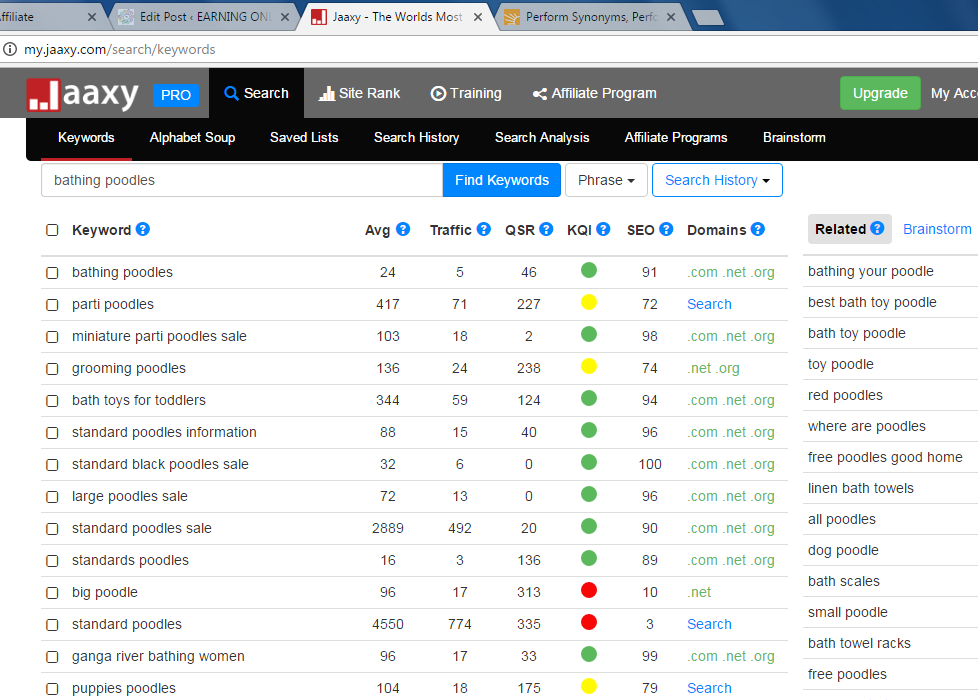 Choose the Jaaxy That Suits YOU Here! Your Online Business will thank you!
---
I would love to hear your thoughts on the usefulness of the Jaaxy keyword finder tool. Please leave a comment, feedback or related questions in the comment box that follows.
Regard
Rina