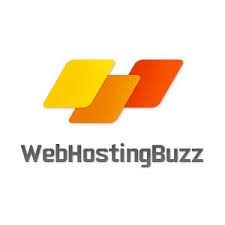 In this WebHostingBuzz Review I reveal the detail and then tell you if this product is worth while when it comes to performance, price and power. Can it deliver the potential to your online earnings and make your business buzz on the very competive earning online scene? Well, lets get to it!
OVERVIEW
WebHostingBuzz is a small, independent web hosting company that currently powers around 250,000 internet sites spread out in over 140 countries.
Known as one of the leading multi-national web hosting companies, WebHostingBuzz is a fully-featured web hosting provider that offers everything from shared hosting to VPS Hosting to dedicated servers. It prides itself on being totally privately owned and free of debt encumbrances.
WebHostingBuzz Review
Name:                                               WebHostingBuzz
Type:                                                  Web Hosting Company
Founder:                                           Safvan Malik (Current President)
Website:                                            www.webhostinghostingbuzz.com
Price:                                                  Starting at $4.99/mo (same renewal price)
Overall Ranking:                            2.6/5
Verdict:                                              Legitimate
Who is it for?
WebHostingBuzz caters to the web hosting needs of small to medium sized businesses, as well as the demands of large-scale corporations.
About WebHostingBuzz
WebHostingBuzz started from modest beginnings in North America in 2002 as a reseller host with two employees. The founder, Safvan Malik, saw the need for a company that focuses on helping smaller businesses. Since then, the organization, with an overall mission to deliver manageable, affordable hosting to everyone, has grown considerably with hundreds of different servers, in multiple data centres across the US and the UK. With servers located in Atlanta, GA and Phoenix, AZ., the company is able to host their dedicated servers and VPS. This also allows them to provide true 24/7 online technical support.
WebHostingBuzz now hosts hundreds of thousands of websites, and it is still growing as one of the leading multinational web hosting companies. Apart from the main office in Auburn, MA, there are other offices that include one located in Lincoln City, UK and Kharkiv, UA.
Build Your First Blog Before Your Coffee is Brewed!
Learn How to Start Your Own Fun Blog using My 4 Step Formula
Products and Services
The WebHostingBuzz portfolio is loaded with a reasonable variety of products and services. The company specializes in the most highly sought-after solutions on today's market, offering low-cost web hosting packages on shared servers, in addition to virtual private servers, and dedicated servers for those with more complex needs. The firm also offers reseller accounts with easy and affordable ways to generate revenue from the burgeoning web hosting industry.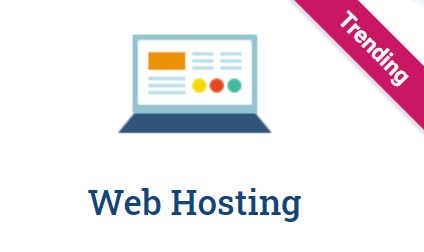 Basic Features – All the features that have become standard in today's hosting marketplace are offered by WebHostingBuzz. While they may be considered basic, these features are quite notable for being powerful and useful. This includes a web-based file manager, unlimited FTP access and accounts, multimedia support, and a complete email management system. All the tools, ranging from creating accounts for employees to filtering spam are provided to support your messaging requirements. Plus, WebHostingBuzz provides more than enough bandwidth and disk space to accommodate any user's existing needs and growth as well.
Business Features – WebHostingBuzz has become a very popular option with the online business community for providing the features necessary to effectively conduct business online. In addition to advanced software and management tools, a broad range of powerful open source shopping carts can be accessed. There is guaranteed better performance and security due to a higher allotment of resources when upgrading to one of the provider's business class packages. It comes with exclusive features such as your own dedicated IP address and SSL certificate. However, it lacks the training required to build a profit earning web-based business.
Control Panel – WebHostingBuzz's cPanel allows you to maintain your WebHostingBuzz account like a piece of cake. Admired for both its power and ease of use, the cPanel has a user-friendly graphical interface to help you manage all the vital aspects of your account. The software is based on a simple set of icons that easily allow you to access the tools needed to manage your files, emails, domains and more.
Technology – WebHostingBuzz proves it is an expert in the IT field as evidenced by the technical specifications of its hosting platform. The server foundation is built on the rock-solid Linux kernel, an operating system built to withstand the demanding pressures of the web hosting environment. The company boasts of a platform rich in programming technologies to provide the powerful tools needed to impress your audience with dynamic, interactive content. The platform can be relied on full support for PHP, Perl, Python and other robust languages to deliver what goes beyond the basics.
Service Reliability – WebHostingBuzz is committed to long-term reliability. Its infrastructure is supported by a SAS 70 certified data centre, a fully redundant facility providing a fortress-like environment for its mission-critical operations. The building is located in Atlanta, Georgia and has redundancy throughout to ensure that the hardware remains in optimal condition, and the operation continues to run through even during the harshest weather.
The network is powered by high performance Cisco routing equipment, while the lightning-fast internet connections are supplied by industry leading carriers such as nLayer, Mzima and Telia. The firm's reliability is sustained by a combination of 24/7 onsite technical staff, armed guards and state of the art security, enabling it to uphold a 99.9% uptime guarantee, and more importantly, making sure your site stays up and running.
See How I Sell Products with Zero Inventory Using a Simple 4 Step Formula
Company Ethics on Reducing Carbon Footprint
It is a rare find to see a company that shares the same values from an ethical standpoint. WebHostingBuzz is serious about protecting the environment as shown in its effort to reduce its carbon footprint without skimping on performance. The company was one of the first to adopt green hosting and is also a big supporter of The Woodland Trust (TWT), a charity focused on reducing carbon levels in the world by protecting the woodlands.
The company's servers use energy-efficient parts, which in effect considerably consume less power than the average server. It also makes an effort to recycle over 70% of its waste, utilize Energy Star Board approved air conditioning, and use energy efficient lighting in its offices.
Customer Support
WebHostingBuzz has a strong support department for years. The company offers free support 24/7 via toll free phone, as well as other channels including live chat and email-based ticketing system. Should you prefer to resolve your own hosting issues, their online support centre provides an adequate resource wherein you can access articles, video tutorials, user guides and other tools to help you navigate. With regards to providing a solid all-around support system, WebHostingBuzz has plenty to offer its customers. However, should you want to learn online earning strategies that convert traffic, then you need to look to a hosting service that provides this over and above a power house hosting service alone. Here is my #1 recommendation.
WebHostingBuzz Hosting Plans and Price
Shared Hosting – Ideal for small sites like personal blogs, the shared hosting plan comes in three tiers: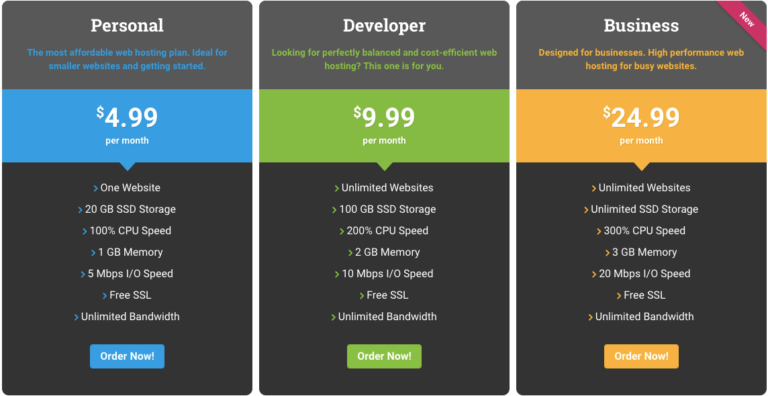 All three Shared Hosting plans use powerful Linux operating systems, hence the SSH access. They are all bundled with unlimited email accounts, MySQL databases, bandwidth and FTP accounts. All plans also get Softaculous app installer and for those who wish to use caching apps like OpCache, APCu or XCache, can. All their shared hosting plans come with cPanel and a free domain name will be given upon registration of a new account with WebHostingBuzz.
VPS Hosting – The Virtual Private Server hosting (VPS) offers more speed and reliability. This is ideal for larger blogs and those who are beginning to monetize their sites. With eight tiers to choose from, WebHostingBuzz offers a solid range of VPS plans to fit a wide range of budget.
| | | | | | | |
| --- | --- | --- | --- | --- | --- | --- |
| Server | CPU Cores | Memory | Disk Space | Bandwidth | IP Addresses | Monthly |
| VPS 1 | 1 | 1 GB | 20 GB SSD | 500 GB | 1 | $14.95 |
| VPS 2 | 1 | 2 GB | 40 GB SSD | 1 000 GB | 1 | $29.95 |
| VPS 3 | 2 | 3 GB | 60 GB SSD | 1 500 GB | 2 | $44.95 |
| VPS 4 | 2 | 4 GB | 80 GB SSD | 2 000 GB | 2 | $59.95 |
| VPS 5 | 2 | 5 GB | 100 GB SSD | 2 500 GB | 2 | $74.95 |
| VPS 6 | 4 | 6 GB | 120 GB SSD | 3 000 GB | 4 | $89.95 |
| VPS 7 | 4 | 7 GB | 140 GB SSD | 3 500 GB | 4 | $104.95 |
| VPS 8 | 4 | 8 GB | 160 GB SSD | 4 000 GB | 4 | $119.95 |
Dedicated Hosting – WebHostingBuzz currently offers three dedicated server plans with upgrades in RAM, HDD, network speed, bandwidth and RAID controller. Other paid/fee options include: CloudLinux, cPanel, Softaculous, server management, and Windows Server licensing.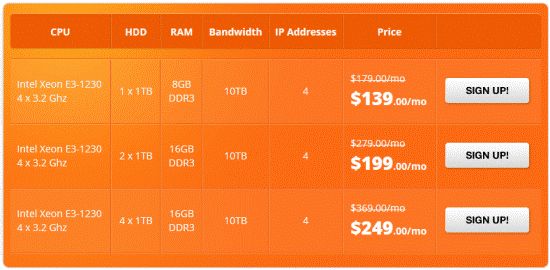 WordPress Hosting – WebHostingBuzz offers the now famous one-click WordPress installation in four cheap WordPress hosting plans. The hosting platform gives reliability and security along with other services that make getting started easy and stress-free, like website migration, SSL certificates, and caching solutions for improved site speed.
Reseller Hosting – Currently, there are 4 reseller plans to choose from. The pricing quoted reflects a 2-year commitment price. Each plan comes with a free domain name, Namecheap domain reseller account, free Comodo SSL certificate for the first year, up to 50 free cPanel account transfers, unlimited emails, 1-click application installer, Blesta billing software, free dedicated IP address, and private nameservers.
Key Features Overview
| | |
| --- | --- |
| Features | Details |
| Price | $9.99/month (Developer Plan) |
| Number of Websites | unlimited |
| Instant DNS Setup | Complimentary domain when you Sign-up |
| Hosting Speed | 200% CPU speed |
| Website Space | 100 GB of SSD |
| Bandwidth Included | unlimited |
| SSL Certificates | SSL/TSL certificate across plans |
| Site Builder Included | One-click WordPress |
| Staging Environment | – |
| Full Redundancy | N+N Network Redundancy |
| Enterprise Security | – |
| Daily Website Backups | Incremental backups |
| 24/7 Access to Server Admins | Yes |
| Email Accounts | unlimited |
| BotNet Security | Yes |
| Site Health and Performance Tracking | – |
| Site Comments | – |
| Website Feedback | – |
| Community Access | – |
| 1 on 1 Marketing Mentorship | – |
What to Like about WebHostingBuzz
Consistently fast page loading speeds
Very good uptime
Free website migrations
Lots of one-click installations
Eco-friendly web hosting
Renewal pricing same as discounted prepayment pricing
Multiple data centres in areas safe from natural disaster
45-day money back guarantee
SSH access
Free domain
Free malware scanning
ModSecurity
Free SSL/TLS certificate
What not to Like about WebHostingBuzz
No introductory pricing and no new customer discount
Limited support (~6 Hour Delay)
Odd termination clause: Restrictions on cancelling your account
No website builder
No managed WordPress plans
No cloud hosting
No earning online training
Final Opinion
Having a good uptime and fast servers is probably one of the hallmarks of a "good" web host, for which WebHostingBuzz qualifies with a high score. Their plans may be more on the expensive side of shared hosting, but you can be sure you get what you pay for. In this case, you are paying for a good host that is dominating all speed reports, with solid servers, secure data centres, good uptime, top-notch customer support, up-to-date versions of CentOS and RedHat, plus a lot of extras included.
All in all, WebHostingBuzz is a solid web hosting firm with solutions fit for a broad range of needs. Its solutions are competitively priced, easy to use, and more importantly, reliable. You can choose from thousands of options these days, but considering its reputation in the industry, WebHostingBuzz certainly is not a bad option. If you do not mind paying a little extra for a lot more, you should definitely go for quality support and uptime at a price that starts at $4.99 a month.
Join over a Million Members
Who Have Started Their Own Online Business.
Build Your First Blog Before Your Coffee is Brewed!
Learn How to Start Your Own Fun Blog using My 4 Step Formula