1. You are the boss!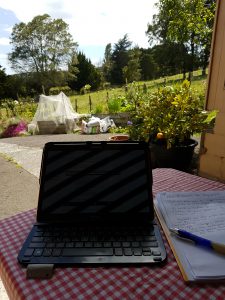 Why not earn from home and be your own boss? This idea may not seem so far in the distance as you might think. Imagine being the only one to tell yourself when to get up for work, where to work, what to wear to work, who you will work with and why you didn't do this a long time ago! Being your own boss is freedom!
For some, it's scary to leave the comfort of a wage or salaried job to work for yourself. Scary to think that you will have to make all of the decisions about every aspect of your business. What if you make a bad mistake and the business falls down? What if I go broke? Aren't all business owners stressed to the max? Well maybe that's the case for some business owners, but not for all.
For me and many others like me, being an online business owner is very rewarding as you have the freedom to do the things you want to do like traveling around while working the business and spending quality time with loved ones. Doing the things you want to do, when you want to do it can only really happen if your working for yourself and not for someone else.
2. You can work with your families needs!
Stop working for others! A regular 8 hr a day job working for someone else is the situation that most people find themselves in. Trouble is you are working to benefit someone else at the end of the day. Another way to look at it? It's like renting as opposed to owning your own home. When renting you are paying for the landlord to own the home you live in – being employed by someone else is the same in that you work for someone else to own it. Owning your own business, however, is like owning your own home – what you pay for it you can get back and more!
3. It's never been simpler than now to start your own business because the internet has made it possible!
Starting an online business at home has never been simpler than now. The 'now' is the internet. It's the new superhighway for new business. This superhighway is full of traffic, and each vehicle represents a business, and the driver is the business owner. The make and model of the car represent the niche. The people riding in the vehicles represent customers. If they like your niche or make and model, they will buy it or pay to ride in it. Jump onto the super highway as every day it gets busier with passengers who are willing to ride in your vehicle.
Join over a Million Members
Who Have Started Their Own Online Business.
Build Your First Blog Before Your Coffee is Brewed!
Learn How to Start Your Own Fun Blog using My 4 Step Formula
4. Your hobby or interest or your favorite products can be turned into your own business!
Whatever it is, whether it be an interest of yours, a hobby or product from Amazon, you will need a website, your own domain name, a cheap website hosting and design platform, and support to put it all together and keep it together. Then look no further! Check out Wealthy Affiliate University…
5. Getting started is easy…
There are many who claim to have the support you require. But they are not all made the same. Always check the reviews and if you can't find a review from those who have used the product before you, then look somewhere else.  The main reason behind this is while the internet has opened up the opportunities for new business as well as old business, it also has opened it up for the end users/customers of all those businesses and their products – so finding product reviews online is now very commonplace. See my Wealthy Affiliate overview a membership and a website hosting platform offering training for those ready to start their own business as this might be what you need to get you started.
Build Your First Blog Before Your Coffee is Brewed!
Learn How to Start Your Own Fun Blog using My 4 Step Formula