I have provided here 'A Free GUIDE – How To Start An Online Business' (similar to the one in the pic) to help and assist anyone wanting to start an online affiliate business. More and more people are choosing to work from home or from their laptop anywhere in the world. In fact, because the world is at this present time coping with the devasting Health and Financial effects of Covid 19 or Coronavirus, it makes more sence to have an income that will allow you to earn even in Issolation – even if it is something you do in your spare time over and above your regular job. At  least then, you will have a backstop to help in such times we are having now around the world.
OWERVIEW
This GUIDE is intended to give you an insight into the essentials to build out a revenue earning online business. The GUIDE  includes the following…
So Who Am I?
My Background
Why I Became An Online Business Coach?
So Why Online Business?
What's My Online Business?
Why Should You Listen To Me?
The Pioneers Of Yesteryear
Follow Exactly What Successful Online Marketers Have Done!
What You Will Learn, To Build An Online Business
14 Frequently Asked Questions
5 RULES you need to follow
# So Who AM I?
My name is Rina. I hail from Tauranga Moana and have been married to John Pura Walker for 35 years. John is from Whanganui-a-tara in Lower Hutt and we have 6 adult children and 8 mokopuna (grandchildren).
# My Background
I'm a social entrepreneur and have had over 30 years of experience working in maori education, then worked 6 years in social services. I have always had a great interest in education success through the medium of te reo rangatira, the maori language. However, many of the students I taught and their families were struggling, due to complex social issues including great financial pressure due to unemployment. Joblessness affecting their ability to provide adequately for their whanau (family) and some of the students I was teaching.
Unemployment applies great pressure to any family and has a negative ripple effect on a person's life, both practically and mentally. Not having enough money to provide for the basics including nutritional food, warm shelter, healthcare and education is a great strain on a person and their family. So, if this situation could be improved, it would go a long way to improving the pressures on families who are unfortunate to find themselves in this situation. John and I have been there a number of times ourselves when trying our best to bring up our young family, so we know what it's like.
# Why I Became An Online Business Coach?
Seven years ago, I was fortunate enough to have supported and worked with a group of about 15 adults who had inherently struggled with living below the poverty line, unemployment was long-term, reliance on social welfare benefits, unable to afford basic health care, substandard living conditions or homelessness, complex social issues and institutional abuse (government agencies blaming these people for being in these situations, therefore, removing responsibility from themselves as evident in policy). This is how bad it has gotten in our country. What the hell happened!
Build Your First Blog Before Your Coffee is Brewed!
Learn How to Start Your Own Fun Blog using My 4 Step Formula
I am forever grateful to these families who let me work with them so closely and who taught me a great deal about their spiritual endurance. It was this same spiritual endurance that gave me hope about what was possible and what a person is capable of, no matter what their circumstances and situation. Given the opportunity, this spirit could be sparked into action when an opportunity presented itself. It was an infectious spirit that this group of people had – and if you were near it long enough, you would catch it. Collectively, this group went on to form 'The Kete Kai Cooperative' and together created a stream of income which bought tools to create maara kai (food gardens), a small lawn mowing and section clearing business, and a catering business, in their community. This entrepreneurial spirit manifested itself among this group of long-term unemployed folk, and magic happened!
I decided then that this is where I wanted to expel my energy. My mission to help people make a difference in their lives through business, so one can afford a better quality of life – be able to afford good healthcare, be able to afford a decent education for the kids and to afford a nice warm safe place to live.
# So Why Online Business?
The experience of working with the members of the cooperative and their amazing spirit inspired and spurred me on to find a way whereby people in similar circumstances could benefit, in a way that the cooperative members had, by putting their energy and synergy into their income earning ventures! Eventually, I moved back to where I am currently situated in Tauranga Moana, to take care of my 92-year-old mother. I then began to research online business, because it was low cost, low risk and it has a high success rate among those who choose to give it ago. I found that I needed to find a course or training that would teach and provide plenty of support. So, I researched hard and after a while, narrowed the options down to 3 online training programs – by the way, there are a lot of scammers out there and you need to conduct thorough research to sort the scammers from the legitimate ones, otherwise, you could lose a lot of money.
After sorting through, I chose three legitimate providers. Affiliorama, Lurn, and Wealthy Affiliate. I sat on these 3 for some time reading as many reviews as I could find before finally deciding on which one I would go with. I could have gone with any of the 3 as they all offered similar things. But in the end, I went with the one I believed would suit my pace of learning and offer 24/7 support when I needed it either from the owners, other experts and its global community. The other factor that swung me was the low entry cost and no cost to get started, and that was Wealthy Affiliate. I quickly got started with the Wealthy Affiliate Training.
# What's My Online Business?
It was natural for me to choose a niche involved with teaching and helping people. When I first registered with Wealthy Affiliate, I had already decided that I wanted to teach what I was learning in the WA training so that I could help those who had a desire to give online marketing ago. Although my passion interest was permaculture, working on the whenua (land) and in the taiao (environment), I knew that I would have to help those that were soon to follow me into the online affiliate world.
So I started a second website (the first was permaculture) and set it up as an information packed website all about affiliate marketing. The website is called Earning Online – by default, I became a 'Wealthy Affiliate' affiliate whereby I promote affiliate marketing opportunities, products and the Wealthy Affiliate training platform.
The business started generating an income in just under 2 months and has generated an income monthly since then. I learned a load about online marketing while building out my online business and while earning from it as well.
See How I Sell Products with Zero Inventory Using a Simple 4 Step Formula
# Why Should You Listen To Me?
I have extensive knowledge on how to start an online business. It is my intention to pass this knowledge on to anyone who is ready to receive it and ready to build out a successful niche website business. The knowledge I have expertise in includes the following.
Getting Expert Help
Setting Financial and Non-financial Goals
Choosing Your Niche Business – a passion or keen interest
Website Buiding In WordPress – your online real-estate
Website Content – content that gets ranked in the search engines like Google
Finding Low Competition Keywords – creating keyword lists
The Process Of Earning Revenue Online – monetizing
Getting Access To Over 590,000 Niches
Building Out A Niche Website
Making Your Site Search Engine Friendly
Understanding The Keyword Research Process
Site-Domains
Finding Theme-Based Content
Setting Up A Domain Specific Email Account
Website Traffic Breakdown
Making Use Of Visuals
Working With The WordPress Editor
Understanding Low Hanging Fruit – the power of keywords
Making Face As A Real Person
Understanding Google
Boosting Your Search Engine Rankings
Comprehend The "Customer Purchase Lifecycle" Process
The Benefits Of Affiliate Networks – which ones are best
NUMBERS Associated With A Lucrative Online Business
Instant Access To MILLIONS Of Products In Every Niche Imaginable
Monetising Product Reviews – reviews on your website
Benefiting From Google Adsense – on your website
Difference Between Earning Big Commissions Or Working For Pennies – on your site
Advertising Technique – that very few know about
How To Earn Through Affiliate Programmes – related to your niche
How To Effectively Incorporate Affiliate Links Into Your Content
Leveraging Affiliate Promo Material – images and banners
How To Add Shopping Widgets To Your Website
How To Get INSTANT Access To Product News Within Your Industry
Using Publishing Network Alternatives To Your Advantage
Earning Revenue Through Singular Product Reviews
Setting Yourself Up For A Lifetime Of Social Engagement And Success
AND MUCH MUCH MORE…
# The Pioneers Of Yesteryear
Not all training is the same. In my experience, you should be learning what all successful experienced affiliate marketers know. Back when people first started to build their own online businesses and in particular affiliate marketing, there was no template to go by. It was all new and anyone attempting to do it spent hours and years of trial and error working it out.
There was a bunch of learning, which was all the better for those who followed. The good news is down the track from when online affiliate marketing began, there is a clear road ahead thanks to the pioneers of yesteryear (well up to 15 years ago anyway). Now, affiliate marketing is one of the fastest growing online earning strategies around and it's getting bigger by the day. That is because it is dead cheap to get started, and it's possible to even earn without paying a cent. Plus, most traditional businesses (the merchants) now use affiliates (like myself) to move their products and services across the world for which they pay a commission to the affiliates. Take Amazon, for example, the world's largest online retailer. You can apply for free to become an affiliate to Amazon (or an Amazon Associate as they like to call it) and begin to promote products of your choosing on your website. When a visitor to your website clicks through to purchase an item via Amazon, you earn a commission. But Amazon is just one you could become an a1liate for. There are literally thousands of merchants across the world you could become an a1liate for. Commissions earned can be anywhere between 5 and 70 percent. So now, a1liate marketing can be a very lucrative online business option for you.
# Follow Exactly What Successful Online Marketers Have Done!
Many have succeeded in Affiliate Marketing and have gone on to have a not so shabby lifestyle that their a1liate business is paying for. I don't want to give you all the hype about that but rather give you the best advice I can for someone like you just starting out. If your goals are modest then that is totally 8ne. Whether you want to earn an extra $100 dollars a week, or a $1000 a day, it is totally possible to achieve this as an a1liate marketer. In fact, many are achieving much more. The main thing is that you have a goal and a way to achieve your goal. One of the best ways to achieve this is to do what others have done successfully. When you have these people around you directing you on how to be as successful as them, then much can't go wrong.
# What You Will Learn, To Build An Online Business
The following is a brief outline of the training available to you in Wealthy Affiliate. It offers you the most value for money and time. If you follow all of the lessons here and carry out the tasks associated with the lessons, you will absolutely succeed!
A TRAINING SUMMARY
Just to break it down for you even further, the lessons come with tasks all designed to build a solid foundation for your business. The tasks at each training level are as follows. There are 5 levels in total and a total of 172 tasks.
Level One & 31 tasks – Getting Started:
Level Two & 37 tasks – Building Your Own Traffic Producing Website:
Level Three & 28 tasks – Making Money:
Level Four & 40 tasks – Mastering Social Engagement:
Level Five & 36 tasks – Achieving Maximum Success Through Content Creation:
# 14 FAQ's
1. What is an affiliate marketing business? An affiliate marketing business owner is anyone who markets another's products in return for a commission. Generally, it involves directing potential buyers to a merchant's website in the hope they will buy their product/s, and the affiliate will receive a commission.
2. What do I need to start an affiliate business? You will need an internet connection, a computer or other device and your investment of time. It also pays to learn from those who have done it before you and have had great success with their own affiliate businesses. This will save you an enormous amount of time and effort – You don't have to reinvent the wheel. The wheels are already turning for you.
3. Can I work whatever hours I want to? I highly recommend you apply at least 10 hours a week to your online affiliate business as the time and effort you put into the foundation of the business, the quicker you will see a return in the way of earnings.
4. Can I work my affiliate business anywhere? You can work wherever you have an internet connection, and a computer or other mobile device. Many affiliate marketers travel around while working as they have the freedom to do this with an affiliate business.
5. Can I get support for free to get started with my own website? Yes. You will get online step by step training to build out a website – No prior experience necessary.
6. Is there support beyond the 'Getting Started' program? Absolutely. There is ongoing, 24/7 support and training for those who register as a Premium Member.
7. How long does it take to complete the training and have an affiliate business earning commission? This depends on you, but also is dependant on the earning strategies used with an affiliate business. On average it can take less than a month and up to a year for an affiliate business to start earning dependent on investment of time, training and support and implementing what the training has taught you.
8. Is it possible to be earning while learning how to build an affiliate business? Yes. It is possible to earn while you learn and while you are building out your affiliate business website. I accomplished this myself in the first two months and also started without knowing a thing about how to build an online business, so I was surprised when only two months in, my business was starting to earn revenue.
9. Is internet marketing hard? It's easier now than it's ever been. Wealthy Affiliate is an online University that has made it even easier and the outstanding training program there is suitable for individuals completely new to the online affiliate world. There is a load of tools, training classrooms, video training, live chat and people who are experts at it, that you will have 24/7 access to and it's completely free to get started.
10. Does it matter that I've got no internet marketing experience? No. Most people who have started affiliate businesses didn't have any experience to start with. You can learn every step with the right programme and expert support.
11. Do I have to be good at writing content? Content is obviously the key to a website, and there are many online tools to help you with coming up with ideas and product content for your website. The internet is an information highway offering information about anything and everything. You can be alerted to the latest product information and trends and in return, offer this information up to attract traffic to your website.
12. How do I get started? Register here and start the "Getting Started" training programme – it's FREE. Then be one of the first 20 people to receive the full promotional offer by completing the "Getting Started" training, then become a Premium member in Wealthy Affiliate and the day following, I will be in touch with you in WA via a private message to formally introduce myself and begin to plan your coaching with you.
13. What will be included in the 7-day training in Wealthy Affiliate?
The "Getting Started" step by step training will include the following ten lessons…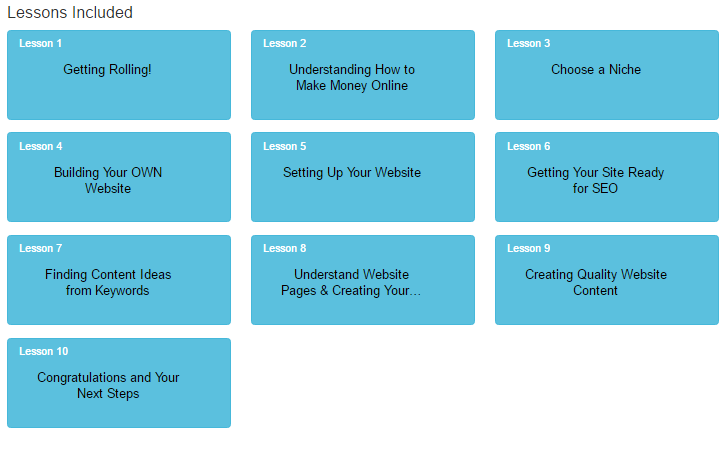 14. What will the personal coaching involve? Your coaching is designed to accelerate the process of building out your online business in Wealthy Affiliate. You and your coach will plan your course of coaching dependent on your needs – times and dates for coaching will be arranged according to what suits you and your coach. The meetings will take place online via a meeting app called ZOOM and will not involve any cost to you. Your coach will instruct you via email on setting up ZOOM initially if you don't already have it.
# 5 RULES you need to follow!
So you have been researching internet marketing, and it's something that has interested you. If your desire is to be a successful affiliate marketer, you're going to have to follow these five simple rules. No matter what you've read or heard so far, there is a lot more to affiliate marketing than you have probably heard.
Research shows us that lessons incorporating a narrative are much easier to learn. So in this lesson, I am going to tell you a little story about Tama.
First things first, Tama has to get out of the get-rich-quick mindset. I realise that not everybody reading this article shares this belief, but if you do, you have to get out of it right now. A lot of product creators out there know you're much less likely to buy their product if they tell you the truth and say that it takes a while and it takes effort as well as hard work, so they lie to you. If you're going to succeed in affiliate marketing, it's going to be a lot of your time and hard work. So if you're going to be successful, it won't be from some push button magical system or copy and paste shortcut which leads me to my second point.
So this may sound a little lame, but it needs to be said. Tama must commit to his new affiliate marketing business. And to do that, he needs to promise that he will stick with it for a period. I would recommend that it has to be for at least six months but a year would be better. After Tama has set that time frame, he should think a little and figure out exactly how many hours he can commit to working his business every week – pick how many hours he knows he can work each week and hit those hours every week no matter what. Come hell or high water; you must give that attention to your young fledgeling business. It may mean waking up earlier and going to sleep a little bit later or even sacrificing a little time with your friends and family, but you need to work out how you are going to give your business a minimum of 10 hours a week. If you can give more time that's awesome. Working extra hours each week means you'll build your business faster than someone working the bare minimum, and that leads us to the third point.
Tama is going to be working on his business, hour after hour for the next few months if not for years to come. So it's important he is passionate about the topic he chooses for his first website. A lot of products in this industry will tell you to pick the affiliate offer you want to promote first. But you're more likely to succeed if you lead out with your passion and instead of a thirst to make as much money as possible. Tama is going to be working on videos, articles, blog posts, e-books and more, for hours a week in the coming months. So it's pretty important, he has a passion for the subject matter. If not, he will burn out, and his business will ultimately fail! Building out a website that is high-quality, relevant content and is worthy of a following, takes some amount of time and effort, and it can end up taking its toll on a person. That's why it's important and vital that Tama not 'spread' himself too thin.
Tama needs to pick a subject he is passionate about and 'stick' with it. If he chooses two or more websites and wants to build them all out at once, he is likely to get overwhelmed and do sloppy work. You need to focus all of your effort and attention on one website for the first few months. Trust me, there is always more content you can create or graphics or website features that you can tweak, or things you can do to spread the word about it. And that brings me to the very last point.
Tama is building a business, and businesses require a quite substantial time investment and, some financial investment as well. Anyone who tells you-you will be a successful affiliate marketer without learning how to build out a website is not being truthful with you. However, with the technology we have nowadays, it's not too hard at all to do, but it needs a few dollars a month as your business grows, you will probably have to invest in a few essential tools as well. You should not dread putting money into your business. You should embrace it because it means you're moving in the right direction. It's like having a fast growing child that you don't want to become malnourished. If you're starting on a tight budget, it's all good but just commit to not skimping when your business needs it and when it counts. Just because it's an internet business, doesn't mean, you can do it all for free. So I hope you and Tama have learned a lot about what it takes to succeed in affiliate marketing.
If you work consistently and you work hard enough, and you keep moving forward, the reward of being an online business owner or a self-employed affiliate marketer is very much worth all of the pain and struggles you will face in these early days. Just keep reminding yourself why you're doing this in the first place, and in the end, you will be happy that you followed these five rules.
Join over a Million Members
Who Have Started Their Own Online Business.
Build Your First Blog Before Your Coffee is Brewed!
Learn How to Start Your Own Fun Blog using My 4 Step Formula