In my Pagely Hosting Review, I shall reveal all the details about this product and determine if it is any good or not. I provide a comparison giving you the opportunity to compare Pagely Hosting with another product. Lets get started!
OVERVIEW
Pagely is a premium web host that specializes in hosting WordPress. It is a Software-As-A-Service platform built on top of Amazon Web Services, which is the same platform that Netflix and Amazon.com use, as well as thousands of other popular brands.
Name:                           Pagely Hosting
Type:                             Managed WordPress Hosting
Website:                       https://pagely.com
Founders:                    Joshua and Sally Strebel
Price:                             starts at $199/month
Overall Ranking:     82 out of 100 (4.1/5)
Verdict:                      Legitimate
Who is it for?
Pagely caters to a different market, and those who need access to its features are likely willing to pay the inflated price. It is for serious businesses and webmasters who give much preference for reliability, flexibility, and support.
History
Pagely was founded by Joshua and Sally Strebel in 2006, with headquarters in Tucson, Arizona, USA. The company was rebooted in 2009 and became one of the forerunners in the managed WordPress hosting space. As such, Pagely is one of, if not the, oldest company to offer managed WordPress hosting. In doing so, the company was able to create a $1 Billion-channel that is now bustling with competitors and rival services.
Initially, Pagely's central focus was on creating a scalable WordPress hosting solution that allowed for the rapid deployment of WordPress websites. This allowed them to focus on providing their services to businesses of all sizes and businesses that primarily dealt with web design for WordPress.
Since then, Pagely has matured and now focuses on offering high-quality hosting to larger or more resource-intensive websites. Their hosting capability expanded greatly with their inclusion of Amazon Web Services, adoption of cloud technology, and attention to customer-oriented attitude, making Pagely one of the largest WordPress hosting providers in existence.
Build Your First Blog Before Your Coffee is Brewed!
Learn How to Start Your Own Fun Blog using My 4 Step Formula
Getting Started
Pagely is a premium managed WordPress hosting platform that can be relied on to deliver
functional hosting for your WordPress site. With incredible speed, long list of remarkable features and excellent security, it is easy to see how Pagely is superior compared to other web hosting services. If your website is a key part of your business, you rely on it for income, or you need to ensure your site is hosted on a very solid foundation, and you can afford the rates that start from $299 per month, Pagely will not leave you disappointed.
Creating an account is easy and can be completed by just clicking "Select Plan" next to any of the plans. A simple form needs to be filled out then, the Atomic Core (Pagely's backend) account will be created. By following the wizard, you can select and pay for your account. From here on, you have a true high-end managed WordPress robust platform for your website.
Key Pagely Managed Hosting Features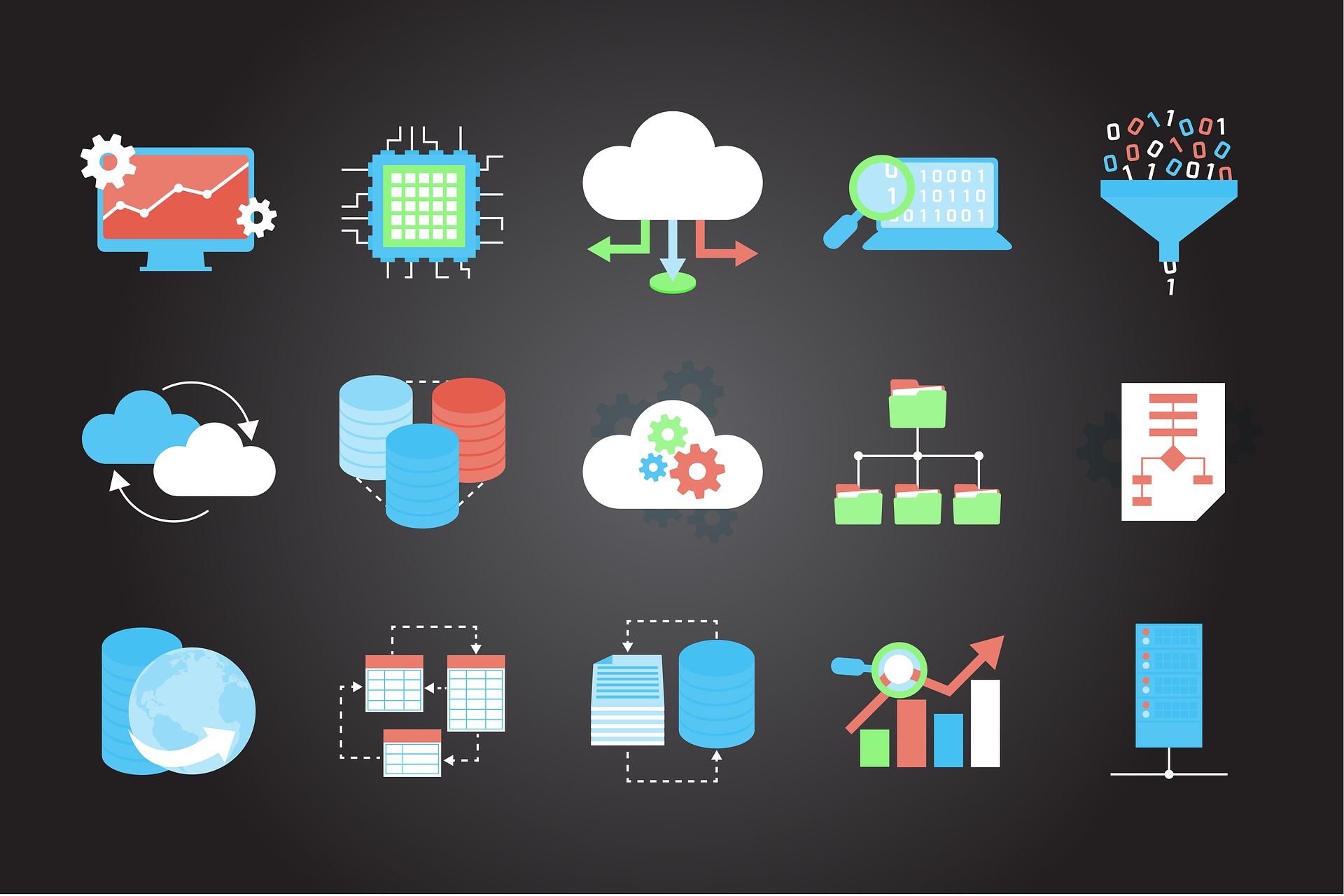 Pagely offers a hosting environment that is optimized for WordPress users, together with website management features to keep everything running smoothly.
Managed WordPress Upgrades – Started out with the goal of simplifying the process of owning a WordPress website, Pagely carried this through to their delivery of managed WordPress website upgrades on all plans, covering updates to the WordPress software and any plugins you're using. Pagely also takes care of advanced website tuning to maintain your site secure and ensure it is running smoothly.
Modern Hosting Stack Powered by Amazon Web Services – Pagely uses Amazon Web Services (AWS) to consistently offer clients with impressive website performance. AWS provides customers access to high levels of redundancy and scalability. There are 13 data centre locations available to make sure your website is close by regardless of where your audience is.
Automatic Website Backups – Daily website backups are created automatically and sent to the Amazon S4 cloud storage service so you can restore your site in case of technical meltdown or hardware failures. You may opt to send the backups to your Amazon S3 account so you can have more control over things like how long you desire them to be kept for you.
WordPress Website Staging – A very straightforward and flexible staging site is created by Pagely to make it convenient for you to have a version of your site where development work can take place, without any risk to your live site.
White Glove Website Migration – Moving from another web host to Pagely can be performed without any downtime occurring. Just submit a migration request and the Pagely team will take care of everything for you.

Other Features of Pagely Managed WordPress Hosting
Pagely is certainly not short of features when it comes to hosting your website in a fast and secure environment. Some of the other aspects of Pagely to consider include:
PressThumb image optimization and thumbnail generation tool.
PressCACHE global WordPress acceleration system.
PressArmor WordPress website security architecture.
PressDNS premium powered by AWS Route 53.
Modern hosting stack using PHP7, Nginx, and Redis.
PressFormance performance monitoring analytics and assessments.
Beyond that, you get 13 global data centre locations to choose from, white-glove site migrations, and tons of developer-friendly tools, including WP-CLI. Also, if you're running an ecommerce store with WordPress, Pagely offers a hosting stack built to accelerate WooCommerce.
Pagely Features Overview
| | |
| --- | --- |
| Features | Details |
| Price | $299/month |
| Number of Websites | 15 |
| Instant DNS Setup | No |
| Hosting Speed | Amazon c3.med (medium speed). |
| Website Space | Limited at 20GB |
| Bandwidth Included | 100k visitors/month |
| SSL Certificates | No. Self-management of SSL Certificates. |
| Site Builder Included | No |
| Staging Environment | Yes |
| Full Redundancy | No |
| Enterprise Security | No |
| Daily Website Backups | Yes |
| 24/7 Access to Server Admins | Yes |
| Email Accounts | No |
| BotNet Security | Unknown |
| Site Health and Performance Tracking | No |
| Site Comments | No |
| Website Feedback | No |
| Community Access | No |
| 1 on 1 Marketing Mentorship | Yes |
See How I Sell Products with Zero Inventory Using a Simple 4 Step Formula
Pagely's 24/7 Premium Support
The two main ways to acquire support are via their Twitter account, @Pagely, and via their support ticket system at support.pagely.com. You should be able to contact support at any hour of any day to receive a prompt reply for your issue, which can be expected to be resolved within a few hours of notifying Pagely.
It is quite simple to get help on Pagely. All you have to do is submit a support ticket directly from the Atomic dashboard or on the company's "Submit Request" web page. The status of any open tickets can be monitored by logging into your Atomic dashboard. Pagely's ticketing system is in operation 24/7. Phone and live chat support are available on selected plans from 8:00 am – 5:00 pm PST.
They provide support on their private Slack channel, which is reserved for clients who can throw down the big bucks. Self-help resources in the support documentation are plentiful, but they are not thorough and sometimes no information is available.
What to Like about Pagely
State of the art data centres that use Amazon's S3 cloud technology
Customized cache engines
PressCDN, allowing access to countless data centres around the globe
Automatic trouble-free upgrades to minimize the risk of hackers breaching your website's security using publicly available WordPress exploits
World-class support
The new custom Atomic Dashboard is easy to navigate
All those "Press" Features make running a website a lot easy and simpler
Flexible site staging and sync commands
Automatic offsite backups with 14-day retention
Hosting accounts protected with firewalls and Pagely's own PressAmor Advanced Network Security system
100 percent uptime
Unlimited page views/visitors
Plenty of training materials for beginners and reliable email ticketing system
30-day money-back guarantee
What not to Like about Pagely
Geographical limitations for some locations, such as Africa or Asia
Web hosting is limited to just WordPress
Hosting plans are a little pricey compared to other companies offering managed WordPress hosting.
Phone and live chat support are available only on selected plans.
No cPanel
No trial period
Inability to purchase a domain
Pagely Managed WordPress Hosting Plans
The Pagely hosting plans are offered in three main varieties: VPS, Enterprise and Elite Publisher. VPS hosting is the cheapest server type currently on offer. In total, there are six different VPS plans, with the cheapest at $199/month and range up to $2249/month.  In recent years, however, Pagely decided to abandon its consumer plans to give more preference to enterprise customers.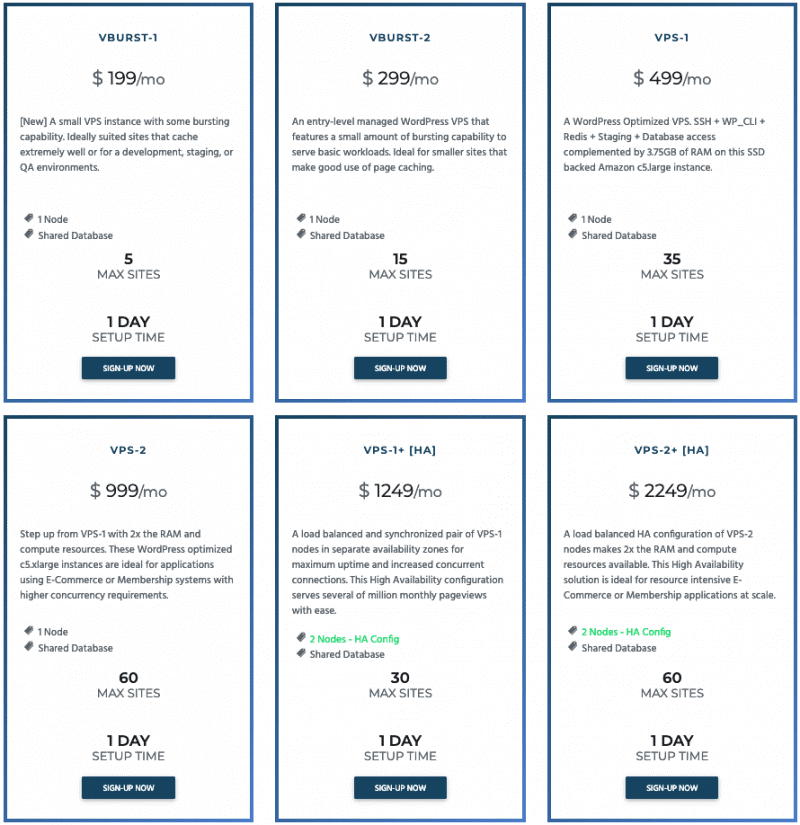 Pagely Virtual Private Server (VPS) Hosting – The VPS packages are the entry-level hosting plans, which supports up to 15 WordPress websites, with 60 sites allowed on the top plan. Part of the service includes having your website managed and optimized by the Pagely team, regardless of which month-to-month subscriptions you choose.
This is an ideal choice for anyone looking after multiple websites. SSD storage space ranges from 30 GB to 50 GB so it is important to check your requirements prior to signing up and trying to migrate multiple websites to a single plan. There's also a 30-day money back guaranteed in place, giving you the ability to try Pagely without risk.
Bandwidth allowance on the VPS plans ranges from 50 GB to 750 GB on the top plan, including access to the CDN as standard. The prices are published on the Pagely website for transparency with options that cover bandwidth expansion, disk expansion and PressCDN expansion. Prices for the managed WordPress VPS hosting plans start at $299 per month.
Pagely Enterprise WordPress Hosting – The hosting plans include much more generous allowances from the outset and available in both preconfigured plans and custom configurations to ensure you can find the ideal environment for your website. Similar to the VPS plans, resource expansion packs are available on the enterprise plans.
Pagely Elite Publisher WordPress Hosting – This hosting plan is ideal when your website has grown beyond what the enterprise hosting plans can handle. The name of the offering is called Pulsar, meant for elite publishers and those with advanced website hosting needs. The plan comes with an access to some impressive features, including one hour guaranteed support response and full site monitor and alerts. With prices that start from $2,000 per month, this plan is probably not for casual website owners.
Refund Policy
Pagely's refund policy is good for 30 days. The service-level agreement offers four major guarantees with their hosting: 100% network uptime, 100% infrastructure uptime, 1-hour hardware replacement and nightly backups. A claim for service credit may be filed if any of these guarantees are not upheld by contacting Pagely's customer support. You may be asked for additional information to verify your identity, as information pertaining to your website may be immediately deleted upon cancellation.
Final Opinion
The relatively higher price of the Pagely hosting plans put them in a bracket higher than many other managed WordPress hosts, making Pagely not for anyone who is just getting started with a website or blog.
If you, however, have outgrown your current web host or you have bigger plans for your new website, then the high-performance service offered by Pagely should definitely be on your shortlist. Pagely should also be able to meet your requirements if you are creating software or a service built with WordPress that needs to be highly robust and hosted on solid foundations. If you require upgrades, then you can always rely on the white-glove migration service to move your website to Pagely without any problems when the time is right.
Pagely boasts of remarkable features, such as access to expert WordPress support staff, a hosting environment built on the Amazon Web Services infrastructure, and a good choice of data centres. It is also worth mentioning the developer-friendly aspects that make Pagely a standout company in the managed WordPress hosting space. Not surprising, since Pagely kick-started this whole industry!
Alternative Hosting Option
An alternative to hosting with Pagely is hosting with Wealthy Affiliate. Here is a comparison chart to show you Pagely hosting against Wealthy Affiliate hosting.
Join over a Million Members
Who Have Started Their Own Online Business.
Build Your First Blog Before Your Coffee is Brewed!
Learn How to Start Your Own Fun Blog using My 4 Step Formula