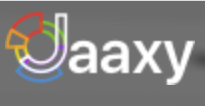 I never took much notice of keywords until I discovered their power. OMG, what a difference a little knowledge can do to turn your website from 'a rural side road' to 'a major highway.' Check out the details in this From Keywords to Ranking article!
From keyword to ranking – let's start with the why:
Well, the 'why' comes down to one thing. "TRAFFIC." Having keywords in your website's content as text, whether it be in the title of your articles, or in the body of the content if you want web traffic to come to your website. Now the search engines are going to find these keywords, and decide where they should rank your article.
Google Spider Bot: Or GoogleBot:
What is a Spider Bot or GoogleBot? Well, Googlebot is Google's web crawling bot (sometimes also called a "spider") and its function is crawling new and updated pages to be added to the Google index. They use a huge set of computers to fetch (or "crawl") billions of pages on the web. These bots are on the move all the time. So, for your website to compete, you must have relevant keywords. Without them, it would be near impossible to be ranking where it matters.
A Jaaxy Keyword Case Study Video – 4:44 minutes
Here is a short video showing you a real case study to show that a tool like Jaaxy really works. The power of this tool to find the keywords that will launch the ranking of your website is unimaginable until you see it for yourself.
Watch this video – it's only 4:44 minutes long.
Build Your First Blog Before Your Coffee is Brewed!
Learn How to Start Your Own Fun Blog using My 4 Step Formula
Ranking In Google – All Online Marketers Should Know:
Jaaxy Enterprise can precisely and accurately obtain the right keywords for your website's content in a snap! But that's not all! Jaaxy has a Site Rank feature which allows you to search for a keyword from a post on your website as shown in the following screenshot.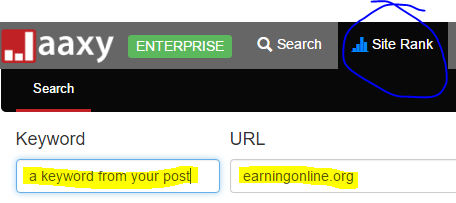 Keyword Results
You can see that there are four keyword results showing in this next screenshot below, and it shows what position in the SEO rankings each of the keywords are in. It also states what SERP (Search Engine Results Page) it is sitting in on Apr 01, 2017.
So, my keyword phrase 'new entrepreneur ideas' on my website 'earningonline.org' is in 56th position on page 6 on Apr 01, 2017.
But the best result out of the four you see here is the keyword phrase 'why keyword research is important' in 32nd position on page 4 on Apr 01, 2017. I can do a search update every few days or so to keep track of all the keywords I place in the search bar in Jaaxy.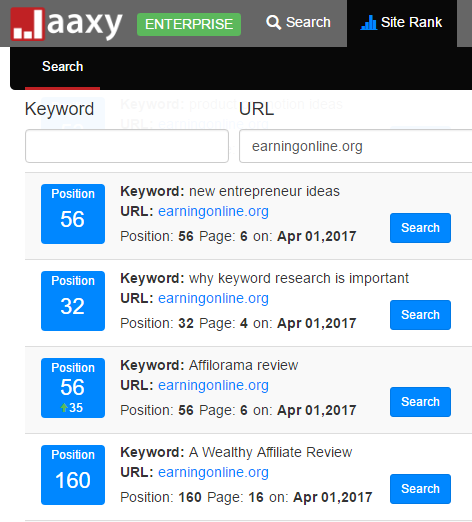 Choose the Jaaxy That Suits YOU Here! Your Online Business will thank you!
Join over a Million Members
Who Have Started Their Own Online Business.
Build Your First Blog Before Your Coffee is Brewed!
Learn How to Start Your Own Fun Blog using My 4 Step Formula