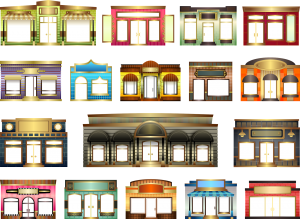 One day my elderly mother decided she wanted a haircut at the newly opened local hairdresser. So I got on the internet to find their business and contact details and operating hours.  But guess what?….. I couldn't find them anywhere online. Now, I know they have a shop location as I had passed it just the day before. It appeared that they weren't even listed in the phone book. Wow! Imagine the amount of business the hairdresser owner was missing out on.
Does Your Business Rely On Walk-In Customers?
If your business relies on walk-in customers such as a hairdresser, for example, it's no excuse not to be online. Even if it was only to provide contact details and location and hours of operation details, it would be of great service to potential customers. If your business is not online then the likelihood that you are missing out on customers is high.
Factoring In Your Online Presence Is A No Brainer
I thought to myself that there must be a lot of storefront businesses who are just like this. Maybe these business owners are just starting out and haven't yet gotten around to establishing themselves online yet, they might be cash-strapped or whatever the reason is.
Is Your Busines Missing Out?
The reality is that these businesses are missing out on …. well business! They are missing out on paying customers because the customer can't find them online. Now I myself will always head online first to find a number of services I am looking for. It's going to save me a whole lot of time.
An Online Presence Is Essential For Any Business
So when I couldn't' find the hairdresser online I thought that I would write an article about this, in the hope that businesses like this will have at least the most basic information needed to change this and get themselves online. Beyond this, having an online strategy for your business should be an INTEGRAL part of your business plan.
How to get your business on Facebook for free
One of the easiest ways is to set up a Facebook page which costs absolutely nothing. You must have your own facebook account first and then you have the option to create 'a page' dedicated to your business and the information you want people to see. You should at least have your opening hours, contact details, location details and product, and service information. Then at least your customers existing and potential customers can find you. This is the least you should do.
Build Your First Blog Before Your Coffee is Brewed!
Learn How to Start Your Own Fun Blog using My 4 Step Formula
See How I Sell Products with Zero Inventory Using a Simple 4 Step Formula
How to get your business on Google for free
Google Plus is the go-to social network platform. It's not as big as facebook but never-the-less it is the search engine GIANT. This alone is reason enough to not ignore Google Plus – especially so for business. All you need is to register and set up an account and you are on your way. It takes no time at all. Remember to at least provide your business contact details, location details and the hours that you are open for business.
How to get your business noticed online
Aside from Social Network pages, having a WEBSITE, even if we're only a one page website, for those people who do not have social media accounts or who do not frequent any of the social media networks such as facebook and google plus, but including Twitter, Snap Chat and Instagram for example, then a website is the answer. Actually, a website can be linked to all social media networks, so in this way, a website can make more sense! Don't have time you say? Nowadays, building a website can take just a few minutes and there are some great tools available to help you get started.
How to get your business known locally using Facebook
If you have a little cash to spare then taking ads out on Facebook can be a very cost-effective
way to reach your audience. These ads can be set to a specific region say your township for example if your business is localized. Say you have a SPECIAL for the month, and you write an article about the special on your website, you use this same article to create an ad in Facebook and point it to your specific audience and location using the facebook settings. Now you have an ad pointed to a Facebook audience, but also to a NON-facebook audience via your website. You could have old and new customers subscribe to your website and that way they will receive notices for any OFFERS you have. It might be a product discount!
What other effects can an online presence have on your business?
Breaking into the online space can really be beneficial to your business for years and years after an initial post, whether you are an online business or a foot-traffic business. The online presence from one article with a link to your website, for example, can have a repeat effect, over and over again bringing in new business year after year. So why wouldn't you want to take advantage of this effect?
Advanced Online Business Training
To get the most of having an online presence LONGTERM, then undertaking your own training on this subject is the way forward. Why pay someone else to do it when you can learn yourself – it's absolutely possible to learn this stuff no matter what your technical ability, at least with the right training programme.
Be sure to read the reviews at the top of this article
There are a number of training options available to those who are just starting out. But also for the more advanced. Either way, there is a price to pay which can range from getting started for free to anywhere above and beyond. What matters is that you get the tools, know-how and support through quality training programmes. If you can try a TRAINING programme before you buy, then this would be ideal, then at least you can get out of it before you commit to paying for it.
Join over a Million Members
Who Have Started Their Own Online Business.
Build Your First Blog Before Your Coffee is Brewed!
Learn How to Start Your Own Fun Blog using My 4 Step Formula