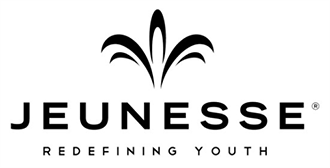 For centuries, people, especially women, have been searching for that proverbial way to stay healthy and look younger. Here comes Jeunesse Global with a mission to help people achieve youthful looks and healthy living, and help empower each other to unleash their potential while embracing life. This Jeunesse Global MLM Review will cover information about the company, its products, business plan and more to help you find out if Jeunesse Global could be a Godsend.
OVERVIEW
Jeunesse Global is a privately held network marketing company. To differentiate itself in the marketplace, Jeunesse Global combines breakthrough sciences in a product system that enhances youthful appearances at a cellular level. It boasts of using stem cell research in creating their product lines. With full line of health, skin care, and fitness products, Jeunesse is earning around $419 million in global revenue annually. The company takes pride in its established distributors all over the globe.
Product Name:                  Jeunesse Global
Founder:                                Randy Ray and Wendy Lewis
Industry:                                Multi-level Marketing
Product Type:                       Health, wellness and anti-aging products
Website:                                 https://www.jeunesseglobal.com/
Price:                                      $49 as entry price for a distributor
(price may change on certain periods when they offer promotions), and a recurring order requirement of about $93 each month (or depending on the country of location), to qualify for distributor commissions.
Rating:                                   27/100
Recommended:                     No
What is Jeunesse Global?
Jeunesse Global was originally founded by Randy Ray and Wendy Lewis in the year 2009 in Lake Mary, Florida, USA. Today, the company is one of the leading MLM companies across the globe. Data collected from the Jeunesse Global website and various other sources reveal that they have a wide network of over half a million independent customer agents with a customer base in more than 80 countries. Jeunesse Global has an impressive sales revenue of almost $3 billion, which was generated within their first seven years in the network marketing sector.
Jeunesse Global is the leading manufacturer and distributor of what is claimed to be 100% natural skin care products, cosmetics and health supplements. These products are made even more attractive by packing them in impressive covers. The company also provides some glitzy promotional materials featuring motivational stories from their successful distributors. Their independent distributors are called "Generation Young", while their products are named in interesting ways, such as "Finiti", "Nevo" and "M1nd" (It's "1" and not "I"), "Luminesce Cellular Rejuvenation Serum".
The Florida-based MLM company has acquired 79 Stevie Awards, 17 Direct selling News Awards and 29 MarCom Awards.
Build Your First Blog Before Your Coffee is Brewed!
Learn How to Start Your Own Fun Blog using My 4 Step Formula
Are Jeunesse Products Worthy of the Price?
The company markets anti-aging products that include supplements, creams and gels collectively referred to as a Youth Enhancement System (Y.E.S.). The system consists of six product lines said to be based on stem cell innovation, DNA repair, and telomere maintenance that provide unmatched results.
Jeunesse Global products are separated into four main categories:
Instantly Ageless ($74.95 for fifty 0.3 ml sachets): Advertised as a wrinkle-fighting and anti-aging, micro cream, this product is a unique skin cream that acts as an invisible foundation to make wrinkles invisible.
ZEN Bodi: There are three products in this weight management supplement package which work together in curbing appetite, burning fat and building muscle.
Zen Fit ($48.95 for 30 single-portion packages) – A wealthy source of amino acids, which helps muscle recovery and protein digestion.
Zen Pro ($69.95 for 14 single-serve packages) – A potent blend of whey protein, rice, and peas to build the power needed to tone up.
Zen Shape ($55.95 for a bottle of 120 capsules) – A powerful extract of African mango seed, green tea leaf, and raspberry ketones to fight the desire for sugar while controlling hunger.
Luminesce: The company's flagship product line, Luminesce is a set of different skin creams that assure to renew, repair, and cleanse your skin and give it a radiant glow.
Luminesce Renewal of the Essential Body ($59.59 for a 150 ml tube) – "Your skin will love its antioxidants and factors of human growth that revitalize your skin appearance, giving you a healthy and nourished appearance".
Luminesce Cell Rejuvenation Serum ($134.95 for a 15ml bottle) – This silky anti-aging serum illuminates and rejuvenates the skin.
Luminesce Daily Moisturizing Complex ($69.95 for a 30ml bottle) – This daily facial cream provides serious protection for the skin.
Luminesce Advanced Night Repair ($99.95 per 30 ml tube) – An advanced "night cream" that restores a youthful appearance while nourishing the skin.
Luminesce Ultimate Masque Facelift ($69.95 for a 118 ml tube) – A unique formula that provides a gentle exfoliation to instantly lift and hydrate to reduce the appearance of fine lines and wrinkles.
Health Supplements: Three different supplements are rounded out in this product line-up: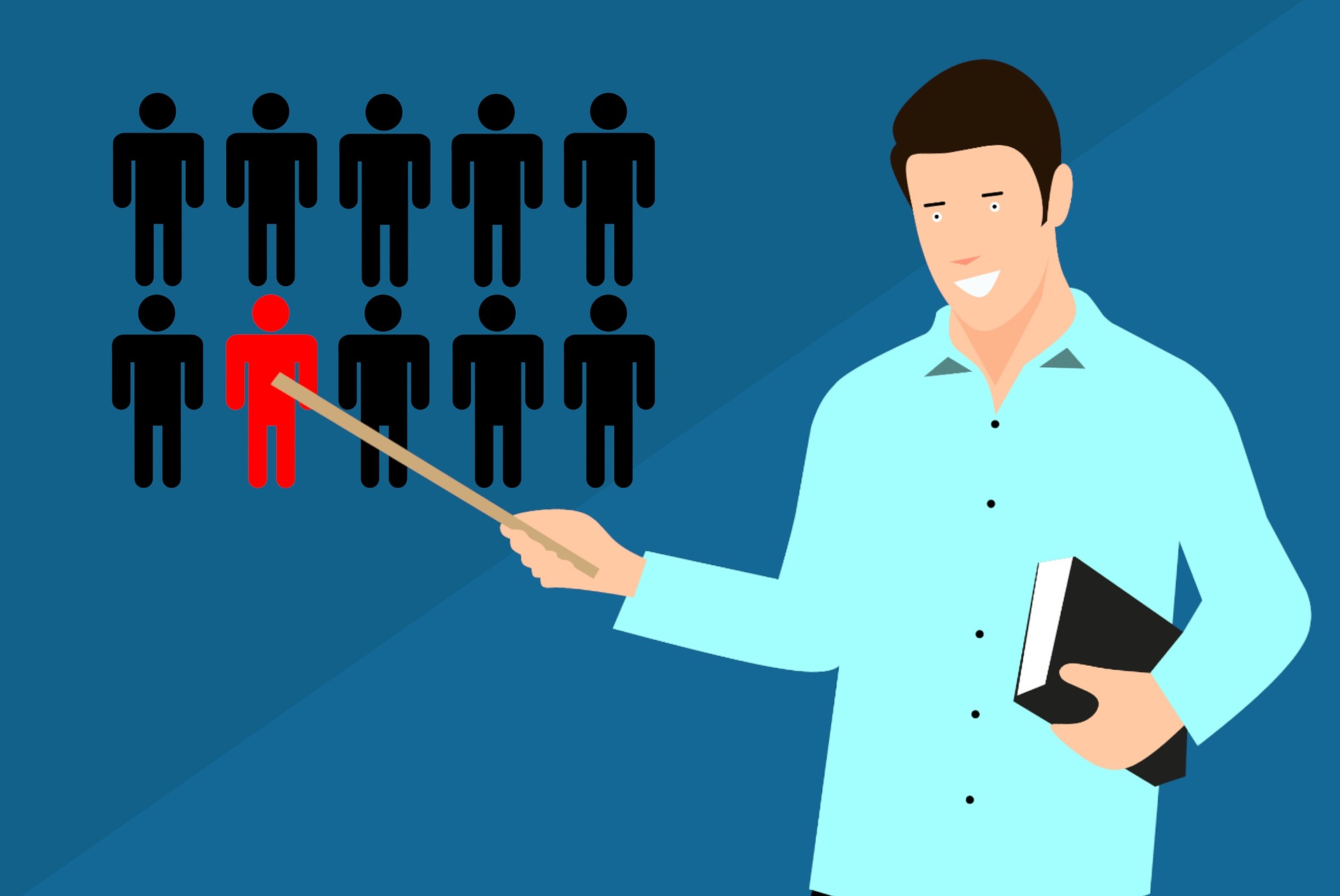 AM & PM Essentials ($139.95 for two bottles of 60 tablets) – Designed to be taken in the morning and at night, these two different supplements are formulated to effectively delay the symptoms of premature aging.
Finiti ($289.95 for two bottles of 60 capsules) – An exclusive blend of natural ingredients known to safely extend short telomeres and maintain healthy stem cells.
Reserve ($134.95 for a box of thirty 30ml bags) – A unique botanical blend of superfruits containing a powerhouse of antioxidants that work together to fight back against free radicals connected with diseases and general aging.
Compared with best-selling alternatives, Jeunesse products are way more expensive. Although the company claims that their products contain advanced technology to cure cancer, lower blood pressure, treat psoriasis and a host of other diseases, there are no scientific backings to any of those claims.
Multiple consumer complaints regarding these inappropriate health claims have prompted the Truth In Advertising (TINA), a leading watchdog group, to investigate and send Jeunesse Global a warning letter indicating that the FTC would be alerted if such claims continue.
Network marketers are shifting from MLM to Affiliate Marketing.
See the platform that they're switching to.
The Jeunesse MLM Opportunity
To participate in the income opportunity offered by Jeunesse, you have to become an affiliate member by acquiring any product package to get started. As a new enrolee, you will receive digital and printed marketing materials, back office management system access, and your own personalized website.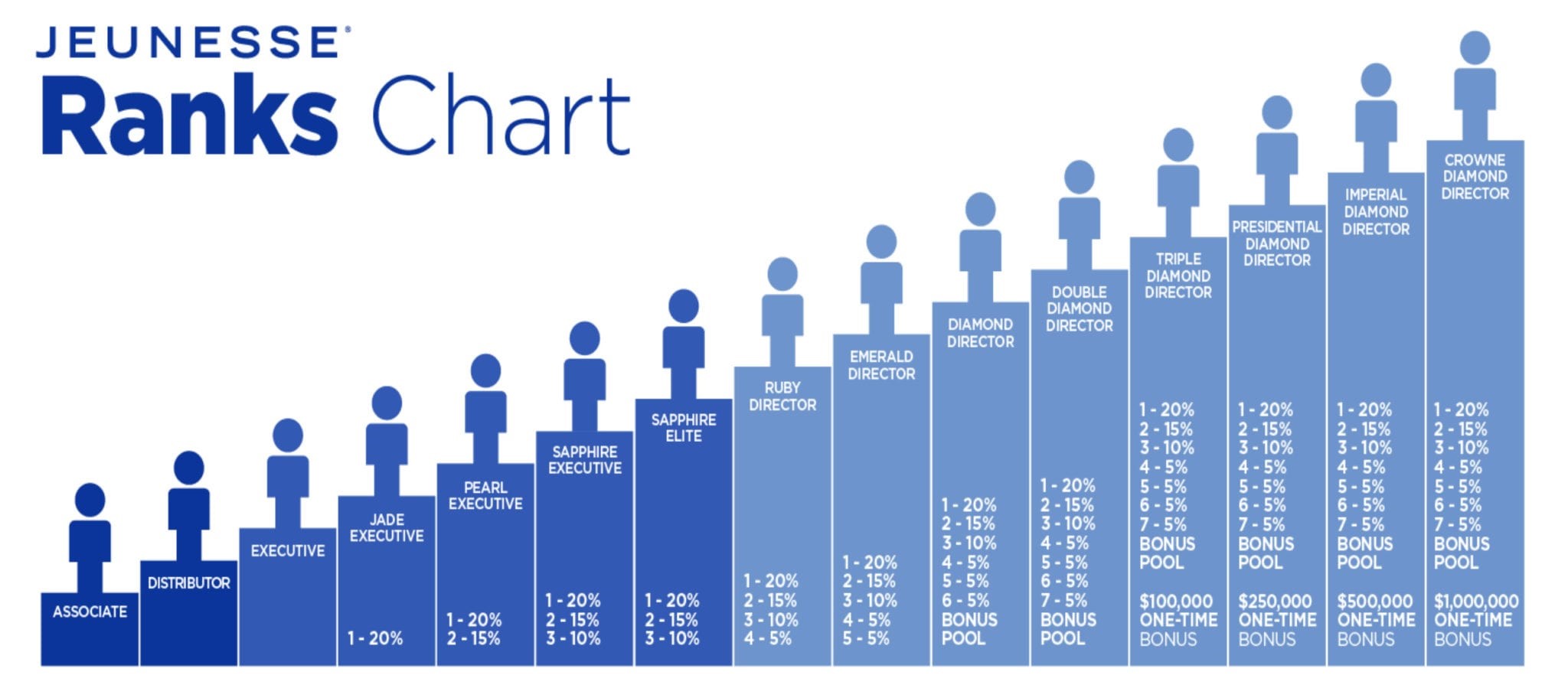 Individuals who opt to sign up for the company's social media marketing system will enjoy it for free for the first month, but will be charged $19 thereafter. This system enables distributors to manage contacts, measure campaign statistics, and access lead pages.
As soon as you get started, you will need to work on increasing your rank in the company. The higher the rank means the more money you can make. Jeunesse has a total of 15 ranks that can be reached after satisfying the corresponding qualifications:
Associate Rank
Distributor Rank
Executive Rank
Jade Executive
Pearl Executive Rank
Sapphire Executive Rank
Sapphire Elite Rank
Ruby Director Rank
Emerald Director Rank
Diamond Director Rank
Double Diamond Director Rank
Triple Diamond Director
Presidential Diamond Director
Imperial Diamond Director Rank
Jeunesse offers the following product packages that you can buy when you initially join so you can temporarily "fast-track" your rank without having to meet the qualifications for that rank.
Supreme Product Package ($499.95) – This package will hasten and enable you to qualify for the Executive Rank for 60 days.
Jumbo Product Package ($799.95) – This is the qualifying package to advance you to the Executive Rank Sapphire for 90 days.
Ambassador Product Package ($1,099.95) – Acquiring this product package will catapult you to the Sapphire Executive Rank for 180 days.
One-Year Jumbo Product Package ($1,799.95) – Fast track to qualify for the Sapphire Executive Rank for 90 days.
How Much Does It Cost to Join Jeunesse Global?
The minimum cost to join as an affiliate member of Jeunesse Global is a one-time $49.95 and $19.95 thereafter. Residents of the USA may become Jeunesse distributors by paying the start-up fee of $49, while individuals elsewhere will be charged $29.
Signing up for any of the product packages listed above, including the Basic Product Package that costs $199.95, and going on the 360 autoship means your $19.95 per year will be waived.
Can You Make Money with Jeunesse Global?
Independent distributors receive 20% to 45% retail profit for each Jeunesse product sale. Distributors avail of these products at wholesale and sell to customers at retail. Preferred customers are qualified to receive a 10% discount on purchases, and will receive a 20% discount by enrolment in the company's autoship program.
The company provides six different ways to earn an income, namely:
Retail commission: Sales of retail commissions vary between 20% and 45%, depending on the product chosen. Preferred customers can get a 20% discount on retail as long as they have a monthly autoship.
New customer acquisitions: Commissions can be earned every time you refer someone to join the platform.
Team commissions: Profit is gained every time someone in your team makes a sale.
Leadership matching bonus (Jade Ranks and higher): This matching bonus will pay out a percentage of the residual commissions that you personally referred, and team members earn 7 levels deep. The unilevel compensation plan is used to pay out these commissions.
Customer acquisition incentive
Leadership bonus pool: People with highest sales earn a cut of a bonus pool every month.
The Good and Bad of Jeunesse Global

Pros
A legit organisation with real owners – Jeunesse Global is owned by real people who can be made accountable for their business, answerable to stakeholders, and have to abide by the law.
Included in the Inc. 500/5000 list of America's fastest growing MLM companies
With more than half a million independent distributors spread across over 80 countries around the world, Jeunesse can respond to the huge demand of the consumer market for a wide variety of health and wellness products.
Money-Back Guarantee – Retail customers who order directly from the company website are provided a 30-day money back guarantee. It also applies to distributors who desire to return products purchased for their own personal use. However, products must be returned in exchange for a refund within 10 days.
Interesting Compensation Plan that offers six different ways through which you can earn money through their pay-out plans
Evergreen niche – Their health and beauty products, especially for young-looking and anti-aging, are great products with quality and value.
Cons
Inappropriate and unverified health claims – A multitude of Jeunesse distributors are advertising their products can cure, alleviate symptoms, prevent or treat a host of diseases, including cancer, anaemia and psoriasis. These claims have not been verified by authorities.
Overpriced products – The Jeunesse products sold cost more than those that are widely available in the market.
Need for advanced marketing skills –New distributors need to develop a plan quickly by themselves in order to grow into higher ranks.
Low success rate – The percentage of people who joined Jeunesse Global and succeeded is notoriously low.
Negative reviews – Jeunesse Global and its products have a lot of negative reviews across the Internet.
Works like a pyramid scheme – Jeunesse Global gives more importance in recruiting new members instead of selling some of their actual products. As the FTC explained that in a pyramid scheme, participants purchase the right to earn profits by recruiting other participants, who themselves are interested in recruitment fees rather than focusing on the sale of products.
No Better Business Bureau (BBB) accreditation
Default Issues – The company is currently in the process of foreclosure proceedings concerning a default on a $182 million note it acquired after purchasing MonaVie a few years ago.
Monthly Requirement – The need to spend $85 monthly for products delivered on the autoship program in order to meet qualification requirements can be a concern for distributors for it means buying through the company even if they are not selling products.
Returns –The money-back guarantee does not include shipping charges that were incurred at the time of purchase.
Is Jeunesse Global a Scam?
Jeunesse Global is a legitimate company. It is not a scam or a pyramid scheme because it pays commissions from sales of the products. It's just they do not meet the expectations of some of the members that is why there are multiple complaints about the company. These complaints gave rise to speculations that the company is a scam.
Final Thoughts on Jeunesse Global MLM
Jeunesse Global is a well-established network marketing company with business across the globe. Operating on an MLM scheme, Jeunesse promises a certain amount of income, which members need to sweat it out to make some good money. Judging from how it operates, however, Jeunesse Global gives more focus on recruiting new people than concentrating on selling their products, which puts it dangerously close to a pyramid scheme.
Overall, if you are looking for a long-term MLM company that will be around and you can make money from, there are better alternatives out there. Or, you can take a look at how to make money online without having to first buy product to sell or having to recruit your friends and family to make money.
Alternative Option to Jeunesse Global MLM
If family, time and money are important to you then Making Money from home is the way to go and Affiliate Marketing can give all of this and more. All you need is a computer, an internet connection and a couple of hours a day to get started. No experience is necessary and training is freely available online. Best of all, you do not need to buy any product whatsoever. In fact, it's even possible to make money without spending any of your own money and without leaving the house or the kids. See the comparison table with Jeunesse Global MLM next to a world leading affiliate marketing business platform known as Wealthy Affiliate.
Network marketers are shifting from MLM to Affiliate Marketing.
See the platform that they're switching to.
Build Your First Blog Before Your Coffee is Brewed!
Learn How to Start Your Own Fun Blog using My 4 Step Formula