Want Something Better Than LURN?
I joined Wealthy Affiliate in 2016 with zero marketing experience & within a few months, I had a website built that was driving traffic daily.
Wealthy Affiliate is the real deal and works. Come on in, and I will show you how to actually start making money with your own website. One of the best investments you'd ever make.
So, what's all the hype about Lurn? Is this the real deal or is LURN another overactive, overzealous underperformer in the online marketing industry? In my Lurn Review, I shall reveal all the details about the product and determine if it is any good or not. Read on!
OVERVIEW
The company is owned by Anik Singal who is a digital marketer for more than 13 years. He formulated and mastered a digital marketing technique that made him millions of dollars on a constant scale. Now he is giving back to the people by sharing his craft to help others make a successful digital marketing business. Lurn.com offer subscription-based and free affiliate marketing courses that are suitable for beginners and experienced digital marketers. Each training package contains a step-by-step easy to set up guide, latest online marketing tools, and motivational instructions to help you hit the mark. So what are the advantages and disadvantages if you sign up for this service? Let's find out.
Website:  lurn.com
Price:  $37 Motivational Course, $1,497 E-mail Marketing, $2,997 Publishing Academy
Owner:  Anik Singal
Overall Ranking:  72 out of 100 (3.6/5)
Lurn Review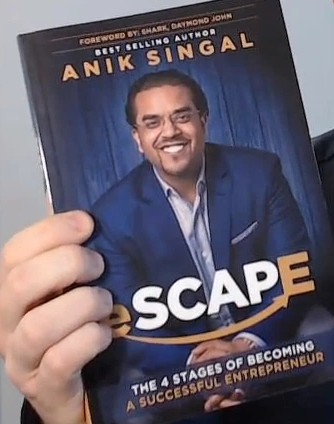 Lurn.com is the online home of LURN, a platform that caters to more than a hundred courses, both free and paid. The company offers free and subscription-based affiliate courses suitable for beginners and seasoned digital marketers. Within this site are training packages consisting of step-by-step easy to set up guide, marketing tools, and motivational instructions on many different topics, such as:
Online marketing
Affiliate marketing
Starting an online business
Digital marketing courses
Email marketing training
Training on starting a coaching business
and so much more
About the Creator
Anik Singal is a self-made millionaire who specializes and teaches digital marketing. He studied at the University of Maryland, where he was awarded Company of the Year from MTech and was conferred as Entrepreneur of the Year by the Hinman CEOs. His success and journey, however, were not that easy for him.
He started in 2001 and earned his first dollar online after 18 months of struggle. After a few years, he built his $10 million-a-year business by making sales worldwide. For more than 15 years, his online business has sold over $100 million in total value of products.
Business Week featured Anik as a Top 3 Entrepreneur under 25 in 2008, and was included in Inc 500 for two consecutive years. He has spoken as a motivational and Entrepreneurship coach in the TedX talk in Luxembourg, and invited as a speaker in a number of prestigious shows, such as ABC News, channel 4 morning show, and Clickbank. Huffington Post also wrote a piece of article about him. On top of this, he is also a best-selling author.
He now embarks on his personal mission to share his entrepreneurial secrets in his LURN courses and influence people around the world who are looking for true financial freedom.
Who is Lurn for?
The course is suitable for almost anyone that wants to explore digital marketing, dreaming of financial freedom, and people that want to convert their passion into money. They offer courses to help boost your entrepreneurial mindset, launch an effective money-making email marketing strategy, and a proven technique to help you maximize the profits. The thing is, you are having to fork out a lot of money for the more advanced courses especially those delivered by well known personalities. As a beginner, this is somewhat unrealistic if you don't have boat loads of money to spare. With over a hundred courses in Lurn, it's possible to spend a few thousand dollars on these courses which is unnecessary.
Lurn Courses
The platform contains all the 27 courses designed and taught by Anik Singal himself.
LURN Insider: Build, Start and Launch your Own Online Business ($67) – This '21-Day Entrepreneurship Training Program' is designed to help anyone completely transform their mind and quickly master the skill to build, start and launch your first online business. Certified students are given access to the LURN Insider Community.
Circle of Profit: Create your Own Digital Publishing Business ($7.97) – The course is described as a cutting-edge approach to simplify the launching of your own 'Digital Publishing Business'. It is based on the best-selling book "The Circle of Profit". There are 31 chapters aimed to turn your ideas into a lifetime of profits.
eSCAPE Masterclass: 12 Weeks of eEscape Training with Anik Singal ($597) – This is a premium personalized training from Anik Singal and his team aimed at accelerating your understanding of eEscape Book.
Inbox Blueprint ($1,497) – This is a system and full-training composed of 8 modules on how to harness the proven power of Email in building a profitable, long-term business from scratch – in a fast, easy and affordable manner.
Emails that Sell: Master Email Marketing and Learn How to Increase Open and Click Rates ($197) – In this full 5-module course, you will learn how to increase open and click rates for your business. It is created mainly to help you build, write and send Emails that sell.
Marketing with Anik: Platinum Membership – Learn Marketing With Anik ($297) – In just 12 weeks, you can learn the entire advanced traffic generation techniques discovered by Anik in over 15 years. The course teaches the secret how over 2.5 million visitors per year are attracted to their websites.
Circle of Profit Classroom: Start Profiting Off of Your Passion ($1.99) – This is the digital classroom version of the best-selling book. From it, you can learn how to start your own digital publishing business and build your own sustainable profit engine.
Copywriting Academy: Master the Art of Selling through Written Words ($348.50) – This is a 'Ground-breaking Copywriting Certification Program' that takes you through the step-by-step process of writing copy that sells, for your own projects and for your clients.
FB Academy: Master Facebook Ads to Increase your Revenue ($348.50) – There are 10 modules that include the 'Proven Step-by-Step Formula to Instantly Selling any Product or Service Using Tiny Facebook Ads – Starting with a Budget of $20!'
Coaching & Consulting Bootcamp: Start your Own Coaching Business (FREE) – The 'Proven Strategy For Creating and Growing A Simple, Straightforward, and Lucrative Coaching Or Consulting Business' (That Can Help You Make A Massive Impact) can be learned at absolutely no cost.
FB Bootcamp: Start Learning how to Create Facebook Ads (FREE) – This '8-Part System to Get Started with Facebook Ads – One Of The Most Powerful Ad Platforms Available Today For Any Business, Product, Or Service' is offered for free.
Digital Bootcamp: Start Building your Own Online Business using Email (FREE) – This is another free course that teaches the 'Step-by-Step System You Need to Start and Grow an Online Business, Even if You're a Total Beginner and don't Know where to Start'.
Copywriting Bootcamp: Start Selling through the Art of Written Words (FREE) – Learn the '5-Step Persuasive Copywriting Formula You can Use to Sell any Product on the Internet' (Even if You're not a Professional Writer).
Digital Startup (FREE) – This is a 'Crash Course for Getting Started in the Low Cost, High Reward World of Digital Entrepreneurship'.
Traffic Geniuses: Harness the Power of Traffic for your Business ($20) – A course to get the 'Directions to Learn, Master, and Execute Getting Amazing Amounts of Traffic from Multiple Sources so You can Make More Sales and Profit from Your Site'.
Massive Traffic Startup: Learn How to Drive Massive Traffic to your Site (FREE) – This free course offers the 'Step-By-Step Direction to Leverage the most Important Types of Traffic to Achieve Higher Sales, More Conversions, and Greater Revenue'!
LURN Summit Replay: The Entire Summit Featuring Keynote Speakers ($20) – Learn from bestselling authors 'Robert Kiyosaki and Bob Proctor in this Life-Changing Summit to Develop a Winner's Mindset, Make Money no Matter Your Business Model'.
The New Entrepreneur: Welcome to your Online Home, Entrepreneur (FREE) – Take advantage of this 'Newcomer's Crash Course in Online Entrepreneurship'. And 'Transform Your Mindset and Get Inspired so You can Change the Trajectory of Your Life'!
Million Dollar Funnels: Use our Top 7 Funnels to Grow your Business ($597.00) – For the first time ever, the '7 Funnels that have Doubled our Revenue' and 'Scaled our Company to Enormous Levels over the Past Couple of Years' are finally being revealed in this course. Get 'Insider's Access to all of the Funnels Responsible for this Success – and the Strategies Behind Them'.
Millionaire Mentor: Discover the Millionaire in You ($197) – This full training program presents 'Awaken the Millionaire Inside of You in just 7 steps! Master the Thoughts, Characteristics, and Behaviours all Wealthy People Share'.
eSCAPE  ($7.97) – After selling over $200 million worth of products online, building 6 companies, interviewing 50 Millionaires and 5 Billionaires, Anik is revealing it all in this book that provides an exact roadmap for big breakthroughs as an entrepreneur.
Essential Skills For Entrepreneurs: Skills to Build, Scale and Grow a Business ($67) – Learn the essential skills to 'Bypass Years of Trial and Error to Jumpstart your Business'. Learn to 'Master the 5 Essential Skills every Entrepreneur Needs in Order to be Successful'!
On-Demand Startup: Launch your eCom Business (with Daymond Johnn) ($997)– In this 8-week hands-on coaching, you will learn 'How to Start, Launch, and Scale an eCOM Business from Scratch by Leveraging the Power of Influence'.
Funnel Bootcamp: Start Learning Anik Singal's Top 7 Go-To Funnels ($47) – Anik's 7 Go-To funnels are finally revealed! Learn about the 'Funnels Anik used to Generate Millions in Sales Over his Career'.
SEO Crash Course: Organic Traffic through Search Engine Optimization ($27) – This course teaches 'How to Master Search Engine Optimization to Help your Website Perform Well on Search Engine Rankings'! Learn how to 'Drive More Organic Traffic and Increase Website Visibility'.
Marketing With Anik : Gold Membership Class #2 ($97) – In just 12 weeks, learn the 'Entire Advanced Traffic Generation Techniques I've Discovered Over 15+ Years, To Attract Over 2.5 Million Visitors Per Year To Our Websites'.
GoFree: How to Get Targeted Free Traffic from Social Networks ($197) – This is a full training program on how to 'Master the Power of these Social Media Platforms and Drive Massive Traffic to Your Online Business'.
Pros and Cons of Lurn
Pros:
Offers free content
Easy to set up
The jumpstart kit is ideal for beginners that want to explore the world of digital marketing
Experienced digital publishers will also benefit from this course by expanding their entrepreneurial arsenal to grow their business
A learning curve for experienced digital marketers
Introduction to the new tools and software that will make your digital business easier
Convenient, inspiring, and easy to understand courses.
It will give you a perspective on what are the challenges that you are going to encounter and how are you going to come out golden.
An effective guide on how you'll be able to maximize profit through information gathering techniques, how to maintain and get new satisfied customers
The course is like gold refined by fire towards perfection. It offers the use of the latest digital marketing techniques through experience crafted into the simplest and proven way towards a successful affiliate marketing business
If you are not satisfied with the program you can get a refund. The terms will vary depending on the course that you had chosen.
Reputable experienced founder with a proven track record
Cons:
A bit expensive and overhyped
Monopoly of courses by Anik
Lack of enough credentials on the bios on all the experts
The powerpoint presentation in the courses is not enticing
Experienced entrepreneurs might find it a bit basic but it will teach you how to look for other products
Delayed dispersal of content might exhaust guarantee period
Not appealing affiliate product recommendations for experienced digital marketers
Poor customer support
Some tools don't work as it should
The numerous courses are similar to each other and can be overwhelming and confusing for newbies.
Want Something Better Than LURN?
I joined Wealthy Affiliate in 2016 with zero marketing experience & within a few months, I had a website built that was driving traffic daily.
Wealthy Affiliate is the real deal and works. Come on in, and I will show you how to actually start making money with your own website. One of the best investments you'd ever make.
Help and Support
A Customer Service team can be contacted at anytime. If you have questions, concerns, or complaints, you can call or submit them directly to their website through the Contact Us link.
Final Opinion
Anik Singal's LURN offers valuable information and training courses, both free and paid. Although the majority of the offered courses is made by Anik, others are from well-respected online figures like Robert Kiyosaki and Fred Lam, as well as from ordinary people who apparently became successful in using the LURN system. LURN is 100% legit, and if you are considering trying the courses, you can get started with one of the freebies or the cheapest ones. Of course, you need to expect upsells afterward, which can be costly, especially if the courses are from the well-known experts. Whichever course you prefer, whether free or paid, the massive information you will gain from LURN is priceless but can be sourced elsewhere for just a fraction of the price. There is an alternative, so lets take a closer look.
Alternative Option
You can get the same training infornation without having to pay over and over again for it as you do in Lurn.
In fact you can go onto the Wealthy Affiliate Platform yourself without paying a cent – no credit card required, and take a look at the courses there.
WA for short, is dedicated to training online web based entrepreneurs of all levels.
Here's a comparison below between Lurn and Wealthy Affiliate, so you can see from a glance, the difference in the features and services available to you. Note that you will not be paying over and over again in Wealthy Affiliate!
Want Something Better Than LURN?
I joined Wealthy Affiliate in 2016 with zero marketing experience & within a few months, I had a website built that was driving traffic daily.
Wealthy Affiliate is the real deal and works. Come on in, and I will show you how to actually start making money with your own website. One of the best investments you'd ever make.