OVERVIEW
To a business owner it's important to have a clear picture about what is happening in your chosen niche industry and online Affiliate Marketing is growing at great speeds as more and more promoters, merchants and companies discover it's power in moving product. So, here is a compilation of 10 Facts About Affiliate Marketing that will interest anyone in the game, giving you a snapshot and insight!
Married People Aged 25 to 44
Married people between the ages of 25 to 44 make up 55% of Affiliate Marketers according to AFFSTAT in years past. This is not surprising to me because it would include those who are at home taking care of young children, and perhaps looking at ways to earn supplementary income to support the household. So this makes alot of sence.

Product Brands
The Affiliate Marketing channel to promote product brands on the internet is the second most used – it is predicted to climb to a $6.8 billion industry up to 2020 according to FORESTER. This shouldn't be of any surprise though, since advanced training and technologies, including software and hosting platforms such as Wealthy Affiliate, make it straight forward, affordable and user friendly for anyone looking to get started.
Registered Companies Cashing In
Most affiliate profiles were individuals with privately owned websites in the past. But today registered companies or a collection of companies now make up most affiliates. It's no surprise here either that Companies want a bigger piece of the pie and have been adapting to the times. Some slower than others but these companies are all catching up as they realise that consumer behaviour potentially means a bigger reach across the globe for them and a change in their marketing approach.
Where Affiliates Work From…
According to AFFSTAT in 2016, 54% of affiliates work from home, 19% work from an office,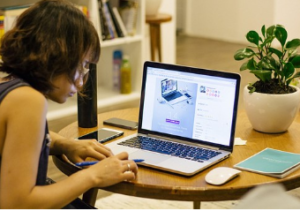 and 27% work a mixture of the two. Whether it is obvious or not, more and more people want the freedom of working from home or from anywhere in the world. The online affiliate world has certainly provided this opportunity since it's inception around 15 years now.
Generating Sources Are…
According to an AFFSTAT Survey, the FIVE traffic generating sources are…SEO with 69%; Social Networks with 67%; Blogging with 65%; Email-Marketing with 48%; PPC with 34%. The suggestion here is that Search Engines such as Google, Bing and Yahoo remain the main way consumers find what they are looking for, closely followed by Social Networks such as Facebook, Twitter and so on. Followed by blogging although Vlogging is a growing trend.
Build Your First Blog Before Your Coffee is Brewed!
Learn How to Start Your Own Fun Blog using My 4 Step Formula
See How I Sell Products with Zero Inventory Using a Simple 4 Step Formula
Vlogging A Growing Trend
Vlogging or video blogging is currently trending among internet marketers on social channels like YouTube, Facebook, and Twitter. So, the expectation is that popularity among affiliate marketers for this channel will grow in the years to come. Just see YouTube and facebook to know how popular this approch is.
Programs Affiliates Prefer To Promote
By looking at the type of programs affiliates prefer to promote, we see that Business to
Consumer (the customer being the consumer) or B2C is preferred by 60% of all affiliate marketers, as it is a friendlier environment online and the cycle is short. I.e. a mum is looking for soft toys and she finds a site, reads a product review and clicks through to buy an item.
Business To Business
Business to Business or B2B will take longer because the salesperson usually meets with the heads of departments who then get approval from someone higher, usually the business owner. The products and services are intended for other businesses. I.e. factory equipment, office equipment/furniture, and accounting services.
Most Promoted By Affiliates
Computer and electronics categories are promoted the most by affiliates at 41%. Then clothing apparel comes next at 40% and then online services. Amazon is the worlds biggest online retailer and provides a platform for affiliates promoting such things as Computers and electronics. Of course thier range of products across lines is massive, giving their affiliates or associates as Amazon like to call them, a huge choice of products to promote.
Affiliate Programs
Forty-two percent (42%) of affiliate marketers promote between 1 – 10 affiliate programs; 23% promote between 11 – 20 affiliate programs; 14% between 21 and 30 affiliate programs. The amount of products an affiliate want to promote is up to each affiliate, and will usually revovle around their chosen niche. This is usually a hobby or interest of theirs. Although, the more experience an affiliate gathers around online marketing, the more opportunities they see.
Join over a Million Members
Who Have Started Their Own Online Business.
Build Your First Blog Before Your Coffee is Brewed!
Learn How to Start Your Own Fun Blog using My 4 Step Formula