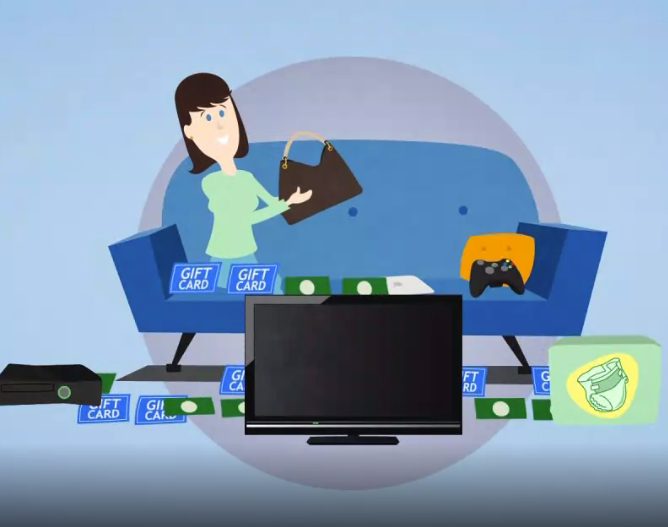 Is Point2Shop a product you would consider adding to you arsenal of income generating resources? Don't really know what it is? I reveal all in the detail in this Points2Shop Review. Let's get started.
OVERVIEW
Points2Shop (P2Shop) is a Get-Paid-To or GPT website where rewards can be earned for completing various activities. It is a very large online rewards program that uses several methods, including affiliate links, to provide members with opportunities to earn money, especially if they spend more time on the site. The "make money online" website also has a Facebook and Reddit account.
Points2Shop Review
Product Name:        Points2Shop
Type:                            Get Rewards to do Tasks
Website:                     points2shop.com
Owner:                       Unknown
Payment Type:        PayPal, Amazon, Visa and Check
Cost to join:              Free
Ranking:                    24 out of 100 (1.2/5)
Verdict:                       Legitimate
Who is Points2Shop for?
P2Shop is designed for two groups:
People with brands and business: The GPT site offers advertisers an opportunity to leverage its large membership base in several ways. This involves promoting their products and services, conducting market research surveys, and executing many crowd-sourced tasks such as apps download, subscription sign-up and trial offers.
People looking for ways to make money online: Points can be redeemed for various rewards after completing any of the tasks offered by people with brands and business.
The P2Shop site is open worldwide and welcomes members around the world who need to be at least 18 years old to register. International members have more opportunities to earn points and rewards.
When thinking about making money online, different websites come to mind. These websites are in a race to create various opportunities to offer. Many new sites are being launched each year and they try to compete with each other by becoming a get-paid-to website in order to get a bigger chunk of the market. Can Points2Shop outdo them?
About Points2Shop
P2Shop is a privately held company founded in 2007. The headquarters is located in Alpharetta, Georgia and employs between 11-50 personnel.  The international Internet-based market research firm is both an online and mobile provider of loyalty programs, boasting of a community with more than 13 million members from some 200 different countries across the globe.
How does Points2Shop Work?
Joining P2Shop is completely free. Registering does not require you to spend a dime nor reveal any credit card information, making you feel secure about the site and how it works. This procedure applies in all tasks except for PAID offers, which can be found on a separate section to leave no room for confusion.
Build Your First Blog Before Your Coffee is Brewed!
Learn How to Start Your Own Fun Blog using My 4 Step Formula
Upon registering with P2Shop, you also automatically become a member of its partner website, Cashle. P2Shop compensates its members with points after successfully completing its various offers, while Cashle pays members in cash. Advertisers pay P2Shop and the money is subsequently paid to the members who earn points from the links or banners derived from the advertisers' website.

Various rewards, such as cash, gift cards and other items can be redeemed after earning enough points. The amount of money or redeemed items vary, depending greatly on the time and effort spent on the site.
The Kind of Rewards You Can Get
P2Shop rewards members with two types of currencies, namely cash and points.
Cash – Cash can be earned in two ways: Firstly, refer friends to the P2Shop website by setting a link on your website. You earn cold hard cash when your referral joins under you through the link you provided. Secondly, you have to complete cash offers to receive cash instead of points.
Points – As the second currency that can potentially help you earn, it is important to remember that points cannot be converted into cash, but can be redeemed in the form of gift cards which can be used in Amazon.com.
See How I Sell Products with Zero Inventory Using a Simple 4 Step Formula
Different Ways To Earn Money At Points2Shop
Listed below are all the earning opportunities available on P2Shop from which you can earn cash and points:
Surveys: P2Shop hosts surveys for sites such as Global Test Market, Peanut Labs, Toluna and uSamp by acting as a third party. As such, they earn incentives for every completed survey. Your earnings depend on the surveys and on the time spent completing them.
Offers: Two types of offers are available. The free offers require you to join another company or sign up with them for free wherein you earn points or money each time. The second are paid offers in which you need to purchase something to earn money. They can be especially helpful if they involve products that you are considering to buy.
Videos: Merged under the section of Offers, videos are offered by advertisers such as OfferToro and TrialPay where you can get points/cash for watching.
Games: Earning points can be fun by choosing from over 100 games to play. You can bet points and challenge other members. The games are played for keeps and the winner takes all the loser's points.
Mobile Apps: By downloading any P2Shop apps, you can find other apps to earn money from when you use them. It requires a certain amount of time for using the apps before you get paid.
Weekly Lottery: A lottery ticket is free, giving all participants an equal chance to win the jackpot. The pot goes up by $10 each week, which means more than $100 can be won by the eventual winner.
Monthly Contests: Minor contests are run on a monthly basis carrying maximum prizes valued at $15. All members can join in the contest and earn big through offers or referrals.
Referrals: One of the best, but also one of the most difficult ways to make money with P2Shop is by getting referrals. It works by convincing people to join P2Shop. There are three great referral systems with different percentage of commissions in three levels. Referrals registration gives you a signature bonus of $0.50 and the same amount for the offer completion per member. The amount to be earned also depends on the location of your referral.

The percentage to earn on the downline levels:

15% of qualifying offers done by the members you have referred
3% of qualifying offers done by members that your members refer
2% of qualifying offers done by members that your members refer

Daily Tasks: These are short, recurring micro-jobs that are simple to do. They are small tasks, such as clicking on ads, visiting a website, etc. that can earn you extremely low amount.
Spin2Win: This chance game has ten free spins that can win you prizes like merits, lottery tickets and sweepstake entries. It requires you to earn tokens by having at least 50 points/cents per day. The number of tokens increases day by day until you keep this streak. 
The Honor Levels
As a member, you can have another avenue to earn points by scaling up to the different honour levels. NEW level members graduate to higher levels by completing certain tasks, such as buying an item in order to verify your postal address. You are then elevated to the Bronze level, the lowest level. The highest is the Legend level. New offers are unlocked to allow you to proceed and as you climb to a higher level, bonus and merit points are awarded.
To reach the Silver level, you must be a bronze level member who fills in all demographics, earn at least $10 by completing 10 offers, and do not have more than 5 percent of your offers denied by the website's administrator. The Silver level has reliable manual offers. It allows you to challenge people in a one-on-one game, and tag offers to classify and put labels on them.
The highest honour level is the Legend level with members who have been with P2Shop for 16 months, occupying the Diamond level, with at least $1600 earnings by completing offers, and have referred at least 100 members.
Redeeming Your Points
Points can be exchanged for prizes from Amazon. First, you need to choose an item you want to buy and search for it on P2Shop. Having found the said product in P2Shop, you can place an order, which the site will order on your behalf. P2Shop will pay the said product in full in exchange for the points you have accumulated.
Remember, points cannot be converted into cash. If you prefer cash, you can head over to Cashle. Once on Cashle, you cannot complete the same offer you started with P2Shop.
Cash payments are made via AlertPay, E-Gold, Liberty Reserve, PayPal and some other online payment mechanisms. The minimum cash pay-out starts from 1$ via PayPal. The site's section on "Withdraw Earnings" provides a complete list of payment methods, fees and minimum pay-outs.
What to like about Points2Shop
Plenty of earning opportunities: P2Shop's strength lies on the variety of their offers. Decent points can be earned from several other offers in case you failed to qualify for surveys.
Variety of rewards: There are options to choose from when redeeming points, such as cash, gift cards, items, or even for donation.
Free and easy to become a member anywhere in the world – It is available worldwide, making it easier for the program to be referred to many people.
The Negative Sides of Points2Shop
Not mobile friendly: Accessing the website using the mobile app has resulted in the suspension of users' accounts. This contributes greatly to the decline in popularity and traffic in this opportunity.
Low earning opportunities: Although there are different opportunities to earn, the earning potential is slow.
Difficult to qualify for surveys: The disqualification rate for surveys has increased in recent times.
Strict rules: Member accounts get blocked or suspended for alleged violations of the site's rules. This may be more acceptable if the rules and terms are readily available. Users, however, are only able to find out after being penalized.
Cluttered interface: P2Shop's user interface is probably one of the worst. With so many things on it, you can easily get lost or distracted.
Telemarketer Calls: Since P2Shop makes money from advertisers engaging members as a way to introduce their products and services, it can be a nuisance to get lots of telemarketer calls on the phone number you used when registering with the site.
Final Opinion
When it comes to legitimacy, Points2Shop passes the mark with a high score. While it is not listed under Better Business Bureau, various positive reviews around the web are enough to prop up P2Shop and assure you that the company is not a scam.
Points2Shop is an online rewards program that will pay you for completing any of the several opportunities they offer for members to earn online. It will not make you an overnight millionaire, but if you put your time and effort, you can earn either cash or points to be redeemed for various rewards.
If you want to earn a quick buck instead of spending your free time chatting with friends on social media or just watching TV, you could grab P2Shop's offers. 
To conclude, Points2Shop is free to get going and could be a worthwhile but it lacks the capability to help you build and online income generating web-based business. You have to look elsewhere for this.
Alternative Option
A Rewards Programme might be a great way to start out but, Web-based Affiliate Business is where Serious Online Money is generated. Points2Shop might be fine place to start with but, compare it to a World Leader helping new and experienced online entreprenuers build online profit generating websites. You might consider changing your direction!
Join over a Million Members
Who Have Started Their Own Online Business.
Build Your First Blog Before Your Coffee is Brewed!
Learn How to Start Your Own Fun Blog using My 4 Step Formula