When it comes to legitimate online jobs, you expect to find genuine job vacancies and information on what these jobs are and other relevant information. I reveal the detail in this American Online Jobs Review and then let you know if it is worth your time and effort.
OVERVIEW
American Online Jobs Review sure sounds like it is a place to find a job in the online space and therefore it all sounds great so far. It even starts out asking questions that appear to be a reasonable request. But what's really behind the screen?
HOW DOES AMERICAN ONLINE JOBS WORK?
After the short questionnaire there is a short instructional video. The video was only there to show where to go on the site and what to click. The audible is of poor quality. Not a good start. The appearance of this page wasn't the sort of thing you would expect to see for a professional online job site. And it didn't have the information you would expect either.
CLICK HERE TO APPLY NOW Button
Before clicking the CLICK HERE TO APPLY NOW I was asked to fill out an application form which looked like any standard form. After asking a few questions I clicked the red CLICK HERE TO APPLY NOW button and it took me to gratorama.com 'Join Now' landing page as shown in the screenshot to the right. Not what I was expecting but then again I wasn't surprised by what I was seeing by now. No sign of an application form which is what I was expecting to see. Instead, I am confronted with a landing page for a Casino promotion page which raised red flags for me. Oh no, not good so far.
BONUS OFFERS
A second video introduces you to create an account and sign up for various bonus offers. Unbelievably, you are instructed to choose and fill in three promotion SURVEYS of your choosing. By now you are also seeing Company 'JOIN HERE' promotion Ads including InboxDollars, Toluna, MySurvey, OpinionOutPost and more. Clearly, American Online Jobs is not what it appears to be!
Build Your First Blog Before Your Coffee is Brewed!
Learn How to Start Your Own Fun Blog using My 4 Step Formula
BAIT AND SWITCH
If you have not heard of Bait and Switch before, it is when you are being baited just like American Online Jobs is doing here. It is not upfront about what American Online Jobs actually is, hoping I think that people will not realise its real intent and go ahead to sign up to these various offers anyway. So, Bait and Switch lures you in and directs you to sign up to a survey site like Tesler in this case. It might be another site depending on your location. Not exactly a 'job' of sorts. More red flags I'm afraid!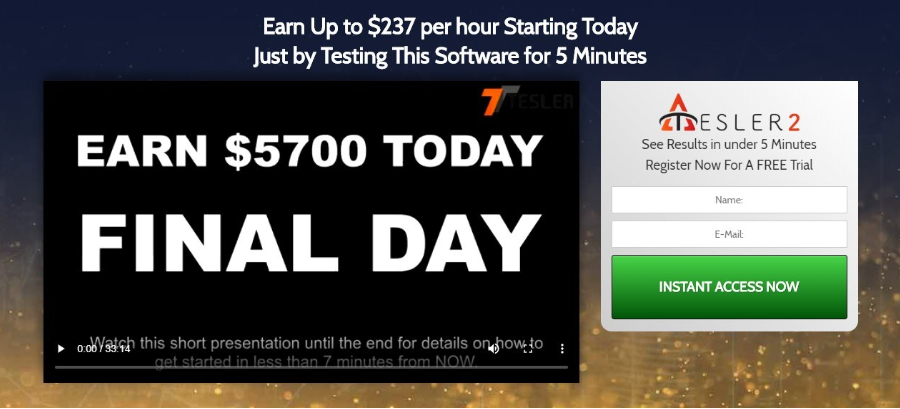 WHAT DOES IT ALL MEAN?
The first red flag – Even before you browse the AOJ site, is that Google does not consider this site to be secure. You can see this by looking up at the URL marker at the top left hand corner of the page window.


The second red flag – Lack of relevant information in regard to a Job site.
The third red flag – the CASH CABIN window which looks like you are about to enter a Casino site! This might be another promotion site depending on your location.
The fourth red flag – is the 8 'JOIN NOW' 'promotion ads.
The fifth red flag – being instructed from the video to fill out three surveys. The site won't actually let your progress without filling in the surveys.
See How I Sell Products with Zero Inventory Using a Simple 4 Step Formula
WHAT TO WATCH OUT FOR
When you hover over a company ad banner you will see something like this – tpmr.com/i/56519 which pops up at the bottom of the left hand corner of the window. This is a TPM Rotator which is a site that gives links to you that are able to be rotated to different sites. At the end of the day, AOJ is simply redirecting site visitors to different websites. You won't find a job here!
ARE THERE EVEN ANY JOBS?
Nope! There are no jobs here! There are only promotion opt in links that when clicked, take you to other sites.
IS AOJ WORTH YOUR TIME OR NOT?
It is not worth the time if it is a job that pays decent money for a good day's work. To make anything near what a legitimate job pays, you would have to remain active on these survey sites and then some. If you want to get paid peanuts then go for it – but I don't think anyone wants to work for peanuts.
IS AOJ A SCAM?
There is enough here to suggest that AOJ is a scam. If not a scam then a very disappointing and deceptive experience. There are a ton of these kind of sights out there!
Lets just summarise what I think are the red flags.
The name American Online Jobs says nothing about this site being a sign up portal for online surveys – deceiptive.
No real information in the videos apart from where to go and what to click – dah!
Directed to Casino Sign-up window – dah!
Being instructed on how to sign up for surveys – dah!
Uses Bait and Switch tactics.
FINAL THOUGHTS
You are not going to earn a job wage or salary here! In saying that, you would have to fill a ton load of surveys to earn anything near a regular legitimate job income here.
It's a weak attempt at legitimizing its real offerings when you know the signs. It preys on the gullible and sites like this are still around because people are still signing up for their offers.
There are truly better ways to make money working from home and online. Legitimate ones with nothing to hide! If you are interested in starting a legitimate business from home then check out my #1 recommendation – it includes a free business website, free hosting, free tools and a load of free training. You can't ask for anything more.
Join over a Million Members
Who Have Started Their Own Online Business.
Build Your First Blog Before Your Coffee is Brewed!
Learn How to Start Your Own Fun Blog using My 4 Step Formula