It is said that with OVH you get what you pay for. With that in mind, this OVH Dedicated Server Review will take a look at what OVH has to offer and will help you figure out whether or not it is the right provider for you.
OVERVIEW
OVH is a leading French-based hosting provider in Europe, and the third largest in the world based on physical servers. Although it provides a full range of cheaper web hosting and server hosting designed to fit a variety of clients, OVH is mostly known for its cloud and dedicated hosting. While it does have those cheaper packages, OVH's main focus is clearly on higher value customers.
Name:                          OVHcloud
Type:                            Private cloud computing and hosting company
Founder:                     Octave Klaba
Website:                      https://www.ovh.com/world/dedicated-servers/
Price:                            starts at $59.64/month (Rise-1)
Overall Ranking:      2.45/5
Verdict:                       Legitimate
About OVH
OVH was originally founded in 1999 by Octave Klaba, with the help of three family members (Henry, Haline and Miroslaw) in Lille, France. Starting out from scratch, OVH began to grow and expand its services to make a name for itself as a leading hosting provider across France and the rest of Europe as it opened its first subsidiaries in Poland, Spain and Senegal in 2006.
Currently, the company runs 17 data facilities all over the world, over 180,000 servers, and has grown to more than 800 employees working together to deliver high value and reliable hosting solutions in Europe. Today, OVH hosts about 18 million websites and has registered almost three million domain names.
OVH now focuses more attention on developing cloud-based hosting plans to help clients achieve success during these constantly changing times. The French cloud computing firm understands that non-European clients may not be fully familiar with the company's offerings. On its 20th anniversary, the company wants to highlight what it does abundantly by undergoing a slight rebrand, with the firm now going by the name of OVHcloud, which reflects its policy of business development and international expansion.
OVH Dedicated Server Features
If you or your business requires a little more power or needs to host an Exchange server or various cloud services, OVH offers several different ranges of highly-efficient dedicated server options with different specifications based on their speed, size and bandwidth. With OVH, a full range of expertise regarding bare metal solutions is guaranteed. All servers use next-generation components designed and assembled to adapt to the most demanding needs of any type of company, and are delivered in a record time of 120 seconds.
Build Your First Blog Before Your Coffee is Brewed!
Learn How to Start Your Own Fun Blog using My 4 Step Formula
The full suite of dedicated server offered by OVH includes:
Rise Dedicated Servers – This server type is the most affordable bare-metal servers offered by OVH. With 500Mbit/s of bandwidth, these servers are perfect for hosting websites, streaming platforms and business activity. They are based on a ground-breaking Intel® platform. Intel® Xeon® processors and are equipped with anti-DDos protection. Price starts at $59.64/month.
Advance Dedicated Servers – Designed for small businesses looking for versatile servers tailored to their needs, the Advance range can be installed easily in less than 20 seconds to host e-commerce site or business applications. This guarantees easy interconnection with additional servers and OVH cloud services in case such need arises in the future. Monthly price ranges from $81.33 to $211.39.
Infrastructure Dedicated Servers – This range comes with essential features, such as Intel Software Guard Extensions (SGX) and OVHcloud Link Aggregation (OLA) which are vital for businesses to provide the highest performance and improved applications' availability and security. Price starts at $105.69/month.
Storage Dedicated Servers – These servers have higher disk space for storing large volumes of data, archiving or performing backups. Choose your option from the Storage range servers based on the best price-storage ratio, equipped with high-performance, reliable disks. Price starts at $86.75/month.
Premium Customizable HG Dedicated Servers – This server series are the most powerful and has fully-customisable configuration designed to support resource-intensive production environments. They are ideal for supporting big data and machine learning workloads. Price starts at $252.00/month.
Game Dedicated Servers – These servers offer the best performance for both video game designers and companies hosting streaming platforms. All game servers are based on the latest AMD Ryzen 3000 processor family. They are equipped with the Anti-DDoS Game solution, CC memory, IPMI/KVM, water-cooling, up to 1 Gbps
public bandwidth, unlimited traffic, and the company's own global network with 20 Tbps capacity. Monthly price starts at $95.12.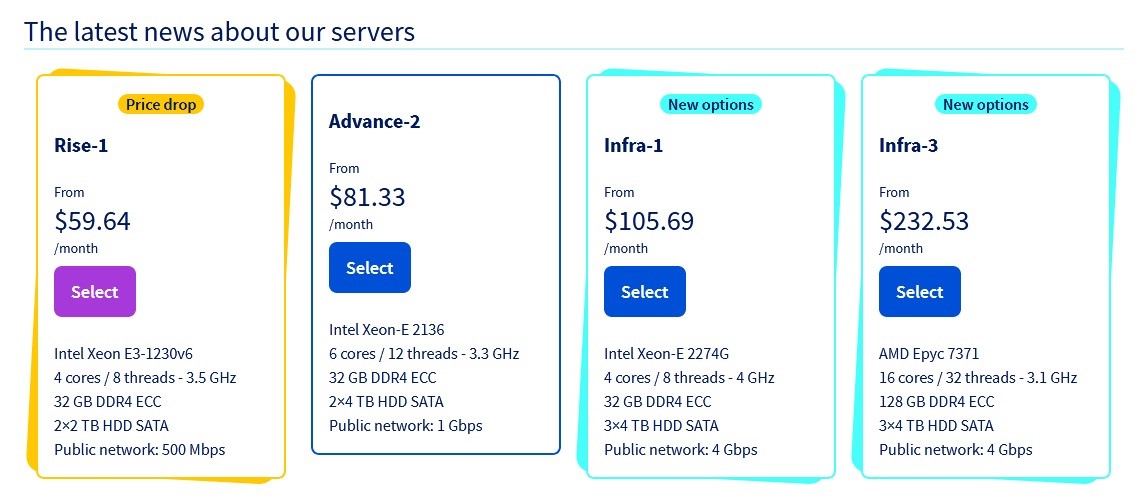 Who is OVH for?
OVH offers high-performance dedicated servers across the globe.  Clients include small website owners all the way to large businesses seeking the latest cloud infrastructure solutions for their business. It specializes in working with companies that need to grow in scale through the smart use of cloud technologies.
See How I Sell Products with Zero Inventory Using a Simple 4 Step Formula
Pros and Cons
Pros
Affordable hosting packages
Speed and reliability
One-week rentals
Variety of services
Cheap multi-domain support
Expert-level features
Detailed tutorials and an active community forum
A plethora of highly customizable web hosting plans
SLA allows you to get credits during downtime
24/7 Customer support
Eco-friendly data centres
Cons
1-click install supports 4 apps only
Slow response time for support tickets
Limited accounts per location/server
Intimidating control panel
Inconsistency across borders
Terrible support website
Some French language interface elements
OVH provides a backup tool for some hosting plans, but the service is not carried out for you
Some plans have a customized control panel, instead of cPanel or Plesk
Account Setup
Creating an account with OVH is free and simple. With an account, you can easily get access to your information and help you manage your services. To get started, go to "Log in to OVHcloud" page and click the "Create an account" button.
Enter the information required in the relevant fields. Make sure to carefully read the Terms of Service and Privacy Policy before clicking the Accept button. As a final step, just click "Create an account" at the bottom of the form. An email will be sent shortly to you containing your account information.
Creating a Site in OVH
Navigating your way around the rest of the panel could be a daunting experience, especially if you are a hosting novice. The lack of cPanel-like collections of friendly icons makes it difficult to review all your options at a glance. The interface is clearly designed for the experienced user and it is going to be seriously challenging for everyone else.
OVH does not include any form of WYSIWYG drag-and-drop site builder. The closest you get into automation is a '1-click modules' tool designed to help you set up a website quickly and easily even without any technical knowledge. The tool, however, only supports popular Content Management System (CMS) such as WordPress, PrestaShop, Joomla and Drupal.
Creating a site with OVH requires the following:
an OVH Web Hosting plan
access to the OVH Control Panel
no stored files in the directory where your module will be installed in
The website's domain (with a subdomain, if applicable) must be classified as a multisite.
Step 1: Choose the right CMS offered by OVH at '1-click modules' to build your website. If you desire to install a CMS not offered as an OVH 1-click module, you can perform a manual installation on your web hosting plan as long as the CMS is compatible with your hosting plan. Using a CMS allows you to get a ready-to-use website template that you can customise with a variety of themes, texts and much more.
Step 2: Access the 1-click modules tab. In the service bar on the left-hand side of your OVH Control Panel, go to the Web hosting section, then click on the web hosting plan that you have just ordered. Click on the 1-click modules
tab so you can take a look at the 1-click modules you have already installed, manage them and install new ones.
Step 3: Click "Add a module" to launch the installation of a 1-click module. Select your preferred CMS and the domain to set up your website on. If the domain you want to use is not included in the list, you can add it by going to the Multi-site tab. Once you have selected your domain, choose between basic or advanced installation and follow the installation instructions.
Step 4: Customise your website. After receiving an email confirming the successful installation of your CMS modules, log in to your admin interface to start editing your website's theme. You can publish your first pieces of content on it.
How well does OVH Perform
OVH's servers are by no means the best in the market, but they are pretty fast by most accounts. Thanks to its global data centres, OVH servers boast of decent speed, making up for the reason why many users turn to OVH for cloud or dedicated hosting as opposed to shared or VPS plans.
While most users are satisfied with the website speeds, the same cannot be said about the support team, which is often found to be sluggish and unhelpful when people have problems. This contributes to downtime if you are unable to find a fix.
Based on a few test runs on the performance, the servers were pretty fast across Europe and not too shabby in America, although it loaded a little slow from the LA area. All in all, OVH is neither the best nor the worst, but it easily lands up there in the top third.
Final Verdict
OVH offers affordable dedicated servers at exceptionally good value for experts with technical knowledge of what they are doing and can diagnose any problem. If you, however, do not have the faintest interest in ease of use or support you'll be better off somewhere else.
The server packages are cheap, but with OVH's low costs come fees for extra features and fewer perks. If you want to use dedicated servers on the European continent or Africa, they are well-established enough that their reliability and affordability may be adequate. If you, however, are based in North America, there are other better provider options for you.
Join over a Million Members
Who Have Started Their Own Online Business.
Build Your First Blog Before Your Coffee is Brewed!
Learn How to Start Your Own Fun Blog using My 4 Step Formula