I reveal in this Wealthy Affiliate Hosting Review the detail and features of this powerful hosting platform. Remarkably, it is packed with much more than just hosting services! Lets dive in and see!
OVERVIEW
Wealthy Affiliate Hosting is a service provided by Wealthy Affiliate (WA) as part of their free and premium membership. It allows you a location to store all the information on your website such as text, images and files so that it can be delivered to visitors to your website address. There are, however, a few differences between the hosting options based on your membership level.
Wealthy Affiliate Hosting Review
Name:                                  Wealthy Affiliate Hosting
Type:                                    Managed WordPress Hosting
Website:                              www.wealthyaffiliate.com
Price:                                    $0 – Free membership; $49/mo – Premium Membership
Owners:                              Kyle and Carson
Overall Ranking:              94/100 (4.7/5)
Who is Wealthy Affiliate Hosting for?
Wealthy Affiliate's hosting service is perfect for those who are looking for an all-in-one Managed WordPress based hosting solution. It is a fast and stable hosting service that will help you build your foundation on the basics of building an online business. Packed with bonus features and capable of hosting up to 10 websites, WA hosting service is recommended for:
small SEM organizations
beginner and seasoned affiliate marketers
people who are keen to learn everything about niche site and affiliate marketing
individuals who are looking for more affordable options to host their sites
anyone wanting to learn how to make money online
those who need access to training tutorials, videos and excellent community support to build an online business
Verdict:                      Highly Recommended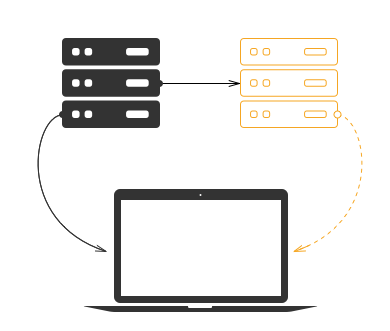 Besides having a domain name, one of the basic essentials for building an online business is a quality web hosting to display your website to potential customers browsing the internet. Web hosting providers are not lacking and it can be quite confusing to select the best web hosting for your website. As you search the internet, plenty of choices appear in front of you, offering their specialization in certain areas such as business hosting, eCommerce hosting, WordPress hosting, etc. Choosing the best and most affordable one can be tricky. This WA hosting review will help you decide.
Wealthy Affiliate, one of the world's largest online business communities, offers its members with free WordPress hosting services. WordPress is the best tool for building a website nowadays, and signing up for a premium membership in WA provides you with an ability to build an unlimited number of WordPress hosted websites.
Build Your First Blog Before Your Coffee is Brewed!
Learn How to Start Your Own Fun Blog using My 4 Step Formula
The hosting service uses a platform called "Site Rubix" to help affiliate marketers grow their business while getting all the best that a WordPress-based website offers. It currently uses Amazon's C3 Cloud Hosting servers, which is one of the fastest in the industry. Its average page load time of 1.3 seconds assures your website to be always running optimally. The hosting experience provided by WA allows you to focus on your business and feel safe about running your business with a powerful and secure service like WA hosting service.
WA does not only provide a secure and fast hosting service, but many resources and integrated tools necessary for online business also come with it. Although not a requirement in the Wealthy Affiliate membership, many members opt to build and host their websites using the company's hosting services.
To get started with Wealthy Affiliate, all it takes is to create a free starter account, complete the starter training and go from there.
Hosting Differences between Membership Levels
A. Free Web Hosting
Included in the WA free Starter membership level is web hosting for one free website. This is a fully functional wordpress website, that the starter member can use in any niche and it's hosted on WA's state of the art Managed WordPress hosting platform. When it comes to running a long-term successful online business, it matters to have your own domain name. With the free web hosting, the site is not your own domain name, but is on WA's subdomain called SiteRubix. Although you can still name your free websites anything you desire, the URL will appear with.siterubix.com extension.
The free web hosting is designed to support free members who are just getting a feel in the world of online business. This means that the free web hosting at WA, as well as the free SiteRubix site and the free training available in the members' area, can be of great help to determine if running an online business is your cup of tea before investing a penny to try it out. Those who have some amount of knowledge about affiliate marketing and running an online business, these free websites can serve to test the waters of competition before shelling out anything from your pocket to register your own domain names.
The Free starter membership has some limited features. It does not have access to the following: website analysis, feedback platform, website support and others, but it includes 10 training lessons for free. If you can rank a SiteRubix site with these features to compete in the search engines, then registering your own domain would be a logical step to allow you to potentially dominate your chosen niche.
B. Premium Hosting
The Premium web hosting is available for premium members, providing the ability to host up to 10 websites included at no extra charge in their premium membership fees of $49 per month. are hosted on their state of the art Managed WordPress hosting, and includes full 24/7/365 hosting support.
Hosting for up to 10 unique domain name websites – This gives you the ability to more than surpass a full-time income with your online business included in the fees that you are paying to learn how to do so in the first place.
Hosting of up to 10 free SiteRubix websites – This gives you the ability to test the waters of any given niche prior to making an investment on a domain name.
See How I Sell Products with Zero Inventory Using a Simple 4 Step Formula
Key Features Overview
Wealthy Affiliate hosting offers a wide range of features, some of which are not available on other traditional hosting companies. ​
| | |
| --- | --- |
| Features | Details |
| Price | $49/month $359/year; Black Friday sale $299/year |
| Number of Websites | WA's hosting can support up to 10 websites on one account: either with domain names you own, or free domain names with a .siterubix dot com suffix name, or a mixture of your choosing. |
| Instant DNS Setup | Yes |
| Hosting Speed | Amazon c3.large (faster). This is one of the core focal features of the WA hosting platform that can make certain you can load your website as quickly as possible. |
| Website Space | Limited at 30GB |
| Bandwidth Included | 500k visitors/month |
| SSL Certificates | SSL Certificates are offered not only as a security procedure on all websites, but it also improves your rank in search results. It can be activated with a click of a button at no cost. |
| Site Builder Included | WA's hosting offers a free website builder called Site Rubix – a click-based website builder which is not only very easy to use even by people with no experience with websites, but the performance is excellent as well. |
| Staging Environment | Yes |
| Full Redundancy | Your hosted websites have unparalleled redundancy layer, which means that if one of them is down, WA double hosts your site by having a "mirror" of your website running at all times that will be swapped in, instantly. |
| Enterprise Security | There are several layers of security to shield your websites and keep them secure from hacking or spam before it happens. |
| Daily Website Backups | Free daily backups are provided by the system by taking a snapshot of your website every day. It is a great help to restore your previous version when your website is accidentally ruined. |
| 24/7 Access to Server Admins | Yes |
| Email Accounts | You can set up unlimited email accounts for your websites. |
| BotNet Security | Yes |
| Site Health and Performance Tracking | The plugins will scan various aspects of your website, and score or rate them so you can have a reference in knowing your chances of indexing, ranking and acquiring traffic through major search engines. |
| Site Comments | This leverages the huge and active WA community to leave comments on your website articles. |
| Website Feedback | The feedback you get from the WA community helps you learn what others think of your site design, content, and your overall direction, so you can improve your website. |
| Community Access | Support is community-driven |
| 1 on 1 Marketing Mentorship | Yes |
| Site Manager | You can login into multiple accounts, enable and disable features, monitor backups, see total post count, and see all the details about your website from your personalised WA dashboard. |
Advantages of Wealthy Affiliate Hosting
No need for credit card to sign in for a free account
24/7 managed monitoring
24/7 automated monitoring
24/7/365 Site technical support – Average Response within 5 minutes
24/7 live chat help
Virus and malware protection
Powerful servers, powerful Sites
No upsells
The same price applies in 14 years since WA was founded
500 models and 1000 hours of training course
Powerful social network of internet marketing
Friendly user interface
Get help directory from the owner and other expert affiliate markers
1 free WordPress website for free membership and 10 websites for premium membership
Series of a comprehensive step by step training courses for online marketing include SEO, ADVERTISE, SOCIAL MEDIA
Offer low-cost hosting service and other tools for online business package all-inclusive in one price
Unlimited business email and Email forwarders
Without extra fee for training courses
Offer amazing affiliate programs and its affiliate program reward with 40% recurring commissions
Offer Site feedback
Offer site comments platform
Offer the most competitive keyword tool, Jaaxy, and other resources for internet marketing
Limitations of Wealthy Affiliate Hosting
Entirely WordPress based
​No access to C-Panel
No phone hotline
Domain cost is divided

Support is Super-Fast
Wealthy Affiliate has a ticket system for support. This ticket system is super-fast and you can have problems resolved in as little as 3 minutes.
Wealthy Affiliate Site Support Team can be contacted through a support message. The inquiries are usually responded to within 5 minutes to 1 hour, but usually it is around the 20-minute mark. There are plenty of tutorials about web hosting, domains, internet marketing and many others. You can even create your own tutorials for which you get $5 for each.
The support is more community driven in which you can ask questions to the community that do an excellent job at helping members take care of issues.
The Real Value in Hosting with Wealthy Affiliate
Before I end this Wealthy Affiliate Hosting Review, I want to offer up some perspective on the value of hosting with Wealthy Affiliate. It's security, reliability and power in the WordPress industry is equal to if not better to any forerunner in the hosting indusrty. As a comparison, here are the price points of the hosting companies that are viewed as "similar" in terms of quality in the industry.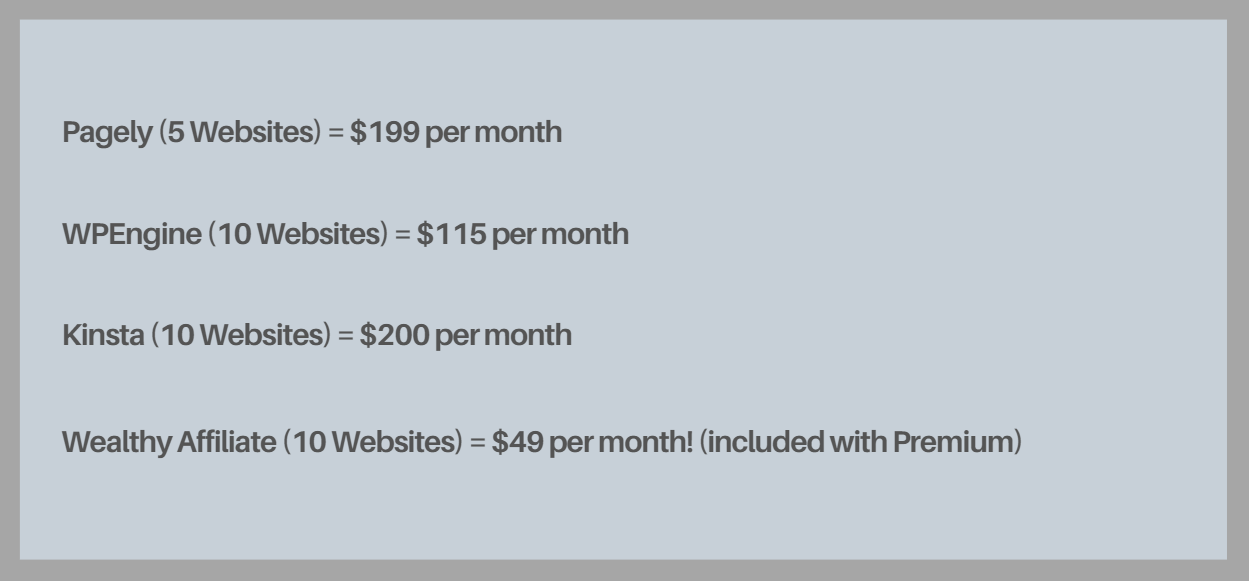 Final Opinion
Whether you are just getting started on your online website or want to develop for more different business, selecting a good web hosting service is a major decision that can spell long term success. In choosing the best web hosting service, it is important to consider all-round the essentials needed such as customer support, the site speed, site space storage, the inner pricing plan, bandwidth, uptime, backups, etc.
Wealthy Affiliate is the better selection for web hosting services in the long run. The hosting service, although meant as an add-on to the platform, includes all-inclusive tools and training courses to walk you through the steps of building a reliable income-generating website. The best part is you can join a free account and even take ten lessons for free to experience this fantastic platform.
Join over a Million Members
Who Have Started Their Own Online Business.
Build Your First Blog Before Your Coffee is Brewed!
Learn How to Start Your Own Fun Blog using My 4 Step Formula