I reveal here in this Hostinger Web Hosting Review the detail of this hosting product. Is it reliable, secure and user friendly? Or is it something you should steer away from? Lets dig in and see!
OVERVIEW
Hostinger is a Lithuania-based company offering a cheap, but quality web hosting services as well as domain name services. Included in the services are Shared Web Hosting, VPS Hosting, Cloud Hosting, WordPress Hosting, Email Hosting, CMS Hosting, eCommerce Hosting, and Windows Hosting.
Hostinger Web Hosting Review
Name:                          Hostinger Web Hosting
Type:                            Domain Registrar, Web Hosting
Website:                      https://www.hostinger.com/
Price:                            starts at $0.80/mo, renews at $7.99/mo (Single-Shared Hosting)
CEO:                              Balys Krikščiūnas
Overall Ranking:       82 out of 100 (4.1/5)
Who is it for?
Hostinger is ideal for small business ventures and e-commerce stores in need of a power-packed platform that provides multiple hosting facilities for easier web hosting and integration.
Verdict:                      Legitimate
About Hostinger
In 2004, Hostinger was founded in Kaunas, Lithuania and was originally established as Hosting Media. It was the time when the investment in online services was growing vastly every day. The web has become as the next frontier for both businesses and people to advertise their skills and services. Hostinger – then named Hosting Media – responded by giving these people the required resources to do so – free web hosting.
After years of experimentation, the company was launched in 2007 as 000webhost, providing free web hosting services worldwide. The free offer attracted people and soon, 000webhost services were booming with people. In 2009, however, the global economic crisis affected Hosting Media. Understandably, people with reducing finances chose to use the 000webhost service. While great for the users, it was not good for the company because the fewer people paying for hosting, the lower the company's chances of survival.
Build Your First Blog Before Your Coffee is Brewed!
Learn How to Start Your Own Fun Blog using My 4 Step Formula
In 2011, the company changed its name to Hostinger after reaching the 1 million user milestone. Hostinger was made a premium, but an inexpensive hosting brand, offering great services with as low a profit margin as possible. It was a risk worth taking. After only one year, Hostinger become completely international and started its rapid worldwide expansion.
In 2013, Niagahoster, an Indonesian branch of Hostinger was established just before the international company has reached the 10 million user base. In 2014, the services were localized in 39 countries. In the same year, a company in Brazil, together with a new brand – weblink.com.br, was established, as well as a new data centre and a company in Singapore were launched.
The Lithuania-based Hostinger has become a popular web hosting provider with nearly 30 million customers, and several offices around the world. With other services also being offered, including virtual private server hosting and cloud hosting, the company's revenue has doubled once every year.
How to Get Started
To set up an account, choose a plan. There are various subscription options with four choices in terms of plan duration: 3 months, 12 months, 24 months, and 48 months. Click "Buy".
Hostinger has options to sign up with Facebook and Google, but this is not secure-wise because anyone with access to your credentials or a device logged in to Facebook or Google could access your hosting account, too. It is wiser to create an account manually after providing only a few details, such as name, email address and password.
A website link will take you to a simple start-up wizard and a welcome email will be received with more details. Hostinger's setup wizard starts by asking if you want to register a new domain, transfer a domain from another company, or use an existing domain. You will also be able to choose where to host your site, conveniently: North America, the UK or Europe.
The final 'Start website' step offers five options to help in creating your website. With "Install WordPress," you will be taken to a straightforward WordPress installer. All the default settings were sensibly assigned, and after choosing an admin password you can easily set up the system with a click.
Most Desired Features of Hostinger Hosting
Free Website Builders and Free Domain Name – Regardless of your plan choice, you can choose the most suitable template that best appeals to your website's look and feel. The functionality of the website builders can be customized manually to design your website according to your preference. The Business or Premium package comes with a free domain name, so viewers can check your website on the internet with ease.
Superior Knowledge Base – Hostinger provides users with tutorials, general information, and video knowledge to educate them. Combining these tools allows the user to easily manoeuvre across the hosting platform learning and solving their way throughout.
Data Centres around the Globe – Hostinger has data centres in different geographical locations around the globe to ensure the maximum delivery of content and minimize the server response times. The data centres are connected to tier 3 networks and are located in 7 different regions.
Excellent Email Tools – Combining the email tools creates the best possible email experience where using videos, eBooks or sending documents to your customers become spontaneous without giving your own email. Users get unlimited email account options without any charges incurred. Emails can be forwarded from any account, auto responded with a scheduled email and use a Spam Assassin Protection.


Easy to Use cPanel Control System – The newly designed modern cPanel is easy to navigate even by users with no experience in software engineering. The entire dashboard allows easy track logins, management of multiple domains, monitoring of emails and updating billing information faster than ever.
Affordable Domains – With Hostinger domain tray, users subscribing for Annual, Premium or Business plans are provided with one free domain. Customers utilizing two or more shared hosting service will be catered with subdomains and parked domains that ease the build-up of a solid web portfolio. In addition to the domains, the control panel allows you to easily purchase and access domains needed to be migrated from other hosting websites.
Room to Expand Your Website within the Same Outlook – Hostinger provides more space and functionality when your website needs growth. The multiple choices of hosting plans suit your differentiated requirements. This includes the single offer to fulfil basic features for beginners to run their website without much help, Premium for extra performance and features kicking in. And lastly, Business is meant for all e-Commerce handlers. The higher upgrade you choose the more performance and edge your website gets through VPS hosting.
Customer Support
Hostinger provides a 24/7 all-round-the-clock support. Queries can be directed through the Live Chat, Email or the site's Online Ticketing system.
In addition to this, Hostinger has a sizeable knowledge database that answers common (and uncommon) web hosting questions that deal with the aspects of their web host service. By clicking "Help", you can get access to their knowledge base articles and tutorials with a list of popular articles. A search box will help you find whatever you need.
Unfortunately, Hostinger lacks phone support.
See How I Sell Products with Zero Inventory Using a Simple 4 Step Formula
Key Features Overview
| | |
| --- | --- |
| Features | Details |
| Price | $7.95/month (Business Web Hosting) |
| Number of Websites | Unlimited with free domain hosting |
| Instant DNS Setup | Yes |
| Hosting Speed | 4X WordPress Optimized Speed |
| Website Space | 30GB |
| Bandwidth Included | unlimited |
| SSL Certificates | Free Lifetime SSL Security/Certificate. |
| Site Builder Included | Hostinger Website builder. You can also choose from various website templates that are free to get your site started without the need for any coding or technical knowledge to get started with the Website Builder. |
| Staging Environment | Staging support (make major changes to your WordPress project without affecting the live site) |
| Full Redundancy | All data on servers is protected by multiple levels of fail-safes, RAID-10 |
| Enterprise Security | BitNinja |
| Daily Website Backups | Free daily backups |
| 24/7 Access to Server Admins | Deluxe Live Support |
| Email Accounts | Unlimited |
| BotNet Security | Yes |
| Site Health and Performance Tracking | Yes |
| Site Comments | – |
| Website Feedback | – |
| Community Access | – |
| 1 on 1 Marketing Mentorship | – |
| Site Manager | – |
Hosting Types and Prices
Web hosting is a vast genre that comes in all packages depending on the user's needs. That is why, Hostinger packages itself as a one-stop solution that provides a mix of shared and cloud hosting to suit different webmasters. Here's a quick look at the plans of the different types of hosting services offered by Hostinger.
VPS Hosting – Virtual Private Server (VPS) is ideal to choose when there is a good amount of traffic with dedicated resources. Hostinger's VPS Hosting is a setup of shared hosting with a much powerful kick because of the fast and powerful hardware that makes things run smoother. It takes on the name where multiple websites are being stockpiled, and the inherent virtualization software allows them to operate with 100% authority and independency as they are mini-servers.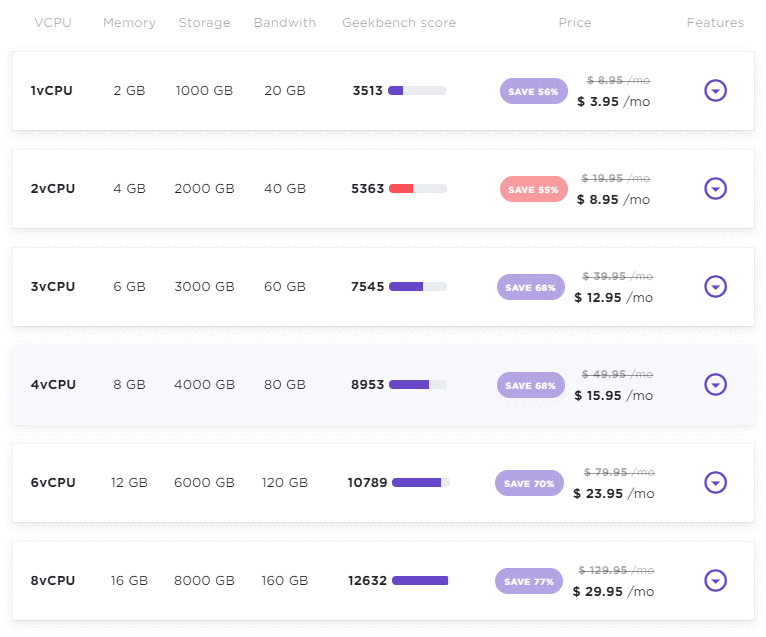 Cloud Hosting – As a cheaper option to choose when you require some dedicated resources and power, Hostinger's cloud web hosting is optimized for WordPress with features like One-Click installer. This type of hosting permits pro webmasters to penetrate large-sized bank of servers connected together in a certain way to take over the other servers' place in dire need, making the servers' functionality running. Hypothetically if more resources need to be pooled in, the cloud will automatically gather resources to cope with the demand. This hosting type is best if users require 100% uptime regardless of the cost attached to it.
Shared Hosting – The cheapest of the hosting services, Shared Hosting is the most reasonable form when it comes to the utilization of hardware. This uses multiple websites hosted from the same server where each user is allotted a certain amount of storage space with available resources. Shared Hosting plans are good for beginners and for those who just want to get started online and do not want to spend much on things like hosting.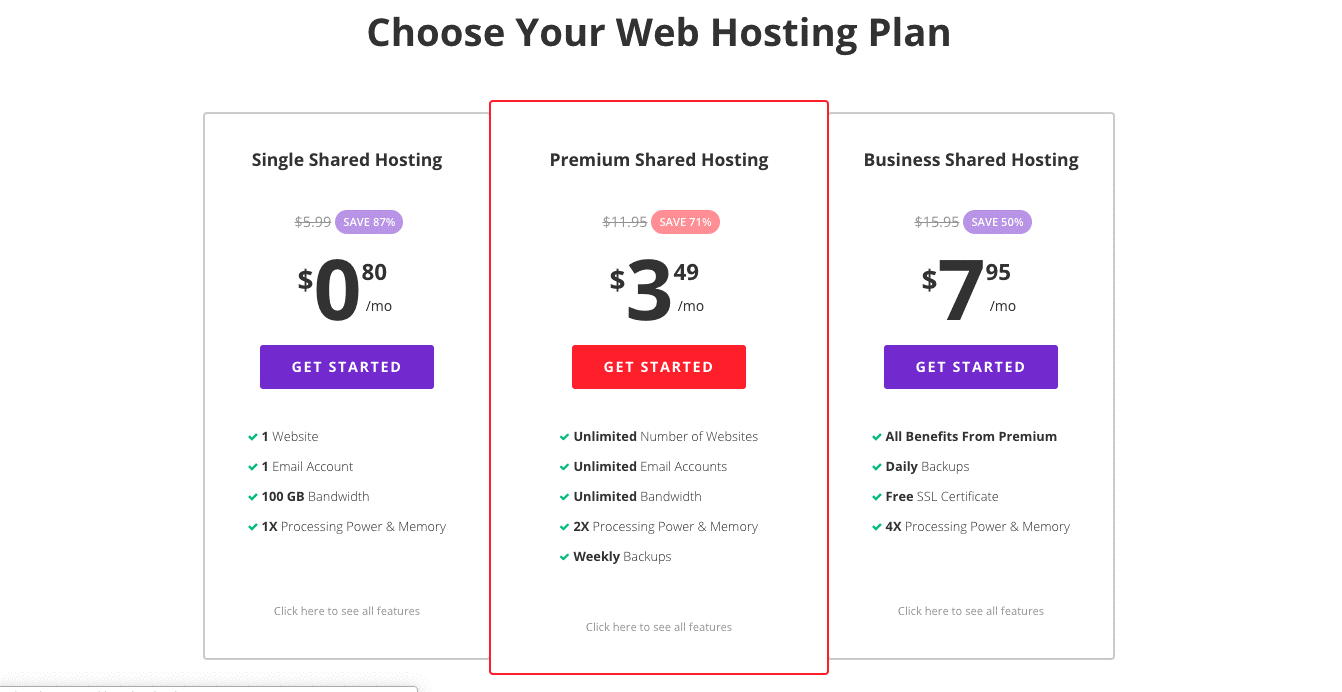 Dedicated Hosting – This hosting service is ideal for professionals. As the name suggests, the server limits itself to a single website wherein the user does not share its storage space and resources with other users. Hostinger also offers different plans for Windows Virtual Private Servers. Windows VPS comes with Windows Server 2012 Layout and High-level Enterprise Data Backups. You will also get dedicated IP.
Hostinger WordPress Hosting
As a multi-platform service provider, one of Hostinger's basic functions include WordPress hosting. Hostinger optimize users' WordPress Plans by providing them with a click of a button installation process at 3 to 5 times extra higher speed for their website.
Hostinger uses HTTP/2, PHP 7.1, and NGINX already pre-installed with WordPress plugins to increase load speeds. All Hostinger plans include a 30-day free trial that requires payment information prior to use. In case of cancellation within the first 30 days, the company will refund the payment with no questions asked. A 30-day money-back guarantee comes with all the plans.
What to Like about Hostinger
Excellent customer service with multilingual support team
Good uptime in testing
Industry-standard pricing schemes, but still affordable
Fast load time
30-day money back guarantee
Free website builder and domain name
Easy to use interface
Unlimited features included in the Premium and Business Plans
Helpful in-depth tutorials
What People Complain about Hostinger
No month-to-month hosting plans
No Windows-based servers
Lacks phone support
Only one email account for the base shared hosting plan
Custom control panel, not for advanced users
Must be logged in to access Live Chat
No traditional cPanel
Non-standard payment terms
Need to pay for extra domains
Final Opinion
Hostinger is a legitimate and high-quality web hosting company that offers different types of web hosting services, which are on an average 50% cheaper than other web hosting companies. Hostinger is a good choice for beginner and blogging aspirants.
Compared with its competitors, Hostinger provides good features and quality performance at a great price. You pay for the actual hosting power.
Alternative Hosting Option
This is not a bad web hosting platform but, how does Hostinger Web Hosting compare to one of the world's largest online business (and hosting) communities, Wealthy Affiliate? Here is a comparison chart to show the differences between Hostinger and Wealthy Affiliate.
Join over a Million Members
Who Have Started Their Own Online Business.
Build Your First Blog Before Your Coffee is Brewed!
Learn How to Start Your Own Fun Blog using My 4 Step Formula