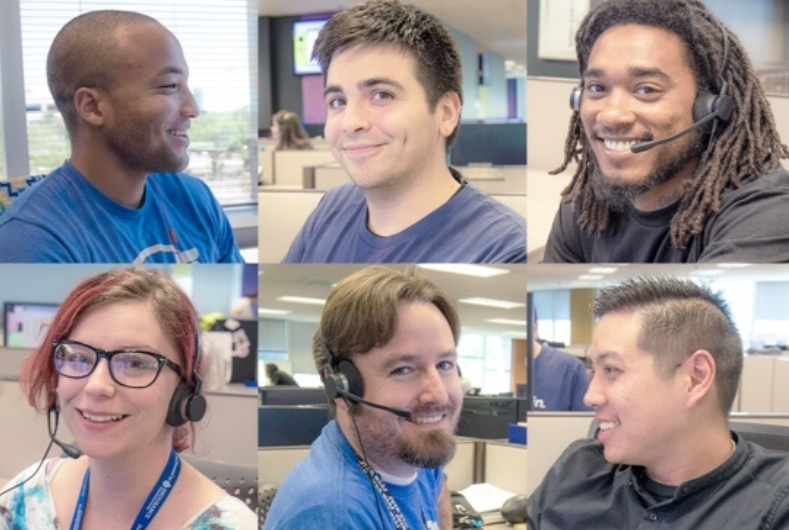 iPage is a hosting platform that offers one of the cheapest web hosting plans in the industry today. I reveal the detail in this iPage Review including hosting plans and pricing plans.
OVERVIEW
It is one of the hosting brands owned by the Endurance International Group (EIG) – a renowned group of skilled management team members that also owns the popular web hosting names including DreamHost, HostMonster, VPS Link, Dot5 Hosting, FatCow, JustHost, and many others.
iPage has been in the market for more than 10 years, but was basically unknown until 2009 when it was re-launched. One of the reasons why the company gained popularity is because they offer affordable plans with some of the best bargain prices in the industry. It is a budget web hosting that provides comparable features that you would get from other well-known shared hosting providers.
iPage Review
Name:                             iPage
Type:                               Web Hosting, Domain Registration
Founder:                       Thomas Gorny
Website:                         https://www.ipage.com/
Price:                              Starting at $1.99/mo (renews at $7.99/mo)
Overall Ranking:         75 out of 100 (3.75/5)
Who is iPage for?
The service is suitable for those who are after a low-cost hosting plan. It is a good choice for anyone launching their first blog, as well as for anyone who wants the ability to have customer support available at all times. It is a great hosting service for small businesses that are just starting out without a lot of technical expertise or experience.
Verdict:                      Legitimate
About iPage
iPage was founded and established in Burlington, Massachusetts in 1998. It was initially a full web service provider, but after the company put its business on hold until 2007 it was re-launched as a 100% web hosting provider in 2009. Today, it hosts over one million websites on their two data centres in Boston, MA and its office in Burlington.
Build Your First Blog Before Your Coffee is Brewed!
Learn How to Start Your Own Fun Blog using My 4 Step Formula
iPage may not be as popular as some of its competitors, but the web hosting company is not a rookie in the industry. From its humble beginnings, iPage has grown to become a very reliable option for small businesses. It is currently owned by Endurance International Group, a large web hosting conglomerate which also owns some heavy-hitters in the hosting world, such as HostGator, GoDaddy, Bluehost, and many others.
Although it has the same parent company, iPage stands very unique in its league as one of the first to simplify its services and appeal to the masses. While most web hosting companies operate on a multi-tier membership system, iPage only offers one shared hosting plan and two managed WordPress plans. This simplicity makes iPage a great choice for newbies, small website owners, non-profits, personal use, social websites, and even for growing businesses.
How to Get Started
To get started, iPage provides coupons, promotions and special deals. These freebies are offered frequently. You can also get discounts for your hosting plan by visiting their website or looking for an iPage coupon code across the internet.
To purchase a hosting plan, simply sign up to begin the process. Once it is completed, you will receive free registration for a custom domain name, access to live chat, 24/7 phone, and email support. A money-back guarantee is offered if you are not totally satisfied with iPage's hosting service.
A Showcase of Three Website Builder Options
Unlike other web hosting companies that limit websites to a single website builder, or do not include one at all, iPage offers three full site builder options:
iPage Website Builder – The iPage website builder allows you build a basic website with 6 pages. The pre-built sections give you a head start, and all you need to do is customize these sections according to your preferences. With over 100 preloaded mobile-friendly and responsive templates, your website automatically adjusts itself to the screen size of the user so it displays in an attractive way.This intuitive iPage website builder allows you to add elements such as galleries for your images, contact forms, buttons, maps, different typographies and colour screens, e-mail signups, a Twitter feed embed, and even Facebook
comments. It will also allow you to add metadata and keywords to your website to boost your SEO. It partners with Unsplash so you have a place to select high-resolution images from, regardless of what industry you are operating in.The iPage website builder includes integration with PayPal which is a great advantage for your eCommerce. More functionality for your e-commerce site can be accessed by upgrading to their e-commerce website builder for a fee.
Weebly Website Builder – Weebly's functionality ranks it as among the best website builders. When it comes to performance, however, iPage edges it out of the race. There are more customization options with iPage, but Weebly offers some cool automated functions like snapping sections into the most visually appealing places to get your website to look as attractive as possible.
Ecwid E-Commerce Website Builder – If you want great e-commerce features from a dedicated e-commerce builder, you can get Ecwid on its own without necessarily having to tie it to an iPage hosting subscription. Ecwid is a third-party builder that allows you to add checkouts and product pages to your site and easily integrates with Weebly, WordPress, and many other site builders. Some Ecwid plans also come automatically with an SSL certificate, which means there is no need to buy one from iPage separately.
See How I Sell Products with Zero Inventory Using a Simple 4 Step Formula
iPage Green Hosting
iPage is an EPA Green Power Partner and is certified as a green site. It means iPage is purchasing enough Renewable Energy Certificates (REC) to offset their energy use. In fact, they do this by as much as 200%, which can be likened to planting a massive 244 acres of trees or taking 244 cars off the road.
All of iPage data centres and web servers are powered by 100% wind-produced energy. With this eco-friendly hosting, you still get the same quality service and support while protecting the environment. Hosting with iPage makes you a contributing subscriber to their commitment to help the planet by reducing your carbon footprint.
Customer Support
The reliable customer support team of iPage is always available to answer your questions and help you out in case you have a problem with their service. The kind and friendly customer support executives provide step-by-step information of what you need do to help you solve problem/s on your website.
The live 24/7 chat support can be relied on to solve most minor issues common with most customers. Complicated issues are usually sent to the support team via email. A 24/7 uptime monitoring is also provided to ensure that your website is live most of the time. In case of an uptime issue, the team of experts will be working around the clock to ensure that the issue is solved and your website is live. This kind of support is something unexpected to be in cheap web hosting providers.
Hosting Plans and Pricing
Currently, iPage provides domains and several options for hosting: shared, WordPress, VPS, Dedicated and Reseller Hosting Plans.
Shared Hosting: iPage offers just a single shared hosting plan that starts at $1.99/month for three years. It provides different unlimited features including unlimited disk space, bandwidth, and MySQL databases. A domain name comes in the first year for free, and the ability to make many subdomains as well as parked domains. It is offered with a disk space of 50GB, plus an SSL certificate and email address.
WordPress Hosting: There are two main WordPress hosting plans, namely:
WP Starter ($3.75/mo): This plan comes with a free domain name for a year, unlimited storage, unlimited bandwidth, customized control panel, and pre-installed themes and plugins.
WP Essential ($6.95/mo): This plan includes everything offered in the Starter option, plus WordPress expert support, automatic malware removal, and SiteLock professional security.
VPS Hosting: In this hosting environment, the resources on your site are no longer shared, instead iPage partitions the server and delegates resources. It allows you to create a virtual server you can have more control of how your site performs. You can also adjust resources as you see fit. iPage offers three different VPS plans that use cPanel instead of vDeck.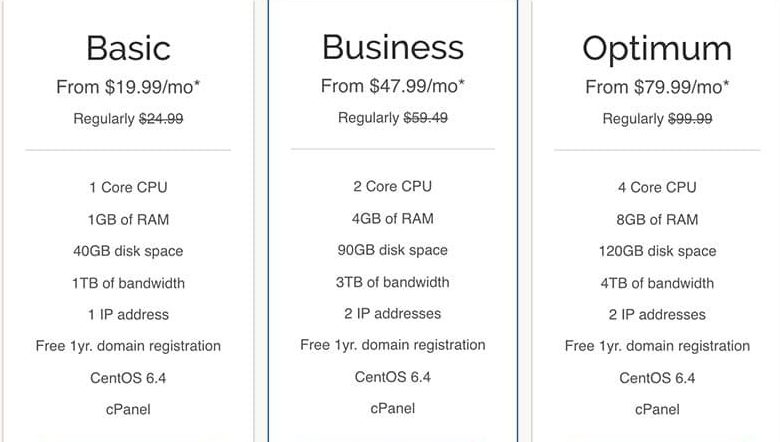 Dedicated Hosting: This hosting platform offers the most flexibility. It stores your site in its own piece of equipment instead of sharing a server with others. All the three dedicated hosting plans are managed by iPage and come with pre-installed PHP, Perl or Python scripts.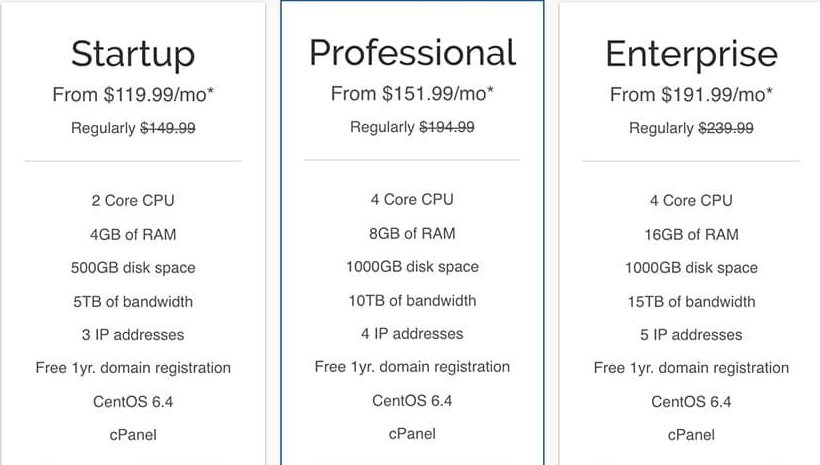 Reseller Hosting Plans: If you are looking to get into the web hosting business without having to deal with infrastructure matters, you may want to consider iPage's reseller hosting packages. The plans start at $49.95 per year. It allows you to apply your own branding to the servers you rent and also to the email. A 24/7 tech support is supplied by iPage to handle customer support duties.
Pros and Cons
Pros:
Inexpensive hosting
Enhanced security options
Third Party application support
Upfront, honest (Cheap) pricing
30-Day money back guarantee
Strong uptime of 99.97%, which is quite impressive considering the price range
Reliable customer support with live chat, phone and email support
Owned by the Endurance International Group (EIG), a renowned company that also owns the popular web hosting companies such as Bluehost
Create unlimited databases
Frequently provides coupons, promotions and special deals for you to get discounts for your hosting
Reliable experts who are always ready to help
SiteLock security suite
Performance of regular malware and malicious files scanning
Allows daily back up your content and other files in your websites
Purchase of Renewable Energy Certificates (REC) to offset energy use by about 200%
Editable PHP.INI in shared hosting
Cons:
Loading time could be better
Expensive renewal costs
Expensive domain names
No cPanel
Lots of extra fees for additional services
No free site migrations
Downtime experiences for DDOS attacks
Some servers tend to have a soft boot on the first registration
Setup of dedicated servers may take about 1- 2 days
Key Features Overview
| | |
| --- | --- |
| Features | Details |
| Price | $1.99/month (Basic Shared Hosting Plan) |
| Number of Websites | unlimited |
| Instant DNS Setup | – |
| Hosting Speed | 787ms (December 2017 to March 2019 average) |
| Website Space | unlimited |
| Bandwidth Included | unmetered |
| SSL Certificates | Free |
| Site Builder Included | 3 website builder options |
| Staging Environment | – |
| Full Redundancy | Multiple redundancies |
| Enterprise Security | SiteLock security suite |
| Daily Website Backups | Nightly backups and restores |
| 24/7 Access to Server Admins | Yes |
| Email Accounts | unlimited |
| BotNet Security | Yes |
| Site Health and Performance Tracking | – |
| Site Comments | – |
| Website Feedback | – |
| Community Access | – |
| 1 on 1 Marketing Mentorship | – |
Final Opinion
iPage is a budget-friendly web hosting, making it an ideal option for people on a tight budget. It is a reputable and reliable hosting service provider offering the same features and quality provided by other web hosting companies at higher costs. The design is user-friendly and has all the settings and features you need to set up your website.
iPage is an affordable option (depending on your needs), reliable, offers a good customer support and another web host provider worthy of consideration for any beginner and those without much technical expertise, but want as many features as possible for their website. It is also a good choice if your resource needs are not too high and you do not mind shared hosting.
An Alternative
Here is a camparison look at an industry leader Wealthy Affiliate compared to iPage web-hosting to get an idea of the services out there, particularly for web-based business managed services.
Join over a Million Members
Who Have Started Their Own Online Business.
Build Your First Blog Before Your Coffee is Brewed!
Learn How to Start Your Own Fun Blog using My 4 Step Formula