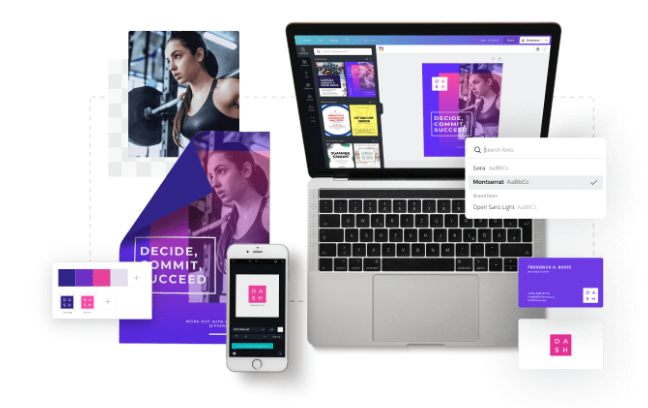 In the recent past, the importance of visual content has never been as significant as today. Nowadays, as much as 80% of marketers rely on visual content to engage with their audience, especially on social media platforms. Images are the single most important form of content that work and deliver big time because they are easier and more interesting to follow than the written form. So in this Canva Pro Review, I reveal what they have to offer to the web-based community in this space. With images you can have all the best kinds of visual materials in several key categories, such as business, social media, education, informational, identity, and everyday personal design needs. So, can Canva Pro respond and rise to the challenge? Well let's find out! 
Name: Canva Pro
Type

:

Graphic Design Tool 

Founders:

Melanie Perkins,

Clifford Obrecht, Cameron Adams
Website: https://www.canva.com/
Price:

$12.95/month or

$9.95/month, if you pay annually

Overall Ranking:

5 / 5

Verdict:

Highly Recommended
What is Canva Pro?
Canva is an online, user-friendly tool that offers simple drag and drop interface. It is used by more than 15 million active customers around the globe to create more than one billion designs. The free plan of Canva is a convenient option for making a range of images quickly and easily, but it has some limitations. 

Here comes Canva for Work or Canva Pro, which conveniently packages the features of the free Canva with a range of other useful functions and helpful benefits. Canva Pro is the premium plan of Canva that allows you to have access to millions of photos, illustrations and templates for a fixed monthly fee.
Ideal for individuals and smaller teams, Canva Pro comes with numerous templates and an enormous library of stock images, vectors, icons and designs for a fixed monthly fee. Canva Pro is, undoubtedly, an amazing go-to online design tool for both non-designers and professionals who want to create engaging and captivating images for any type of visual piece, such as blogs, presentation materials, flyers, letterhead, certificate, resume, wallpaper, brochure, postcard, and more. It allows you to collaborate and create graphs or edit any type and kind of photos. All these designs and images are categorized to make it easy for you to get layouts with perfect dimensions, whether for marketing, education and other things.
Would it be worth it to upgrade to Canva Pro to get access to more advanced features?
Canva Pro's Key Features
Animator: 

It creates animated graphics with professional-looking animation styles, designs, resizing and transparent images which you can download as a GIF or movie format (MP4) in a matter of seconds.

Transparent Images:

It only takes a single click to download your designs with transparent backgrounds.

Magic Resize

– This premium editing tool allows you to automatically animate and instantly resize your designs into custom dimensions, generate PNG images with transparent backgrounds, or create a copy of it in any size you want.

Team Collaboration – This new feature saves you loads of time in onboarding team members and new outsources. It enables you to work with a team once they accept your invitation through email. Ideal for large and small businesses, or working with a designer, this team functionality allows access to all your brand information, whether as a member, template designer, or administrator. All it takes is for the team to review the branding information, check out the templates and proceed without having to email links back and forth to one another.
Brand Kit

– Using this tool helps you to organize and customize elements of a brand's visual identity with logos, colours, and fonts on a single space. It makes them automatically available for you or your team members to produce designs that fit your brand.

Custom and Premium Templates

– Design custom templates or get access to more than 20,000 premium templates ready for you to use and by your team when you share them. This empowers your sales team or outsourced staff to create consistent on-brand graphics for social media or marketing. 

Premium Fonts

– Over 500 premium and 1000+ other fonts can be accessed once you upgrade to Canva Pro. You can also upload your own. You may share them with the entire team by keeping your brand guidelines updated and centralized without having to pay extra. 

Unlimited Folders

– Organize images and assets into unlimited folders within your Canva account. Folders can be renamed, deleted, shared or opened in the editor so you and your team will never get lost searching for the right image or asset for your brand.

Set Download Quality

– Choose between high or low quality, or size appropriate for your design when downloading.

100 GB Storage

– Canva Pro has 100GB of storage for uploading photos and assets.

4M+ Photos & Elements

– More than 4 million-plus premium free photos, illustrations, and icons can be accessed for free and available for use on your designs.

Priority Support

– Upgrading to the pro plan gives you priority support from the Canva assistance team.
See How I Sell Products with Zero Inventory Using a Simple 4 Step Formula
Pros and Cons of Canva Pro
Pros
Easy-to-Use:

Simplicity best describes how Canva Pro works. The simple user-interface keeps everything organized and manageable. There's no need for training to get started because the onboarding sequence on the design interface runs a quick overview to help you create your design instantly.

Multipurpose Tool:

More than a design tool, Canva Pro is a design collaboration app with loads of resources to edit photos, create animated designs, produce stunning graphics, share folders, and collaborate with your team. 

Templates and Design Database

: The huge collection of ready-to-use resources makes Canva Pro a rich mine of editable templates, designs, images, photos, icons, backgrounds, etc. to help you create as many unique designs as you like every single day.

Collaboration:

This time-saving feature is an advantage for businesses and marketers to enhance communication and sharing of resources while keeping team members on board. 

Integration

: Various third-party sites, such as WordPress, Facebook, Dropbox and other platforms can be integrated with Canva Pro, thus saving you lots of time if you're handling multiple folders, clients, sites, social accounts, and team members. 

Free 30-Day Trial Period

: Canva Pro is free for the first 30 days. After that, your preferred payment scheme applies. 

Free Lifetime Access for Qualified Non-profit Organizations and Educational Institutions, Faculty and Students: Canva Pro offers free access for up to 10 members of eligible non-profit organizations to help in conveying their messages and bridge the gap between their missions and their audience. This offer is also available with extra add-ons for qualified classrooms, teachers and students globally.
Cons
No page grids

Saving can fail and you may download something completely different from your chosen design on screen 

Limited functionality 

Almost impossible to create something totally unique since many people use the same templates 

Generic templates and stock images are quite generic – If more people start using Canva Pro templates, the same designs can be used many times over, rendering the image less effective, less eye-catching, and redundant.  

A few basic design features, such as transparency for PNGs can only be accessed by Canva Pro users 

Canva Pro works better at assembling images, rather than actually creating custom graphics and images from scratch 

Not a  Video Creation Tool:  Canva Pro doesn't let you create videos. You need to use a product such as Camtasia for that! You can however, choose from a selection of short videos from within the Canva Pro interface. You can also upload your own video to use in your designs.
A 'How to Make a Video Facebook Cover in Canva' Tutorial Here!
Build Your First Blog Before Your Coffee is Brewed!
Learn How to Start Your Own Fun Blog using My 4 Step Formula
Canva Pricing
There are three different subscription plans for Canva, namely Canva Free, Canva Pro, and Canva for Enterprise.
The Canva free plan is, obviously, free of cost; while the Canva Pro plan is available for monthly and annual billing. Canva Enterprise plan is available for annual billing only.
Final Word about Canva Pro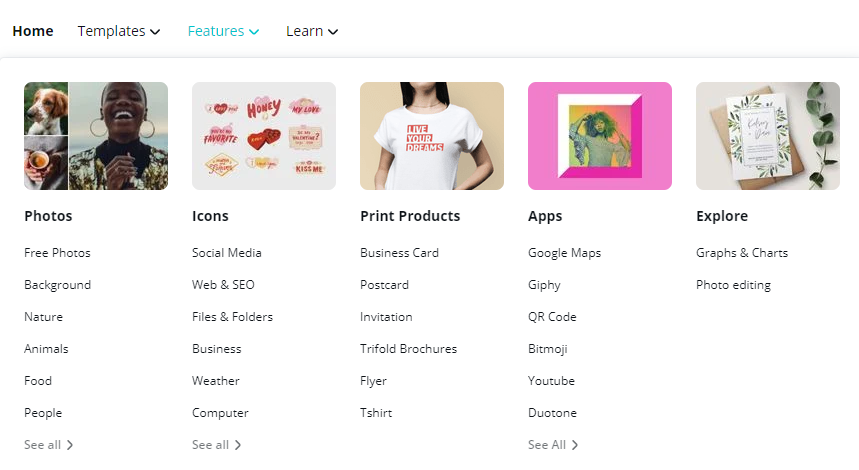 Canva Pro is a must-have tool for anyone whose pursuit is to create designs and graphics at least once a day. This online design tool is very easy to use, reliable and reasonably priced. It boasts of many satisfied customers and has received glowing feedback about the clean and clear user interface, as well as the drag and drop function that makes designing intuitive and fast. Whether you're a professional or amateur designer, marketer, entrepreneur, blogger, writer, teacher, or student Canva Pro is for you.
If you're sceptical, however, you may test the waters by using the free version or the Canva Pro 30-day trial to explore it. You may find that the free Canva offers enough benefits for creating simple graphics and social media posts. It's the Canva Pro, however, that will deliver the best package of benefits and functions to bring the most creativity out of you as it lets you have access to an immense collection of resources and features. From being able to save your style guide, collaborate and share with your team and save hours of design time, to having access to a huge library of premium fonts, stock photos, etc., these are only some of the amazing reasons to upgrade to Canva Pro. All these are of great value that will make you fall in love with Canva Pro.
After comparing the benefits between all the Canva plans, you will certainly agree that Canva Pro is really worth paying for! It would be difficult to find another online design tool for creating stunning images for the same price offered by Canva Pro.
Get a Free 30 Day Canva Pro Trial
Build Your First Blog Before Your Coffee is Brewed!
Learn How to Start Your Own Fun Blog using My 4 Step Formula