Who is behind My Super Affiliate Builder?
Andrew Fox is behind My Super Affiliate Builder along with Chris Fox. Andrew is a long time veteran in the online marketing scene and a name most affiliate marketers are familiar with. He is also behind another product known as Zapable and Easy Sketch Pro which place in JVZoos top sellers of all time. As a veteran Andrew is leveraging his experience and knowledge onto those who are willing to pay for it. In this case in the range of $39 to $197 but we'll get to more detail about the price range soon.
What is My Super Affiliate Builder?
My Super Affiliate Builder is basically software. In their own words it's "A Tool Made By Super Affiliates (for Super Affiliates) to Turn Ordinary People Into Super Affiliates! The Fast & Easy Way". Bold words indeed and just so you know, a funnel alone does not a Super Affiliate make – especially if you are just starting out and not familiar with the concepts of affiliate marketing in the first place. 
Yet the words used in the promotion may imply that anyone with little or no experience is going to have super success with this product. But without some experience or knowledge in affiliate marketing and marketing funnels, email marketing, copyright, swipe files and such things, you may struggle. Your best bet then would be to get some good affiliate marketing training first.
What Does My Super Affiliate Builder Do?
The My Super Affiliate Builder tool is a software program that will build marketing funnels to use in online promotions. Everything is customizable. The software is programmed in a way that makes the building of funnels quicker due to ease of use. You decide on what you want in the funnel and will even offer some pre-programmed options in some cases. The software is not designed with the affiliate marketing beginner in mind though as you would still need to understand the terms or jargon used in the demonstration video. Here is a screenshot below of Chris Fox explaining the builder using a Golf Swing Questionnaire built into this particular funnel.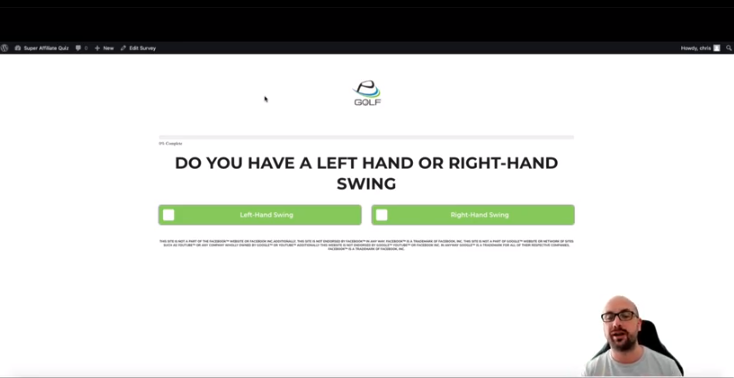 Do You Have to be a Super Affiliate Already to Use the My Super Affiliate Builder?
However, if you are a seasoned affiliate marketer and are familiar with the terms, then this software might be what you are looking for. It walks you through the steps and therefore cuts down on time. But it also is very well thought out with affiliate marketing strategies in mind like giving you colour choices for buttons, text and so on because the colour of a button for example can persuade a user to continue through the funnel or even to go ahead and purchase. The software gives you choices and even high converting colour combinations. But get some training first if you are new to online affiliate marketing. See my #1 recommendation here.
Build Your First Blog Before Your Coffee is Brewed!
Learn How to Start Your Own Fun Blog using My 4 Step Formula
What is a Marketing Funnel?  
A marketing funnel is named so because it is likened to a funnel you use in the kitchen in that it controls the flow of its contents like pouring liquid into a narrow necked bottle. So, imagine that the visitors are being funnelled through a sequence of pages because they are attracted to the promotion. Not all of these visitors will go all the way through the funnel sequence so expect some to drop off. In theory, what you are left with are those visitors who assume that you are offering enough value by giving them a solution to their problem, so they go on to purchase the product.
Upsells are common in a funnel so your visitors may go on to purchase several different items known as upsells. It can be very lucrative when you get your funnels right. But they can be a lot of work when you are not ofay with the language and concepts of online marketing. The good news is there is some excellent purpose built affiliate training to combat that. 
Can You Make Money with My Super Affiliate Builder?
You can make money from building funnels with the My Super Affiliate Builder Software assuming the funnels work. There can be many moving parts to a marketing funnel and can be quite detailed in structure including optin pages, hooks, building email lists, having upsells which might include ebooks and even hardcover books for example. The most elaborate funnels and offerings such as ebooks, can actually take an enormous amount of time and resources to build. But when you get it right then thousands of dollars can be made from just one funnel and it can continue like this for months. There are similar products to My Super Affiliate Builder such as Clickfunnels.
What Does My Super Affiliate Builder Cost?
As I mentioned earlier, the price point is between $39 and $197 so it is broken down like this…
Done for you Funnel Package – Per month is $29 which works out to $319 because the 1st 30 days are free.
My Super Affiliate Builder – $39 to $197 one time cost.
Done for you Super Affiliate Funnels Package at a cost of $197 one time cost.
Done for you Super Affiliate Funnels Package Lite at a one time cost.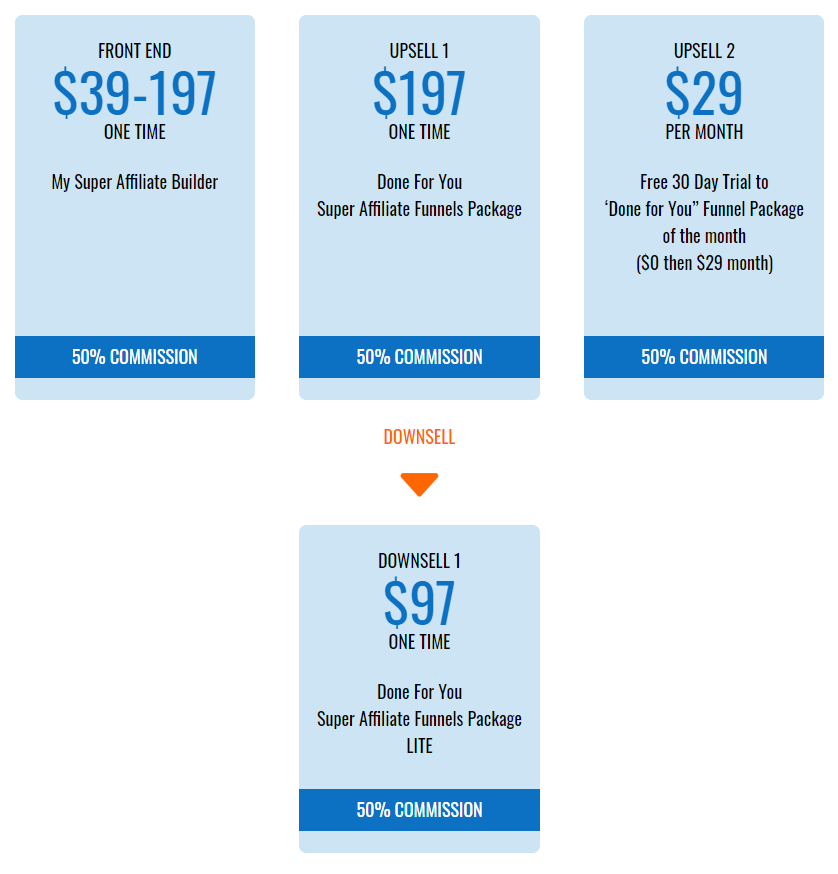 Is My Super Affiliate Builder a Scam?
I do believe that My Super Affiliate Builder is a legitimate product by a legitimate well known and respected longterm affiliate marketer – Andrew Fox. If you're not satisfied with the product you can always request a refund directly from them.
Final Thoughts
The My Super Affiliate Builder is similar to the likes of Clickfunnels and provides similar things within each of the Funnel builders and therefore can cut the building time down quite a bit. There is a fair amount of automation involved in funnels and this can be complicated unless using software such as this.
Marketing Funnels should be used if you want to increase your earnings as an online marketer. However, make sure you get the proper training first. When done properly, you will have an edge on a great start to a lucrative online career in affiliate marketing.
Alternative Option
Wealthy Affiliate is a made for purpose online affiliate training platform for all levels. It gives you the tools along with all the training you need to succeed in online business. No credit card needed. Compared to My Super Affiliate, Wealthy Affiliate is superior to what it has to offer as per the following comparison.
Build Your First Blog Before Your Coffee is Brewed!
Learn How to Start Your Own Fun Blog using My 4 Step Formula