Camtasia is a downloadable video editing software that is perfect for tutorial videos such as this How to Navigate Camtasia tutorial (see the tutorial video lower down) or just read on to the end. Even with no editing experience it is possible for a beginner to make professional videos using the features in Camtasia from one's computer.
Every feature is accessible from the Camtasia interface and navigating is straightforward as you will see here in this tutorial. So let's crack into it!
This screenshot is showing the entire interface of Camtasia and where the building out of your video project takes place.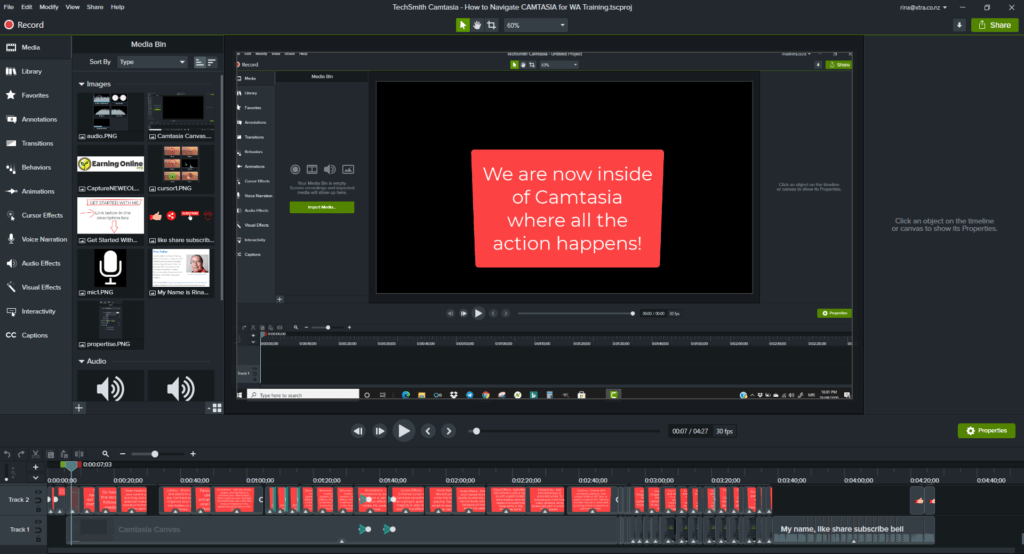 So let's get navigating starting with the menu panel on the left starting from the top.
Record

Camtasia records your computer screen including system sound so whatever is showing on your screen it will record. The recording area can be changed to the size you want if you do not want to record the whole screen.
Media
You can store media to use in your current project, just by dragging and dropping the selected media to the canvas or to the timeline area at the bottom of the interface area. Media can be images and even other videos. This area is where you have all the items you intend to have in your project whether you use them or not for convenience.
Build Your First Blog Before Your Coffee is Brewed!
Learn How to Start Your Own Fun Blog using My 4 Step Formula
Library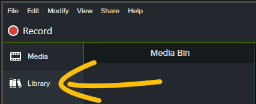 Again you can store media and assets to use in any Camtasia project and not just the one you are working in, to organise your assets into folders or a new Library. Useful for Intros and Outros and things you repeatedly use in several projects.
Favourites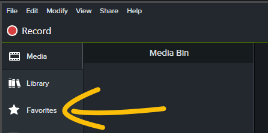 Save useful video enhancements in one location for quick access. Again this could be any digital asset that you favour over others and can quickly access it without browsing through loads of items over and over.
Annotations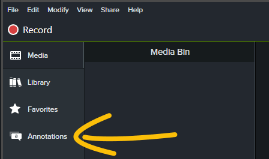 Annotations are items that really add a zing to your video tutorial projects such as text, arrows, shapes, and highlights to enhance your video project. It also includes types such as blur, spotlight and keystrokes and they can each be customised in the properties panel on the right of the video interface. Great for drawing the viewers attention to parts of the screen or hiding an area as with a blur.
Transitions
Add animated transitions to the beginning, end or in between your media to indicate the passage of time are great features to have as they add flare to your video tutorial projects.
Behaviours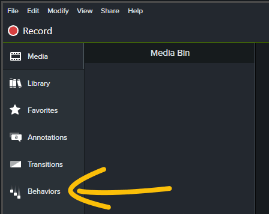 Liven up your text and media with animation presets that are combined for unique effects. Drag and drop any Behaviour feature onto the timeline or canvas to include it in the final video. Again each Behaviour can be customised in the Properties panel to the right of the interface.
Animations

When you really want to shoosh things up then use animations to zoom in, zoom out or pan. Then add motion effects to rotate, tilt, scale and much more. This is a favourite feature for video tutorial creators as it adds an extra feature to emphasize any element on the screen.
Cursor Effects

Enhance cursor in Camtasia recordings. Use highlight, spotlight, magnify or add click sounds and effects…
Voice Narration
Voice Narration – Record your voice while the timeline is playing. Paste text or script to read aloud for easy narration.
Audio Effects
Audio Effects – Enhance and improve the audio quality by evening out the volume levels, removing background noise or adjusting clip speed.
Visual Effects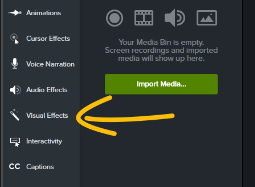 Visual Effects – Add effects like remove a colour such as with a green screen, drop shadow, and clip speed and customise these items in the Properties panel.
Interactivity
Add interactive quizes or an unscored survey. To include a quiz in the final video, produce using Screencast.com or a Smart Player preset. Learn more here.
Captions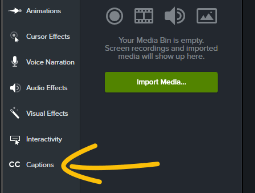 Create ADA compliant captions and also import SAMI or SRT files, or export a caption file. Your options include manual or automatic synching of text or speech-to-text transcription.
Above in the right corner of the canvas and in the Properties panel you have the Share button to upload your finished video to Youtube for example or other preferred location.
Editing Menu
Use the edit mode above the canvas area to move, resize and rotate media inside the canvas. Or use pan mode to drag the canvas around for a better view. The media item will retain it's position and size when panning. Canvas editing is disabled while in pan mode.
Timeline Panel
The building blocks or media of your Camtasia projects live here in the timeline panel. The Tracks are moved, divided, cut and edited within the timeline.
Properties Panel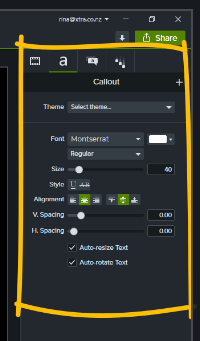 Finally the Properties panel is where media is edited such as colour, size, font, spacing, alignment and so on.
This covers the navigation part of Camtasia. If you have any questions please use the comment box below and I will get back to you withing 24 hours.
Rina
Build Your First Blog Before Your Coffee is Brewed!
Learn How to Start Your Own Fun Blog using My 4 Step Formula