Thumbnails are the all-important cover image/introduction of a video, slideshow, etc. They are the first thing people see in uploaded videos. In this Thumbnail Blaster Review I reveal the details about this software tool and give you my thoughts and recommendation. So let's go!
Thumbnails can make or break your chances of getting more views and reactions from people. As attention is vital to get an audience actually clicking on your content or making a decision to see more, then it is necessary to have the best eye-catching thumbnails possible.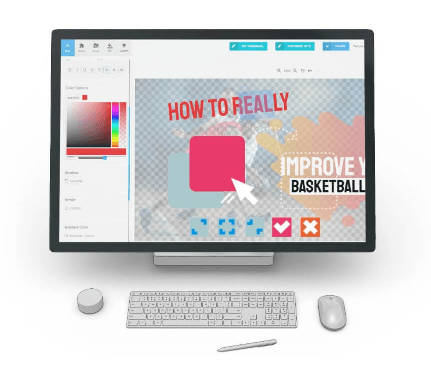 Whether you are making your own or using a thumbnail generator, creating stunning thumbnails can be a daunting task. It can be difficult to create attention-grabbing thumbnails because you need to be an experienced designer or hire a professional to do the job.
It often involves time and effort, yet you may fall short in producing a thumbnail of top-notch quality. Outsourcing the task may be a costly option and it may take days or weeks for a freelance designer to deliver a thumbnail of medium quality.
Thumbnail Blaster is a brand-new solution system that enables even those without graphic design skills to develop superb and good-looking video thumbnails in just a few easy steps.
Name: Thumbnail Blaster
Type: Video Thumbnail-Making Software
Founders: Vlad D. and Stoica B.
Price: Normal Price: $97: Special Price: $36.86
Overall Ranking: 5/5
Verdict: Highly Recommended
If you would rather watch a Thumbnail Blaster Review please click the following video.
Build Your First Blog Before Your Coffee is Brewed!
Learn How to Start Your Own Fun Blog using My 4 Step Formula
What is Thumbnail Blaster?
Thumbnail Blaster is a next-generation automated AI (Artificial Intelligence)-fuelled software that helps you create winning thumbnails for any kind of video in as little as three simple steps, or less if you opt to automate the process. It automatically optimizes for all devices, allowing you to create professional results for any niche even if you have no graphic design experience or fancy tools.
As a cloud-based thumbnail creator, there is no installation or downloading needed because everything is hosted online. If you are already a Canva user then you will be familiar with cloud based graphics software. This simply means the user-friendly AI software makes it possible for you to create eye-catching and professional-looking thumbnails for traffic-boosting type of YouTube videos. 
The software boasts of ready-made tools and templates to help you make unique and stunning video thumbnails for building your brand without risk of copyright infringement and any other future hassles. More importantly, it saves you from the stress of outsourcing the work in order to achieve your desired thumbnail quality. With Thumbnail Blaster, you can create breath-taking thumbnails with potential to triple your traffic and give you the views that will help you reign supreme in the market and earn sales that you have been aspiring without even uploading a new video.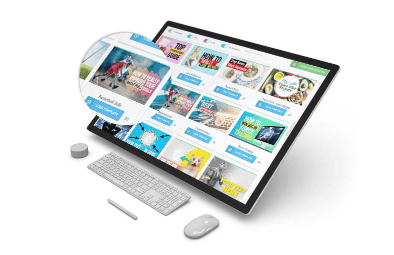 Thumbnail Blaster is the quickest and easiest-to-use software developed by the Blaster Suite Company owned by Vlad D. and Stoica B. These two are well-known internet entrepreneurs and developers of high-quality professional solutions and video tools, including Video Marketing Blaster, Video Spin Blaster, Live Event Blaster and Lingo Blaster. 
With over a decade of experience, the notable founders now have a pool of over 20,000 active users for their desktop and web apps. Their products deliver real-time results, which sell tens of thousands of units all around the world. They also have a support team that works around the clock to assist their users.
Who is Thumbnail Blaster for?
Thumbnail Blaster is created especially for…
All sorts of online marketers (i.e. video, email, social media, affiliate, SEO, etc.)
Drop shippers
Designers
MMO
Local business agencies
Product developers/sellers
Those that ranked their videos at the top rank of YouTube or Google, but didn't get any views.
Those with thousands of subscribers yet only getting a few views.
Those that have uploaded a video, but got no traffic.
Thumbnail Blaster Features
Easy to Use – Thumbnail Blaster is a non-complicated tool that does not require any Photoshop experience, skills or other advanced design tools to create attention-grabbing thumbnails.
Drag and Drop Editor – As one of the best features of Thumbnail Blaster, this technology empowers you to drag and drop anything, resize, change text and fonts, colours, layouts and entire colour themes, insert new elements just by pushing a button. 
A Library of More than 100 Stunning Templates – By just browsing the vast assortment of over 100 general and click-bait templates in the library, you can create your thumbnail for your targeted video campaigns that cut across different niches. 
Design Elements – The constantly growing library of Thumbnail Blaster, consisting of high-quality elements and images, has got you covered when you need eye-catching ones that best match your brand to convince your visitors to click through. Most importantly, these visual aspects of a thumbnail can be accessed for free.
Publish to YouTube – In just one button, you can instantly publish your fresh, attention-grabbing thumbnail.
Automatic Creation – All the automation features needed to get 3X more views, traffic and leads are provided by Thumbnail Blaster Pro version.
Full customization – Thumbnail Blaster is one of the few software in the market that gives complete customization options, allowing you to change colours, styles, fonts, or colour themes with just the click of a few buttons to match a 100% thumbnail and design with what your brand stands for.
How does Thumbnail Blaster works
This app involves only three basic steps to make good video thumbnails.
Step 1: Select One Template. After opening the software, you have the option to choose from over 30 thumbnail templates across multiple niches or topic, or let the artificial intelligence do the job for you. All these templates have undergone battle testing and proven to get the highest click-through rate for video campaigns.
Step 2: Click, Edit, Customize. Each template available in the Thumbnail Blaster software can be easily customized to fit your needs. You don't need any technical skills to design a template according to your preference since you can utilise all the editing features under your full control. You may also utilise Artificial Intelligence to customize the template according to your specific needs.
Step 3: Publish and Get Views. Just click on "PUBLISH" and Thumbnail Blaster will automatically update your existing video with the new AI-created thumbnail that will earn you more views, visitors and exposure on YouTube. Another option is to download the video thumbnail onto a device in JPG, PNG or other formats and use them for whatever purpose. One noteworthy feature about the platform is the ability to save the images with a watermark.
Available Versions of Thumbnail Blaster
Thumbnail Blaster is similar to Video Marketing Blaster in the sense that it also comes in two versions: Standard and Pro.
The Standard version allows you to add one account at a time. It means you have to remove the current account in order to work on videos for another newly-created account.
The Pro version allows you to manage multiple accounts, including those on YouTube, Instagram and more. Inside Thumbnail Blaster Pro (TBP), you have access to the split testing feature, the thumbnail design studio, all the training you need to get going, and many more features.

Split-Test Module – This feature enables you to split test the two thumbnails you want to compare and find out which one is performing better. The app will swap around the two thumbnails, working behind the scenes to track the traffic. The split-test result will tell you which thumbnail sets the highest conversion, which enables you to choose the thumbnail that best represents your brand.

Vimeo Integration – Thumbnail Blaster is a powerful tool that works amazingly well with Vimeo. It also lets you upload your thumbnails in any popular social media platforms, such as Instagram and Facebook for instance. 

AI (Artificial Intelligence) Image Analysis – This Thumbnail Blaster Pro feature connects you with a smart computer that can analyse your images in exceptional detail, giving you smart recommendations in real time. 

Extended License – With the Pro version, you have a leverage to provide your services to others.

Image Filters – Filters, such as changing hue and brightness, blurring or pixelating the image can be applied to your image.

Background Remover – This feature lets you easily remove a green screen effect or a quirky background on your image.

VIP Support – You can get in touch with the TBP creators to help you out should you encounter any difficulties.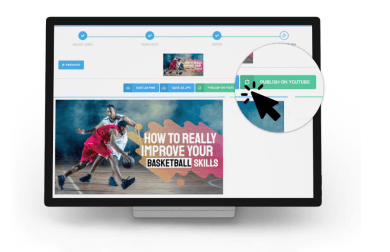 What are the benefits of Thumbnail Blaster?
More Views – Thumbnails are the first element that influences people to click and watch your videos. Using Thumbnail Blaster will help you triple the number of views your video is currently getting.
More Traffic – More views automatically mean more traffic.
More Subscribers – Your subscribers will get notified every time you upload a new video. Uploading more videos will help you gain even more views, and also the possibilities of gaining higher rankings as a result.
Saves you money – Thumbnail Blaster has loads of templates and design elements you can use for free.
Saves time – The software is the easiest and quickest way to create attention-grabbing thumbnails.
More profit – The flood of traffic that will come to your offers will potentially bring you more sales and more leads on 100% autopilot.
Thumbnail Blaster Customer Support
Thumbnail Blaster offers really good customer support. There are various tutorial videos on the official website which help you learn and start creating your own thumbnails effortlessly. 
The support team can be contacted if you have any query by sending a ticket or email. The team responds as quickly as they can.
Pros
Easy to use
100% cloud-based, no need to download or install software 
A.I. Thumbnail Creator
Drag and drop elements
Involves only 3 clicks to generate high-class thumbnails 
More than 100 thumbnail templates
Extensive library of design elements
30-day money-back guarantee
With free snip-rest module
Integrated with a type of YouTube analyser algorithm
Free updates and support
Cons
Need for an internet connection for Thumbnail Blaster software to work
AI may limit your intelligence evolution
Difficult to find templates in some niches
Need to edit or customize a template to suit your video
Thumbnail Blaster Plans/Pricing
The Standard version of Thumbnail Blaster normally costs $97. As of August 2020, however, the software is being offered at a special discount for only $36.86 for a limited time.
The Pro version normally costs $127, but as of July 2020, the reduced price is at $46.99. The Standard version must be purchased first before you can buy the Pro version upgrade.
These optional upgrades and add-ons are also available:
Pro Upgrade: $47 (gives you the functionality to save your creations and 24/7 access to the customer care support).
Agency Upgrade: $67 (gives you commercial access to the thumbnails and allows you to sell your thumbnails to others sites like Fiverr).
Template Club subscription: $1 one-time payment and a $27/month subscription (gives you 20 new templates every month and allows access to 20 VIP templates).
Lingo Blaster: $57 one-time payment (helps you translate your video descriptions and titles to 100+ languages).
A 60-day money back guarantee is offered in both Standard and Pro versions and any optional purchases.
Final Thoughts on Thumbnail Blaster
Thumbnail Blaster is a completely brand-new tool that works as advertised. It is an affordable cloud-based application that is useful in so many ways. As it piques your interest in the benefits that can be obtained from the program, you may want to compare it with other thumbnail-generating software available in the market. Unfortunately, there is nothing similar that can compete or kick out Thumbnail Blaster when it comes to features, discounted pricing, and all other details.
Thumbnail Blaster speaks for itself and makes good on its promises. It is a fantastic software and worth investing on without any risk. It is a game-changing software with lots of potential. Whether you are an amateur or a professional video maker for YouTube or other social media platforms, Thumbnail Blaster is an absolute must-have. It has never been so easy to create attention-grabbing and click-pulling thumbnails in less time.
Build Your First Blog Before Your Coffee is Brewed!
Learn How to Start Your Own Fun Blog using My 4 Step Formula