People are visual by nature and right from a young age picture books, colour and shapes are some of the most powerful learning aids. It's our human nature to be awed by the beauty of objects in reality and in picture. Therefore, visual aids are eye catching and draw a person's attention to it immediately. I reveal here How to Create Way Cool Neon Pins in Canva which is way  fun to do as well as add value to your pins and posts. The featured image at the top of this post was made in Canva in less than 2 minutes! I show you how to create a Neon Pin in the same way soon! So let's dive in!
The Use of Visual Aids in Canva
If you have an online affiliate marketing business, blogging or use social media to promote products and services, then using effective visual aids to reach your audience across the globe is one of the most powerful tools to do this. Some of the best platforms to do this of course are Pinterest, Instagram and Tik Tok as they are completely visual!
Therefore it makes sense to put this to good use in our online marketing strategies and Pinterest is the place to do it. After all the more eyes you have on these digital displays the more content readership you will potentially have. That then leads to conversions, the desired end result for any online marketer.
See in the following video a sampling of Pins I made in Canva.
Powerful Digital Tools in Canva
As an online affiliate marketer, I have some very powerful tools I use for my digital displays and want to share with you one of my favourites – Canva. Some of these tools are free and others are paid tools. However, for the purpose of this How to Create Way Cool Neon Pins in Canva, then obviously I will be sharing with you today the Canva Platform.
The Easy to Use Canva Dashboard

There is no reason to have experience when it comes to building your library of digital assets as Canva does all of the hard work for you – it's that easy to use.  Once you have registered for a free account you will be presented with your own dashboard where you will see over 50 various templates as follows…
Build Your First Blog Before Your Coffee is Brewed!
Learn How to Start Your Own Fun Blog using My 4 Step Formula
Pinterest Video Pin

Pinterest Pin

YouTube Thumbnail

Presentation

YouTube Channel Art

Blog Banner

Logo

A4 Document

Animated Social Media

Poster

Instagram Post

Video

Facebook Post

Infographic

Invitation

Facebook Cover

Card

Flyer

Your Story

Brochure

Photo Collage

Resume

Business Card

Book Cover

Desktop Wallpaper

Certificate

Menu

Letterhead

CD Cover

ID Card

Newsletter

Calendar

Postcard

Label

Announcement

Gift Certificate

Tag

Program

Ticket

Bookmark

Class Schedule

Coupon

Report

Proposal

Media Kit

Worksheet

Invoice

Recipe Card

Rack Card

Planner

Report Card

Letter

Lesson Plan
Get a Free 30 Day Canva Pro Trial
Building Digital Assets in Canva
So, as you can see there are many many possibilities to grow your online marketing business assets using any number of templates available in Canva. But, for the purposes of this post we will stick with the Pinterest Pin template using several Neon styles.
Step 1 – Choose in this case the Pinterest Pin catergory which takes you to the Pin Templates to the left of your dashboard. It will appear in the design studio.
Step 2 – Click the Photos or Videos icon to in the templates menu to browse and choose items for your pin.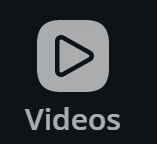 Just drag and drop into the Pin template within the design studio. So you can see that Canva have taken all of the technical side of the programing out of the eqaution, such is the software technology making it a straight forward and seamless action.
Step 3 – Now go to click the Text icon to choose the Neon templates you would like to use in your pins.

There you will see a number of very cool neon styled text. Just change the text to suit your needs.
Step 4 – Once you are satisfied with your Neon inspired pin, now you can save and download the pin to your hardrive then upload it to pintrest and publish it to the platform.
Pinterest engagements are very affective in attracting visitors to your website posts, youtube videos and so on. You will have to rigister for a Pinterest account if you haven't already done so.
Let your Creative Juices Flow in Canva
Whether you are the arty type or not, the Canva experience can inspire your creative side and get your juices going while building stunning effective digital assets to draw attention to your posts, reviews, blogs and products. Since the experience can be time effective also in the sence that you yourself can create Canva pins in minutes, you can save yourself a lot of time and money not having to outsource to others if this is something you do. Try it yourself and increase your profits – it literally can take just minutes to create stunning pins that stand out in a crowd.
The Ultimate Goal is to Convert your Visitors
Speaking of Crowds, it can be hard to stand out but using the various elements supplied to you by Canva means having the ability to change all of that. Canva also continuosly adds new and exciting elements to the design studio. I have often been surprised with new and trending elements that have been added to the design library but this only motivates me to create. I even now find myself coming up with new ideas that I am excited to share with my target audience and it certainly makes a differnce to traffic conversions. In the end this is the ultimate goal for any online affiliate marketer, I'm sure you will agree!
Summary
There are certain important tools to help you grow your brand and presence online and Canva for sure is one of the tools I have in my arsenal kit. I have the Pro Canva version but you still have a lot of choices in the free version. Content is King as an online affiliate marketer and therefore having tools to make this job easier but still have a very professional feel and look then Canva can certainly deliver on that.
You could even become an affiliate yourself as a Pro user to earn points which you can exchange for Pro items within the design studio. Getting Started with the free version will be enough though to build an impressive aray of digital assets sure to attract the eye of your niche audience. Have fun and enjoy!
Be sure to bookmark this post for future reference. If you have any questions just use the comment box below to get in touch. I will get back to you within 24 hours.
Get a Free 30 Day Canva Pro Trial
Build Your First Blog Before Your Coffee is Brewed!
Learn How to Start Your Own Fun Blog using My 4 Step Formula