Why Start An Internet Business?
An internet business, and particularly an affiliate online business, is one of the most cost-effective businesses there is today and it costs little to get started!
As long as you have an internet connection, a desktop, laptop or another mobile device, you can operate your internet business from anywhere – from home, while traveling or even while on holiday.
The most popular and consistent earning opportunities online that exist in 2017 come under one category – Affiliate Marketing. There are literally thousands of ways to earn online, but they are not all equal. However, Affiliate Marketing has consistently proved to be a winner and those who earn a living from it are usually doing so because it gives you the freedom to move about and it pays well.
What Does It Cost To Start?
Back in the day, when people started to explore the earning potential using the internet there weren't the tools and know how there is today. Those early internet pioneers in had to figure it out as they went – it was costly and time-consuming. Today it's all changed. Even for the most technically challenged novice, it is dead simple to get started with the tools, training, and technology of today. This is what I spent in just under 2 months when I made my 1st sale from my website – a total of $65 US dollars.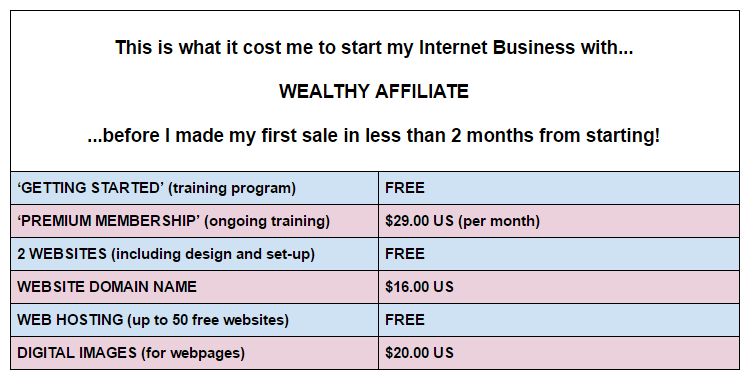 10 Affiliate Marketing Business Models and Earning Strategies
Don't worry if you are not familiar with these terms and strategies. You don't have to know it all to have a profitable online affiliate business. A successful affiliate business will use at least two of these strategies in combination.
Build Your First Blog Before Your Coffee is Brewed!
Learn How to Start Your Own Fun Blog using My 4 Step Formula
See How I Sell Products with Zero Inventory Using a Simple 4 Step Formula
Build Your Own Internet Business – Step By Step
STEP 1: CHOOSE YOUR NICHE
If you have a passion, an interest or a hobby, you can turn it into a business. This is how most affiliate marketers get started. And it's the smart way for you to get started if you have not experienced affiliate marketing before. If you are passionate about something and know a lot about it, the more likely you are to succeed in Affiliate Marketing. Knowing your subject well, having used or have had experience with a certain product or product range the more authority you will have and will come across to your audience.
STEP 2: BUILD YOUR NICHE WEBSITE
It all starts with a website – These days with all the latest technologies, IT IS DEAD SIMPLE TO BUILD YOUR OWN WEBSITE. I'm sure you have seen all the ads on TV or on youtube from various companies advertising their website building platforms. But don't jump in so quick to these companies as while building a website on their platform may be straightforward and or even cheap, there is a lot more to earning an income from your website – in the end, you can pay a lot of money to these companies for UPSELLS to get you to the point of earning a decent living online.
Having your website hosted securely – The last thing you want is to have a hosting server that sucks!  Crashes, hackers, technical issues all lead to downtime or times when your website is not operational. So, this can cost you your business and livelihood if you're not careful. Choosing a SECURE KICK-ASS HOSTING PLATFORM to run your business from in the first place, will go a long way to ensuring you have a solid foundation to build a 'skyscraper' of a business on!
STEP 3: GET RANKED AND GET VISITORS TO YOUR NICHE WEBSITE
Now that you have a live, functional, securely hosted website, it's time to get jiggy with your website's content. Content comes in many guises – written text, audible text, video, animation… It should always be relevant to your niche for several reasons – the first reason is your audience who are visiting to get the information they are looking for about your niche. The second reason is getting ranked in the search engines such as Google, Bing, and Yahoo. Without relevant content and rankings, you will have a tough time getting anywhere! If you think that you're rubbish at writing, the good news is you can learn how to get loads of ideas relevant to your niche, from KEYWORD SEARCHES as follows.
You may even prefer to voice record a piece of content and type the article up later or have someone type it up for you – like dictation. I myself have used this technique successfully. Other online marketers will outsource and have someone else conduct the research and write the article for them for a few dollars – but it's always better that you become an authority on the subject of your niche as this helps to form a trusting relationship with your audience. So, you should always know your topic.
STEP 4: SELL OTHER PEOPLES STUFF FROM YOUR WEBSITE & EARN COMMISSION
Monetizing your website is the last step. Merchants are providers of products and services. You earn a commission from the products and services you sell from your own efforts, via your website.
Product Example:
Amazon is the biggest internet retail outlet in the world and you can apply to them to become an Amazon associate, in other words, an affiliate – a product you might promote on your website would be relevant to your niche (interest and passion).
Service Example:
This could be internet services such as web-hosting, classes, counseling services etc.
How much can one earn from the internet?
The answer to this lies with you. With the right training and support, it's reasonable to say that the more effort you put in the better. For this reason, you can't put a figure on it. Less than two months in I started earning from my website, and it's been earning more and more ever since. I have never done more than 20 hours of work a week since starting. This is why it has become one of the most popular types of modern day businesses across the globe.
Join over a Million Members
Who Have Started Their Own Online Business.
Build Your First Blog Before Your Coffee is Brewed!
Learn How to Start Your Own Fun Blog using My 4 Step Formula